INTRO
Blog number 3 in the "finding the next…" series and it is the guy. The guy I have had the most requests and messages about writing a blog on. And with his recent injury, it seems even more pertinent to attempt to find the next… Virgil Van Dijk.
If you haven't read the previous iterations, you can check out finding the next Fabinho here: http://analysisid.com/finding-the-next-fabinho/ and finding the next Jack Grealish here: http://analysisid.com/finding-the-next-jack-grealish/.
Since I started on this blog, pre-Van Dijk injury, there have been some great articles on who Liverpool should target to replace van Dijk. Namely this from @worville: https://theathletic.com/2156560/2020/10/24/liverpool-january-transfer-centre-backs-analysis/?source=emp_shared_article and this one from @sammcguire90: https://marginalpains.substack.com/p/finding-the-virgil-van-dijk-replacement.
This blog takes a slightly different approach. Rather than look for someone who could come in and fill Van Dijk's position immediately, the aim here is to look for a player for clubs who want a Van Dijk type – but can't afford to drop 30/40/50m on a centre back. I'm looking for low market-value, high upside gems. We all love a bit of football manager style scouting don't we?
What exactly are we looking for when it comes to a Van Dijk-lite, then?
We want a defender who is:
Good at defending. Well, duh
Dominant in duels, both ground and aerial
Good with the ball – depends a little bit on the club we're scouting for but let's imagine it's a club who want to have a fair share of the ball but aren't necessarily Manchester City.
Physically excellent. Big, strong, quick. This one is a little bit harder to get at with event data, hence the importance of video analysis. There's also some nice tricks we can do with Metrica Play (www.metrica-sports.com) to get some info on player speed!
The 3-step process remains the same:
Player Similarity Model
Player iD Tool
Video Analysis
Shall we?
---
STEP 1: Player Similarity Model
For a more detailed write up of how this (and similar models work) check out this blog: http://analysisid.com/finding-the-next-jack-grealish/
To shamelessly steal a bit of the summary from there:
ESSENTIALLY… this model skims through a database of thousands and thousands of players and shoots out the those most statistically similar to the chosen player. Importantly, this model is about style not quality. It's less about how well or successfully they perform particular actions, and more about how frequent certain types of actions are for them, compared to others.
To find a player similar to Van Dijk, the variables used attempted to dig into player behaviours:
When a player receives the ball how often do they pass/shoot/dribble/cross?
When they pass it, how often do they go short vs medium vs long
How often do they pass it forwards compared to backwards or sideways?
How often are they involved in duels: defensive/offensive?
How often are they attempting defensive actions (possession adjusted)?
etc
No model is perfect and this one is far from that but with some continued testing and tweaking (I find you can't just port it directly to different positions, which would be nice) – we've got some decent results.
For this specific search for Van Dijk, I was only interested in players 1.88m (6'2) or taller. Data here can be a little sketchy, occasionally you will get a player listed as 5″11 who when you watch him is clearly 6″2+ but generally… it will save me some time filtering out those who don't fit one of our key criteria: being a big bastard.
RESULTS – Who are the most similar players to Van Dijk?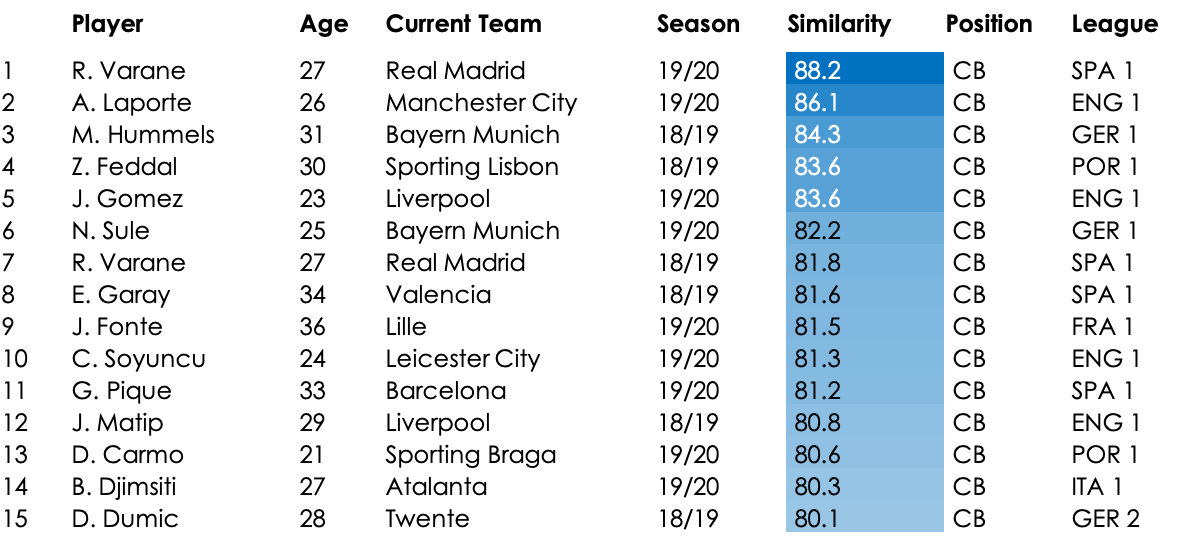 The most similar to 19/20 season Van Dijk was actually himself from the 18/19 season. Which is reassuring. After that it's Raphael Varane. Indeed the model clearly likes Varane, who is actually in twice, for his 18/19 season and his 19/20. Zouhair Feddal sticks out a little bit amongst some more illustrious names in the top 6. Van Dijk's teammate Joe Gomez is 5th, and the 18/19 iteration of Joel Matip is in the top 15 too, interesting. I've always liked Ezequiel Garay. There's also space in the top 10 for Jose Fonte, Van Dijk's old mate from Southampton – where they had 2 seasons together.
David Carmo of Braga is the youngest player in the top 15 and someone who watched more Bundesliga 2 in 18/19 will have to tell me if Dario Dumic makes any sense there.
Adding U21 and <£6m market value lens
Our aim here was to find a young, high-upside CB for a club who can't afford to drop £30m+ – so what does the list look like if we only show U23 players with a market value of less than £5.5M?
[Why 5.5? I had planned to do under £5m but turns out David Carmo is valued at £5.4m so… yeah. Whats a few hundred thousand pounds between friends?]
Anyway…

Hello Pontus Rodin. 20 year old CB in the Swedish 2nd Division, valued at just £180k? Don't mind if I do.
So after Carmo, we've got Celtic's Ajer & Fulham's new boy Tosin Adarabioyo – he's down here as Man City owned as it was pre-Fulham move that I started working on this blog. Slow, I know. You may have noticed that the "Current team" is the team they are owned by and "League" is the league they actually played in that season. For example, Harry Souttar is owned by Stoke, but his 19/20 season was in League 1.
Souttar is an interesting one. I know a bit about him and wouldn't necessarily have picked him out as someone I expected to see on this list. Admittedly the similarity is down a bit by 10th but 70% is still reasonably similar, for this model.
There's a few players I know nothing at all about here, let's have a look some performance data for our shortlist.
---
STEP 2: Player iD Tool
This tool ranks player performance on key position specific metrics. Players are ranked as percentiles compared to other players in their league and position.
A slimmed down version can be found here, for you to have a play with. If you're interested in the full version with multiple leagues and multi-season data, get in touch ([email protected])
A word of caution before we start, more so than with certain other positions, care needs to be taken when reading these charts for CB's. There are some metrics that we can be confident are important indicators of quality, like defensive and aerial duel success rate. There's some metrics that give us more information about style (player and team) than quality e.g. number of blocks and interceptions per game. And there is even a metric, fouls per game, where we want the bar to be low.
On we go.
For reference, here's Van Dijk's last two seasons.

That's… quite good.
THE OPTIONS
D. Carmo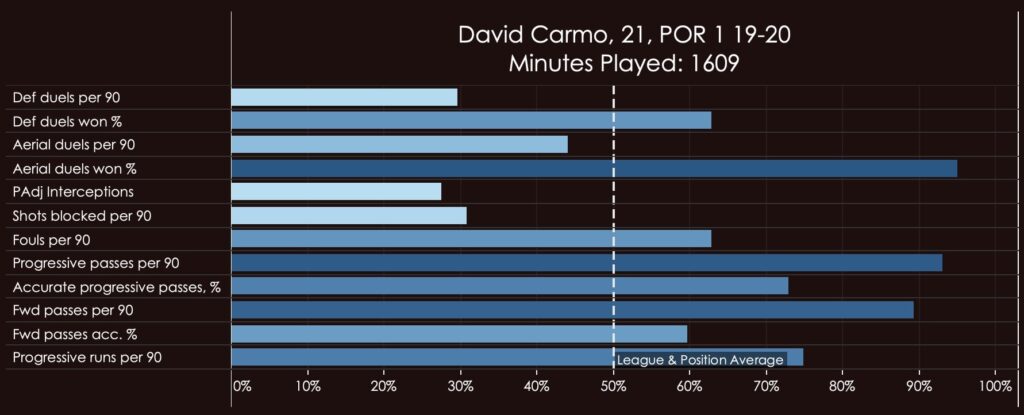 Yes please. Very good in duels, very good on the ball. Only negative seems to be he makes a few too many fouls. Pretty impressive though.
K. Ajer

Ajer is good. I'm not going to dig into him in this blog for a couple of reasons: he's been touted for some big money moves already, although his Transfermarkt value is quite low. I also read a really good breakdown on him fairly recently, although I can't find it now. When I do, I'll link it here.
T. Adarabioyo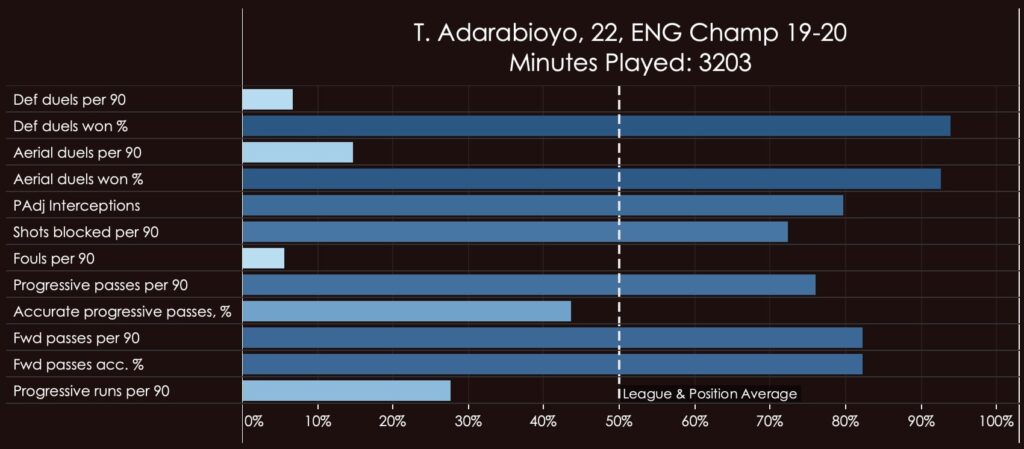 This is a really good profile. Fantastic in duels. Pretty good on the ball. Lots of defensive actions but with very low foul numbers. That's good. Again, not going to dig into him – as he's just moved. I wrote a short thread on him on twitter that you can read here: https://twitter.com/SanchoQuinn/status/1313439949279113216
L. Halter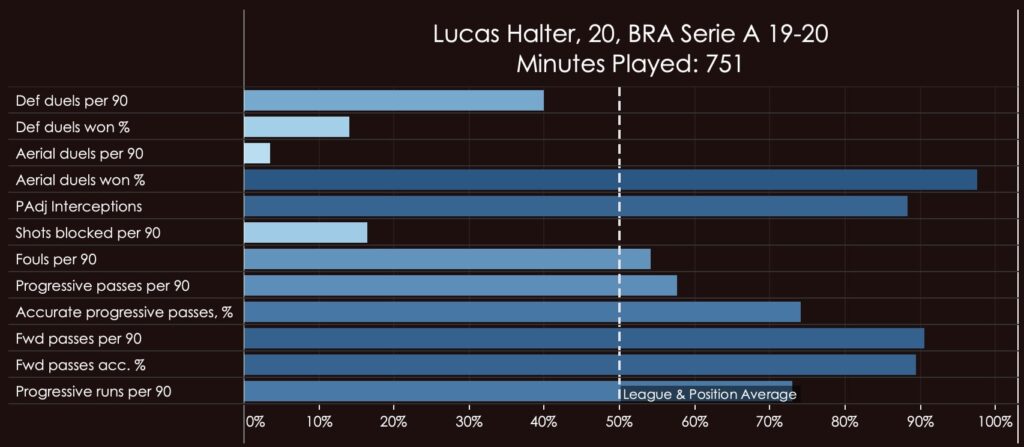 Looks fantastic in the air (although not competing in many aerial duels), and very good on the ball. Bit worrying the very low defensive duel success rate and overall a small minutes sample size.
J. Marcelin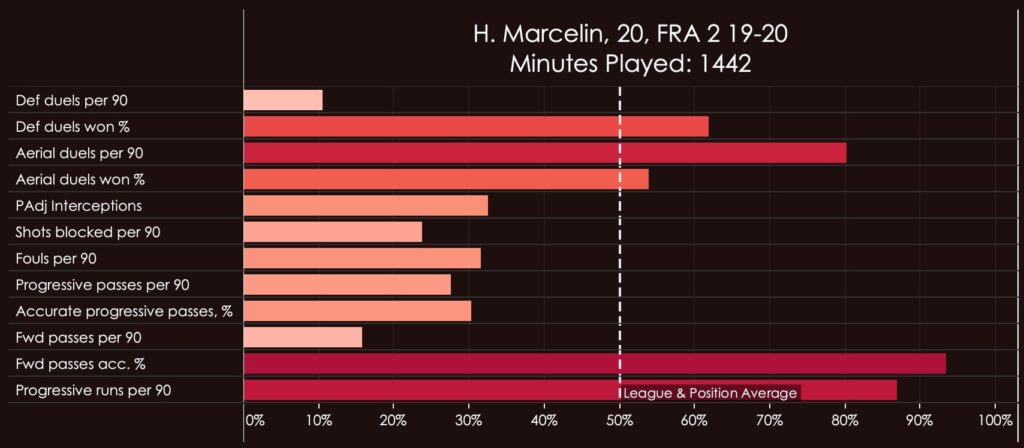 Strong in duels, could be better with progressive passing but outstanding with progressive running and forward passing accuracy is off the charts.
P. Rodin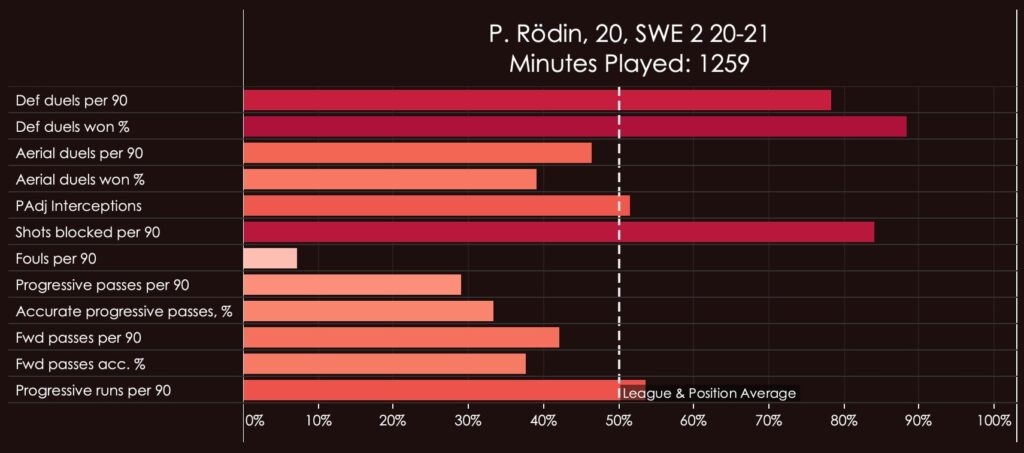 Not gonna lie, I was desperate for him to be good. Fantastic in defensive duels, makes loads of blocks, very low foul numbers. Could be better on the ball but looks promising.
D. Doehki

His profile has changed quite a bit over 2 seasons. Last season, decent in duels, progressive passing pretty good. Forward pass accuracy strong in both seasons. Not hugely impressive but could be something there.
Y. Zahary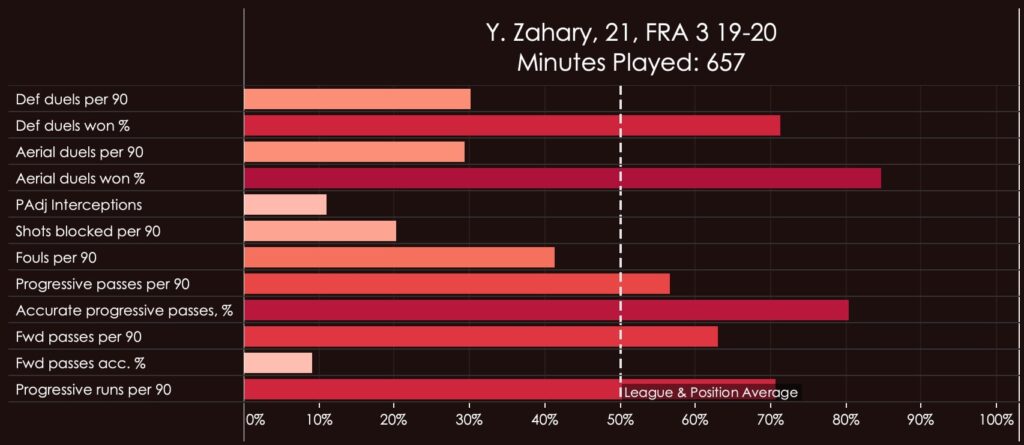 Excellent in duels. Progressive passing and running very good. Low minutes sample size in not a hugely strong league (French 3rd tier).
A. Bella-Kotchap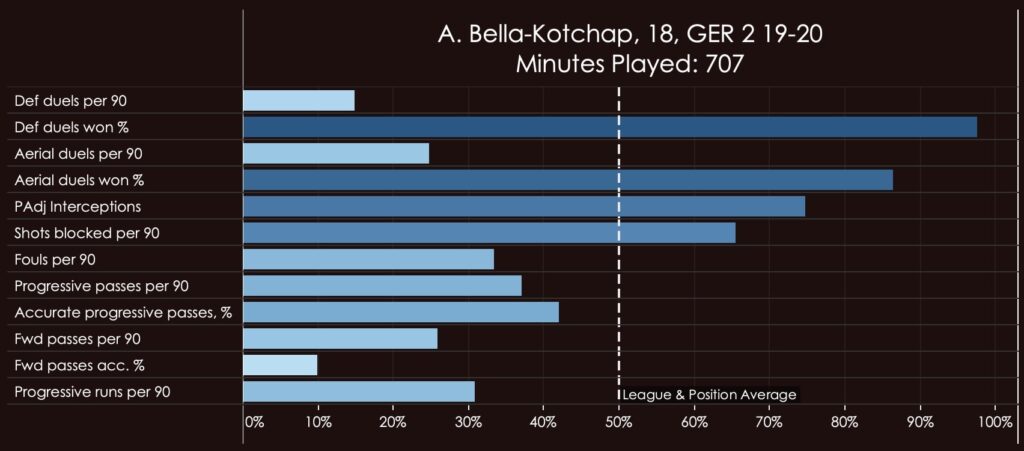 Just the fact that he's played semi-regularly as an 18 year old CB is impressive in itself. Looks limited with the ball but superb in both ground and aerial duels.
H. Souttar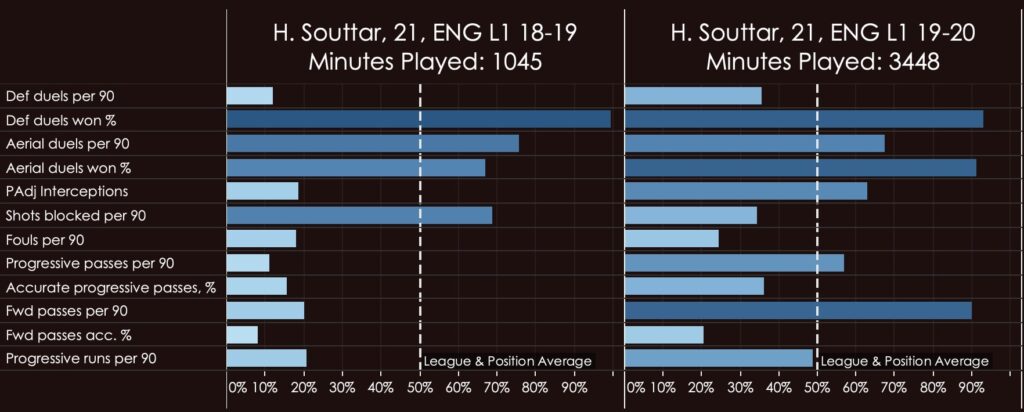 A really interesting one. Always very strong in duels but looks to have improved a fair bit with the balls between 18/19 and 19/20. That upwards trajectory is what you want to see. Incredibly dominant in both ground and aerial duels last season.
In truth, brilliant event data for judging the quality of centre backs doesn't currently exist. As mentioned previously, some of it captures quality but some is more stylistic. I briefly watched some video on all 10 (minus Ajer and Adarabioyo) to help inform who to look at in more depth.
The most interesting looking players, from their data profiles and a quick look at some video are:
David Carmo

Jean Marcelin

Pontus Rodin

(we had to, didn't we?)

Harry Souttar
Bella-Kotchap is worth keeping an eye on as the youngest player by a distance in our top 10. Maybe I'll look at him in more depth at another point.
We have our shortlist, then. Time to get stuck into the video.
---
STEP 3: VIDEO – Metrica Play
Time to check the tapes for our 4-man shortlist…
As always, all of the video editing, analysis and telestration is done solely with Metrica Play (https://metrica-sports.com/)
David Carmo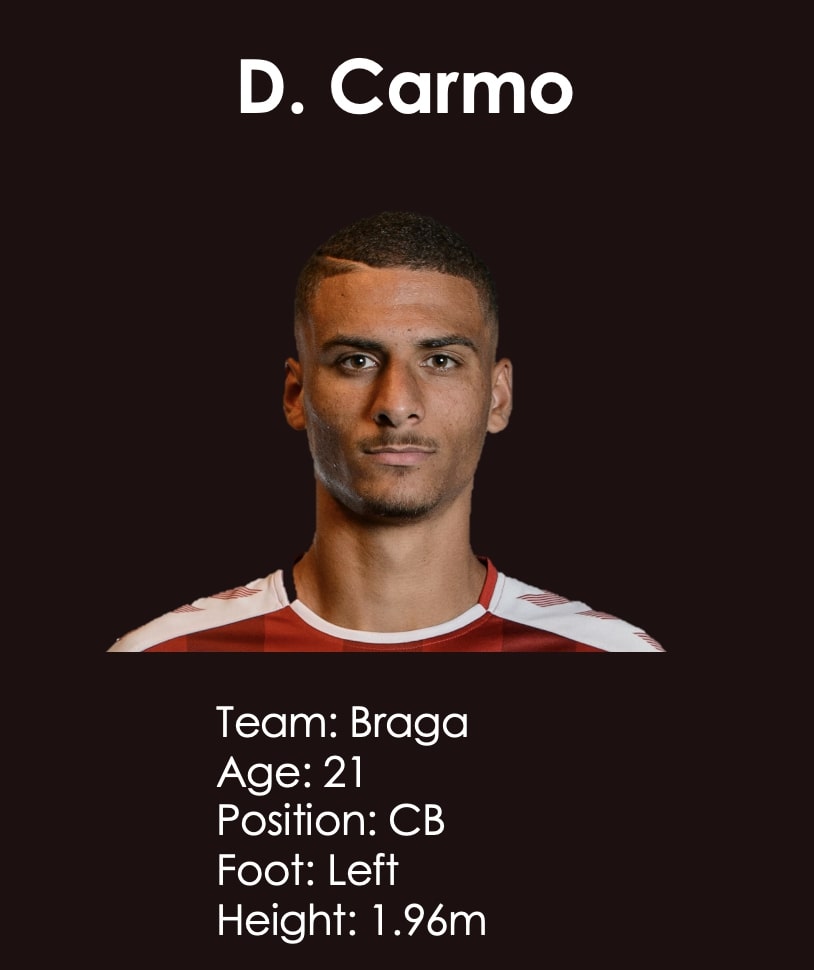 IN POSSESSION
Passing and general technique
Woah. He's really eye-catching in possession. Technically he's really clean and very comfortable in possession. He can shift the ball away from opponents and break a line with his dribble when he needs to, although he doesn't take many risks in this department.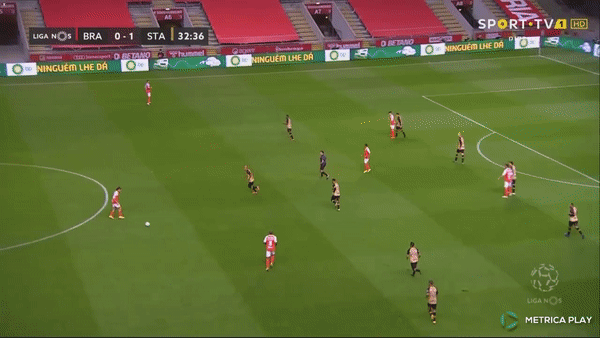 His passing is particularly impressive. He has an absolutely superb left foot, the technique is effortless. He's got huge range and variety and he has great ability as a progressive passer, fizzing balls into teammates between the lines with real pace, and often excellent disguise with his body shape.
Carmo's use of the ball and variety of pass can be seen below.
OUT OF POSSESSION
Defending
More of a front-foot style defender, who is keen to squeeze up the pitch, compress the space between the lines and make interceptions or force the play backwards. Although how much of this is due to instruction is unclear. No evidence he couldn't play a deeper, covering, more back-foot role. There is nothing wrong with being a front-foot defender – ideally you just wouldn't want to pair two defenders of this profile together. This might be part of the reason his foul numbers are quite high though, he's quite aggressive in trying to win the ball high up the pitch.
Carmo is a really good ball winner, displaying good timing on his tackles to nip in and pinch the ball off opponents' toes. Overall, he shows decent defensive instincts/awareness of danger in where to position himself. There's one clip in the below where he and his defensive partner have a breakdown in communication, allowing a forward to run in behind on Carmo's blindside and win a penalty.
He's very good 1v1, displaying really quick feet to stick with twisting and turning forwards.
PHYSICAL
Excellent athlete. He's 6″4 ish, but looks extremely quick.
With the help of Metrica, we're able to produce highly accurate tracking data from broadcast footage to find out objectively how quick he is.

You can see in the below he reaches a top speed of 33.2km/h defending a transition. That's very quick.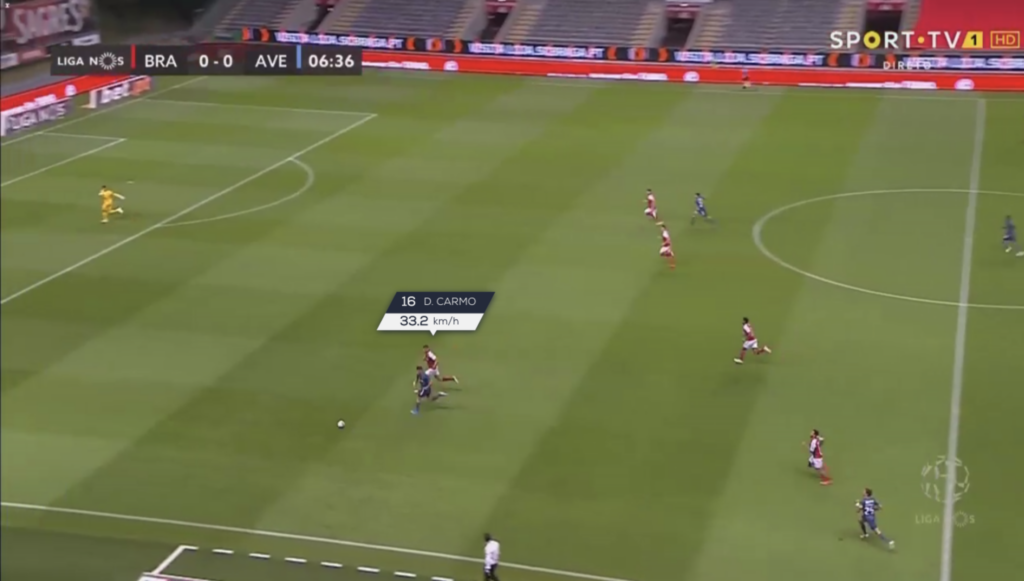 He's a real natural mover, very agile. Very good in the air. He's not a powerhouse but statistically very good in ground duels too.
Looks a terrific prospect. Reminds me of Sven Botman, who I love, but more of a front-foot defender – and quicker.
Jean Marcelin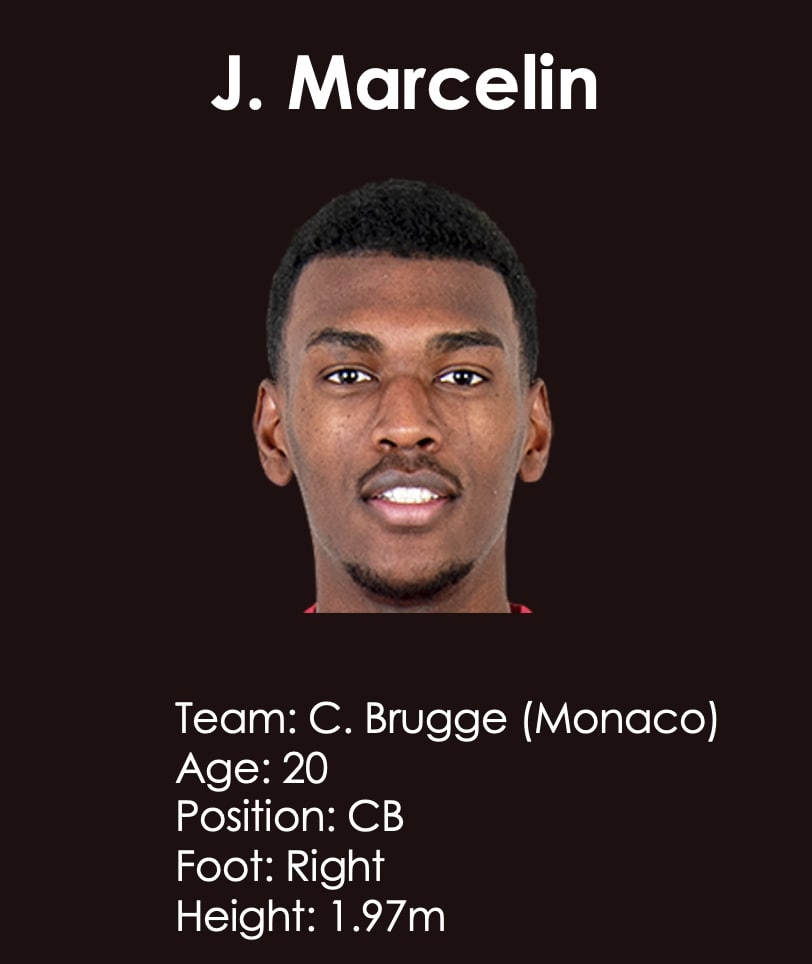 IN POSSESSION
Passing/general technique
Another defender who's comfortable in possession. Technically he's secure. He's able to dribble to evade pressure and retain the ball, using his considerable frame to shield it from opponents. The Frenchman also shows his ability to carry the ball over larger distances, leveraging his long legs to drive into the opposition half. It's a relative rarity, but he has it in his locker. His passing is pretty good, he's got nice technique on low drives to switch the play and he shows glimpses of his ability to break lines with forward passing.
He has a very languid, relaxed style on the ball and indeed his biggest issue in possession is occasionally being "too relaxed". There's one clip in the below where he takes too many touches, is too slow to move the ball and is lucky not to put his team in trouble.
OUT OF POSSESSION
Defending
Powerful young man, a real "stopper" 1v1. He makes blocks and tackles from really awkward angles, it can look like the forward has a good step on him and suddenly a long leg will swing across and sweep the ball away. He reminds me of Tosin Adarabioyo actually, a guy who will play 30+ games in the Premier League this season.
His relaxed style in possession translates to his defending without the ball as, in contrast to Carmo, he is very much a back-foot defender: rarely pulled out of his defensive line, preferring to cover his teammates from deep.
PHYSICAL
He's a big, big guy. Towers over most forwards at around 6″5. He really moves well for his size, though. He's not lightning quick, but can cover depth at speed and importantly shows pretty good acceleration. Very powerful in ground duels. He's playing in Belgium at the moment but would have no worries in him being able to cope in a more physical league.
He's good in the air, as his aerial duel success numbers tell you. But given his size you might like him to bit more imposing, a bit more dominant, in that regard.
Again, we can use Metrica's broadcast tracking data to get a read on his top speed. He's slower side to side but in straight lines, he covers ground well. Here he is reaching 31.4 km/h: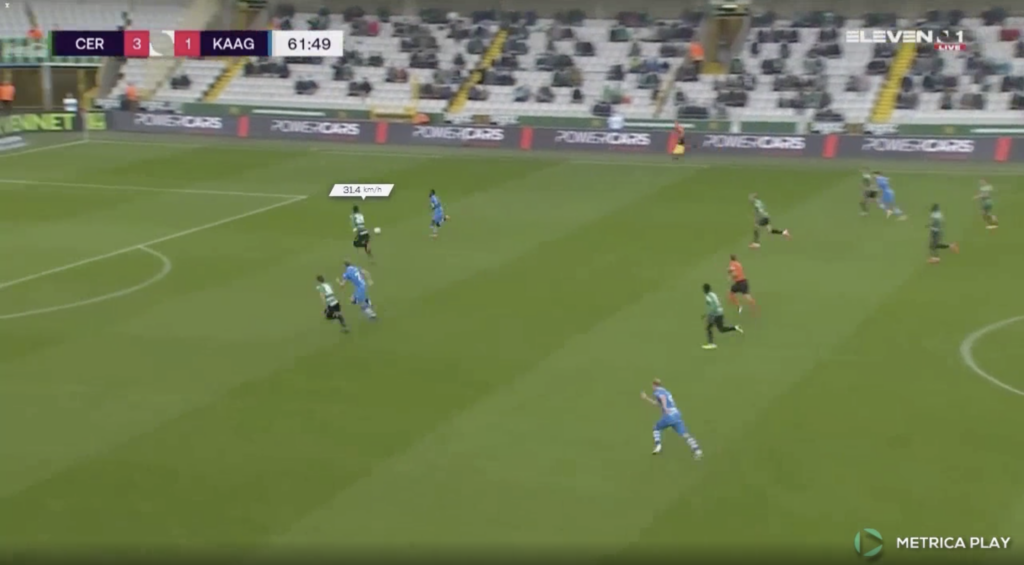 Not bad.
This gif is a nice summary of some of what's good about Marcelin. Times his tackle well, bounces off two players, flattening one, dribbling away from them in the process.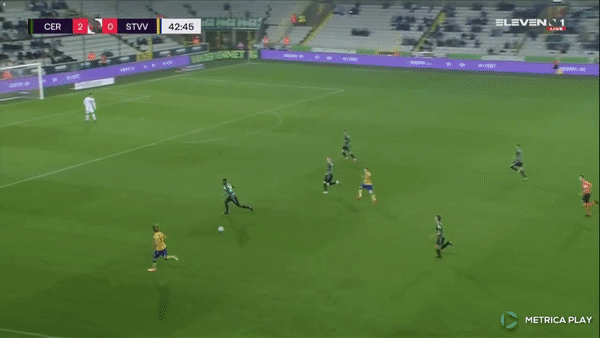 Pontus Rodin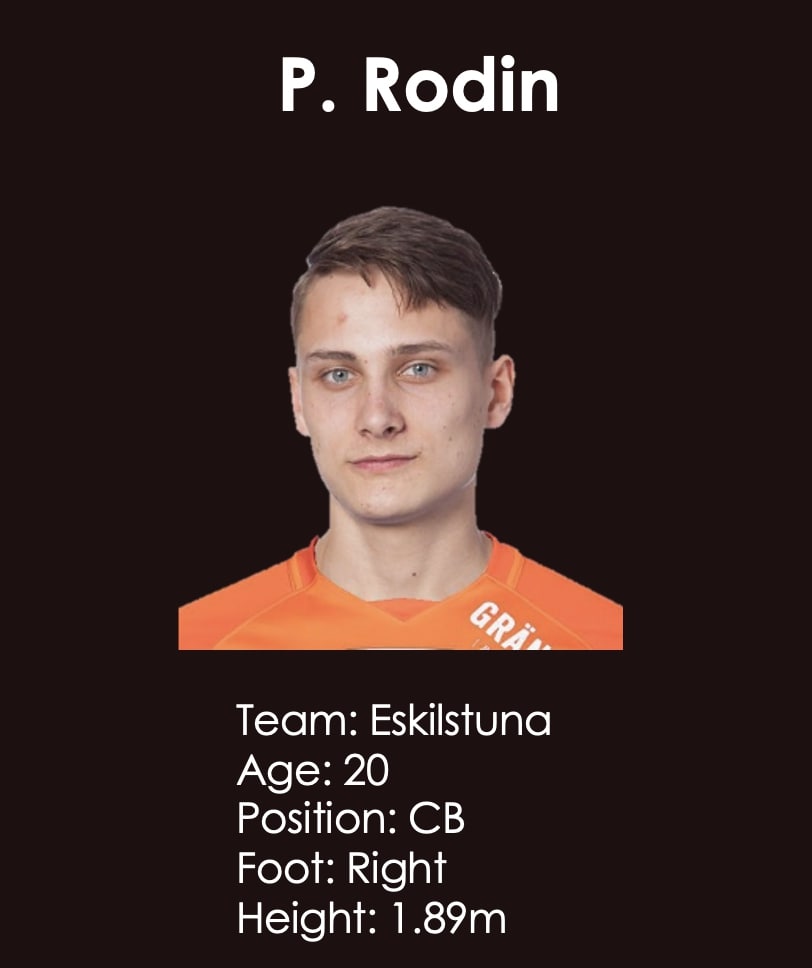 IN POSSESSION
Dribbling and general technique
Touch looks good, It's not often in these situations you get to see a clip of him trapping a ball dropping out of the sky – see the first clip in the below. He looks to have a good technical base to work from. Looks comfortable in possession, able to dribble out of pressure when he needs to and although he doesn't use it too often, his weaker left-foot looks decent too. Useful.
Passing
Nice technique on his mid/long range lofted passes, he also has good touch on clips from the outside channel in between the opposition CB and LB. When he attempts to play forward and find players between the lines, he is pretty consistent in both technique and execution. Overall a very reliable passer, you don't feel nervous when he has the ball. His issue is conservatism, opting often for simple sideways passes when he could be a little more adventurous and help his team progress the ball.
OUT OF POSSESSION
Defending
There's a comfort in watching Rodin defend. His very rarely in trouble, everything kind of looks like he's in third gear. That's a good thing – not stop and start, nothing frantic. The big caveat here is he is playing in the Swedish second tier – so not one of Europes premier divisions. But he looks like he could play at a higher level. He positions himself well and has a good awareness of what's around him, making simple, sensible decisions on the pitch. Good ballwinner and a "thinking" defender – slide tackles are a rarity.
Need to see him tested more but looks promising.
PHYSICAL
He's a good size (6″2+) and moves well. He's good in duels, both ground and aerial, without being a "monster" physically. It's hard to get a read on his pace, as he's rarely in full-sprint mode, but he's lithe and agile.
There's a clip in the below that demonstrates his agility well but highlights one area he can improve defensively – he gets into good positions to defend in wide areas but a little too often is unable to deny the cross.
Looks an interesting player, and someone I don't think you come across without data – unless you are a scout on the ground in Sweden.
Physically, do I think he could come and play in the Premier League straight away? No, but there's some good leagues in Europe he could be an interesting proposition for, as a next step-up.
Harry Souttar
IN POSSESSION
Passing and general technique
The weakest of our quartet with the ball at his feet but he's perhaps a little bit better in possession than you might think. There's a couple of nice moments in the below. He certainly has range, with some good switches of play. Generally his use of the ball is ok, but pretty safe – with lots of shuttling the ball across the back 3 or back 4.
He can dribble away from pressure, at times, but would likely be a pressing target if he did this with any regularity.
OUT OF POSSESSION
Defending
A real wall when it comes to defending his box, will head everything away, make tackles, blocks, clearances. Souttar can be vulnerable 1v1, particularly defending the wide areas – getting dragged out here is not where you want to see him. With his lack of agility, quick-footed forwards running at him can cause him problems. He's played a lot recently as the pivot centre back in a back 3, perhaps to reduce the risk of him being isolated in wide areas, though he has played in a back 4 previously.
You wouldn't play him in a high line but in a deep/mid-block he can be very effective. There's not a lot that gets past him.
PHYSICAL
Big, strong lad. Around 6″6 and heavy, he's very strong in ground duels and dominant in the air.
As mentioned previously he's not massively agile. He covers ground fairly well in straight lines, and over larger distances, but doesn't have great acceleration. For his size, he moves ok – but isn't a great athlete in this regard.
Here he is reaching 29.7km/h defending a transition: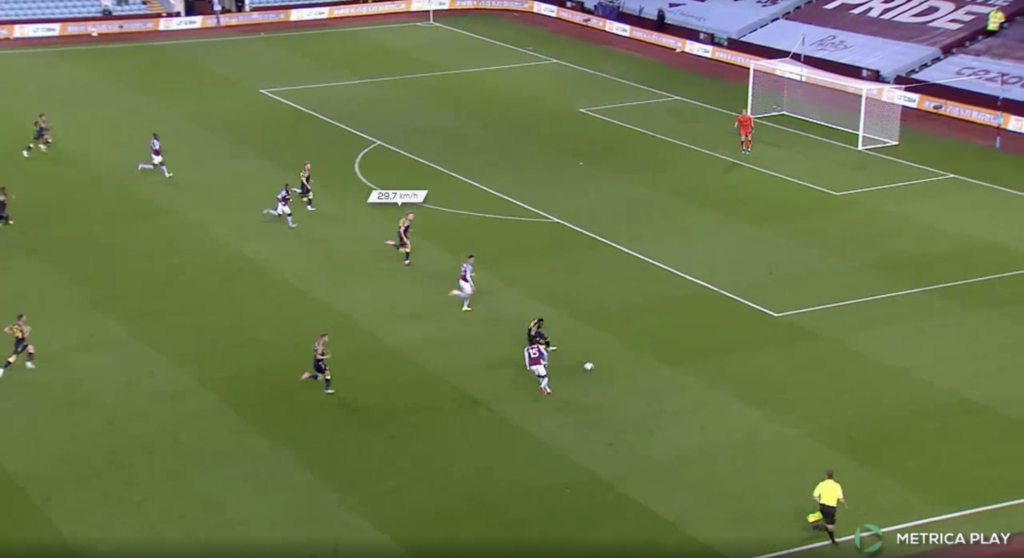 Some clips of Harry Souttar's physical capabilities are below
He's not the next Van Dijk. But he might be the next Lewis Dunk or James Tarkowski, and that's no bad thing.
---
CONCLUSION
From thousands and thousands of players we were able to whittle down to a short list of 4 interesting prospects. Although we know event data is far from perfect when it comes to assessing the quality of CB's, I was quite impressed with the way the Player iD tool was able to give us a decent view on what type of defender they are, what they do well and maybe not so well and helped to trim the shortlist of 10 down to 4 – to have a closer look at in the video.
David Carmo

– a super athletic, beautiful technician, who is a more of a front-foot style defender.

Jean Marcelin

– Big, powerful, composed young defender, with potential on the ball.

Pontus Rodin

, a 20 year old RCB playing in the Swedish 2nd tier. A promising, "thinking" defender

Harry Souttar

– Bit of a throwback. Man mountain defending his box. Might not be the next Van Dijk but he could be the next Lewis Dunk, and that's no bad thing.
All under 23 and all under 5.5m Market Value (as per Transfermarkt valuations).
Not bad.
For those hoping to watch David Carmo this weekend, you're out of luck. He was sent off and subsequently banned for 3 games last weekend for a horrendous tackle and then almost having a scrap on the pitch – you can watch it here: https://wittyfutty.com/2020/10/video-david-carmo-fransergio-and-jorge-fernandes-get-red-cards-during-vitoria-vs-braga/
Put him down as "aggressive" on the scout report.
Next blog will be a bit different but I'm sure I'll do another of these at some point.
As always, hope you enjoyed reading!
Sancho Quinn, 30/10/2020