INTRO
With the new season underway, I thought it would be fun to look back at some old blogs and see where some of the players that were highlighted as interesting are now.
There's some good ones, and some less good ones, but it'll be fun.
Unfortunately, the copyright police have been after me so many of the videos related to the blogs have been taken down… but what can you do… if anyone knows a good workaround send me a DM on twitter!
The blogs we'll review are as follows:
Finding Arsenal's next centre back (April 2020)
Finding Value in new positions (June 2020)
Finding the next Jack Grealish (August 2020)
Finding the next Fabinho (September 2020)
Finding the next Van Dijk (October 2020)
Transfer Market values are from transfermarkt.com – and while be no means gospel – will help to give us some tangible estimate for comparison.
Shall we?
---
FINDING ARSENAL'S NEXT CENTRE BACK
You can check out this blog here: http://analysisid.com/finding-arsenals-next-cb-part-2/
Players highlighted in that blog (copy and paste job below):
"– Felix Uduokhai – 22-year-old, Former German U21, currently playing for Augsburg on loan from Wolfsburg (admittedly less impressive in-possession but profiled so well otherwise that I thought he was worth inclusion here)
– Pau Torres – 23-year-old Spaniard, playing for Villareal
– Mohammed Salisu – 20-year-old 6"3 Ghanian playing for Valladolid
– Gabriel Magalhaes, 22-year-old Brazillian, currently at Lille
– Nico Elvedi – 23-year-old Swiss international, playing for Gladbach
– Sven Botman – 20-year-old Dutchman, playing for Heerenveen, on loan from Ajax "
Where are they now?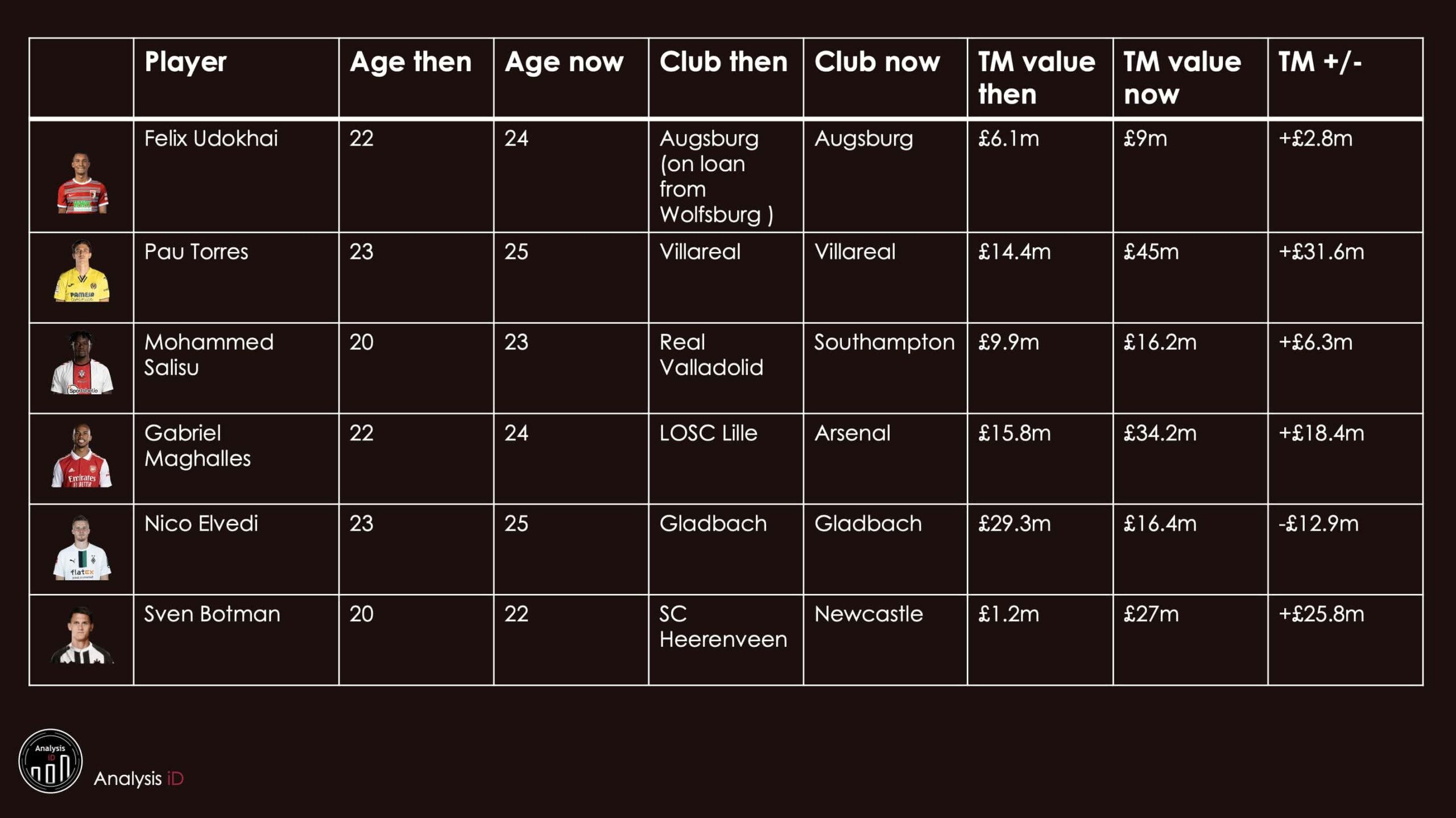 Felix Udokhai was a real stand-out for aerial and ground duels  in the data, though less impressive looking in-possession. Played a lot of games in 2020-21, far fewer the following season but did struggle with a few injuries and a period out with Covid. Started in a back 3 the first game of the 2022-23 Bundesliga season albeit in a 4-0 thrashing at the hands of Freiburg. Signed permanently for Augsburg for 9m Euros in June 2020 after impressing on loan.
Pau Torres has become a regular for the Spanish National team and a big player for Villareal. Being linked heavily to Man Utd, amongst others, and has had a huge TM value increase, from £14.4m at the time of the blog to £45m now.
Mohammed Salisu was another young defender who profiled very well in the data. He has since signed for Southampton in the Premier League for £11m. Had a real breakthrough year last season, making 34 appearances in the league and continues this season as first choice… as long as Ralph can forgive him for a terrible own goal against Spurs on match day 1 of this season.
Gabriel Maghalles – superb player. A big money signing for Arsenal and has been excellent. Expecting another good season from him.
Nico Elvedi is still at Gladbach and is hugely experienced, despite being only 25 – making 237 appearances for the club. Not quite sure why his market value has dropped so much. Good player. Thought it might be due to him having only a year left on his contract, but TM have him as signed up for 2 more years. Played 90 minutes as LCB in a back four in Gladbach's Bundesliga 22/23 opener and was on the scoresheet in a 3-1 win.
Sven Botman – has really blown up since the blog. Signed for Lille and was one of the stars who led them to a shock Ligue 1 title in 2021. A third player from this list of 6 who now plays in the Premier League, after a £33m move this summer. Will be very interesting to watch how gets on. Was very impressed at the time with him, the only question mark was occasionally being a bit flat-footed when defending, meaning he could be bypassed too easily and then not have the agility to recover well. This will be tested in the Premier League so will be interesting to see how much this has improved in the last 2 years. 
A look at the original chart throws up some interesting names as well, Konate (now of Liverpool), Saliba, De Ligt. It's incredibly simple analysis but I think shows the value of data in filtering in recruitment.
---
FINDING THE NEXT JACK GREALISH
You can check out this blog here: http://analysisid.com/finding-the-next-jack-grealish/
Who was highlighted?
Chidera Ejuke – 22 year old LW for Heerenveen, valued at £5m
Louie Sibley – 18 year old Number 10 for Derby
Iliyas Chouaref – 19 year old RW for LB Chateroux in Ligue 2, valued at £1.3m
Where are they now?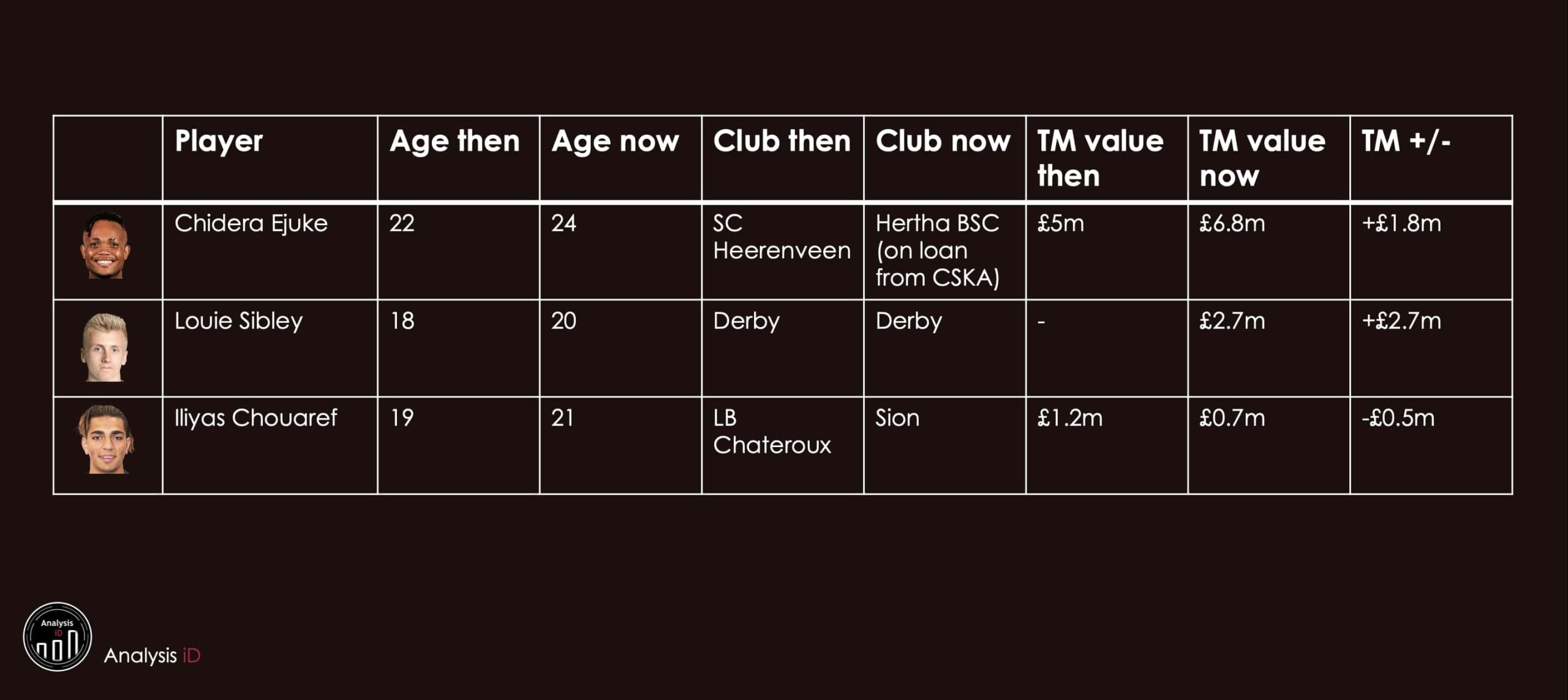 Not long after the blog was released, Chidera Ejuke joined CSKA Moscow for around £5M. He had a good spell in Russia, establishing himself as a regular in the team, scoring 10 times and assisting 8 in 55 games in the Russian Premier League. With the on-going war in Russia, Ejuke has joined Hertha BSC in the Bundesliga. He made his debut in match day 1, coming on in the 56th Minute of their 3-1 defeat away to Union Berlin. Will be interesting to see how he gets on in the German top tier this season.
 Still only 20, Louie Sibley has become an important player for Derby appearing 30 times in the Championship in 2020-21 and 25 times in a chaotic season at the club in 2021-22. Following Derby's relegation after going into administration and being deducted 15 points, it looks likely Sibley will start the new season playing in League 1.
I'd be lying if I said I had been keeping tabs on Iliyas Chouraref's career post-blog. He hasn't made the breakthrough he would've liked and this season joined Swiss Super League team, Sion. He's got some talent, particularly as a dribbler and he's still very young so hopefully he can kick on and forge a good career for himself. Not one you would have down as a "hit", it must be said.
Summary
Finding the next Jack Grealish was hard! Ejuke was the best player on this shortlist and will be interesting to see how he performs in a top 5 league this season.
---
FINDING THE NEXT FABINHO
You can check out this blog here: http://analysisid.com/finding-the-next-fabinho/
Our shortlisted 3 players from that blog:
I. Sangare
C. Doucoure
A. Lokonga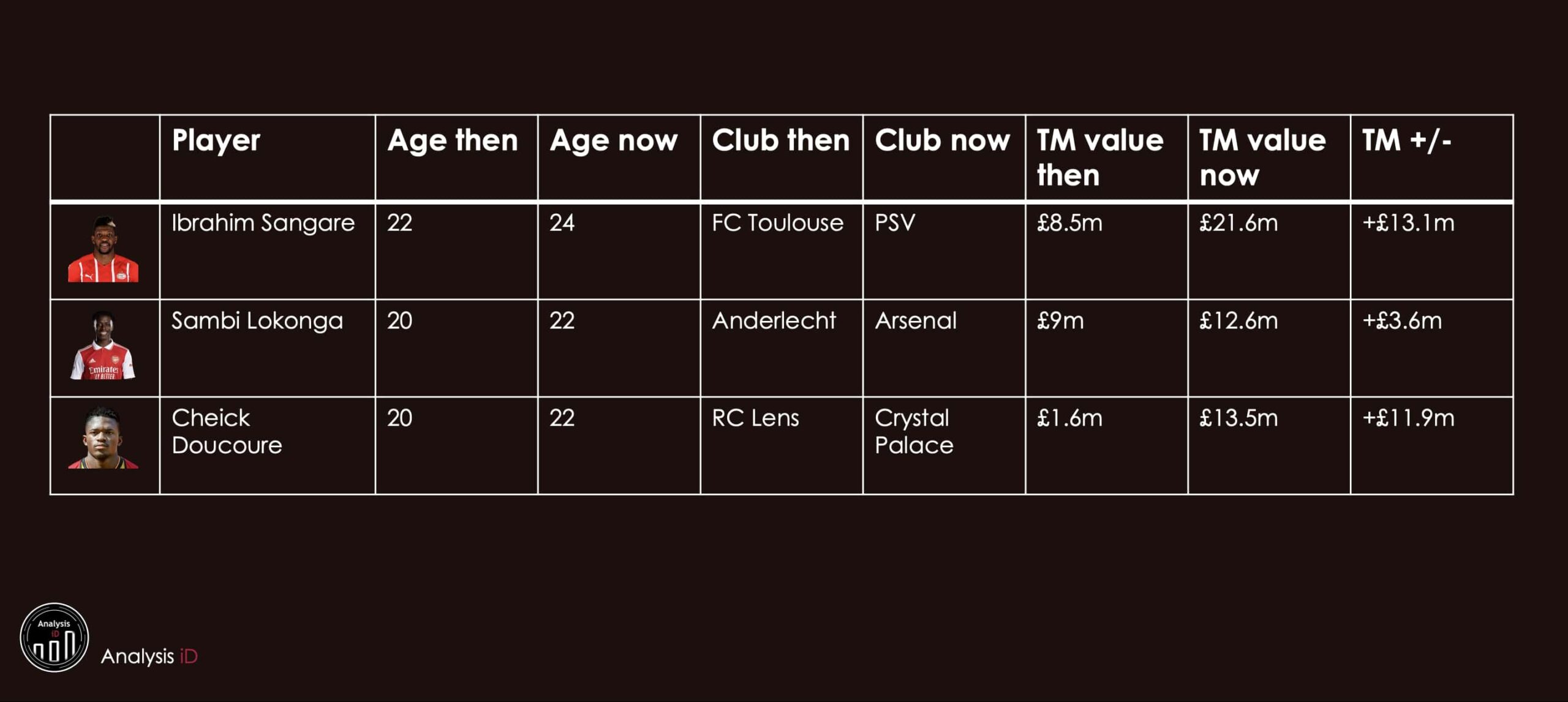 Another 2/3 that have since moved to the Premier League, with Sangare perennially linked – you'd imagine he'll make the move over at some point too.
Sangare has had a really impressive time over in Holland with PSV and has been heavily linked to a switch to England. A lovely footballer to watch, his combination of physical and technical skills should translate really well to the Premier League.
Sambi, of course, is here already. Snapped up by Arsenal. Did ok in his first season. His 19 Premier League appearances is actually more than I had thought in my head he had appeared in. Hoping he can kick on this season and become an important player for Arsenal.
A little reminder of the numbers he was putting up as a 20 year-old in Belgium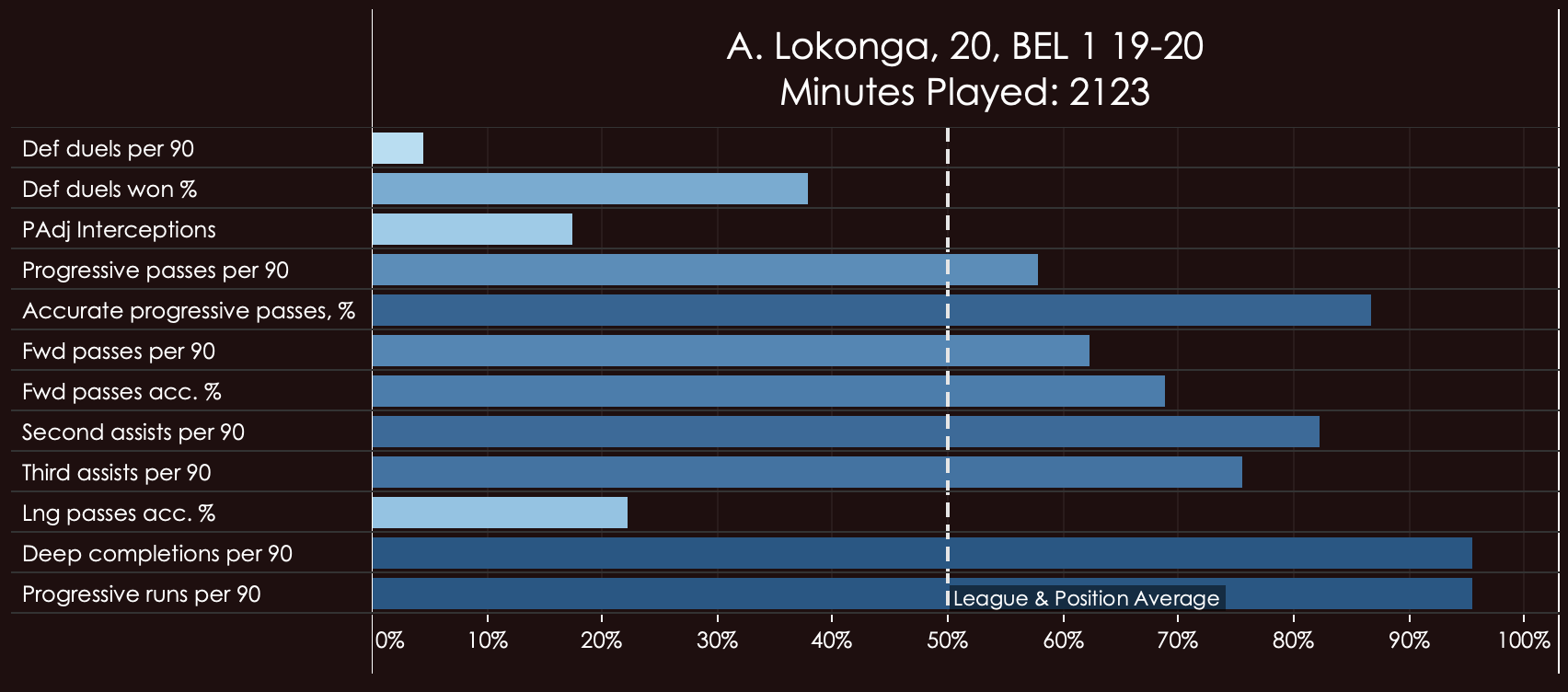 Cheick Doucoure – another who will play in the Premier League this season and another in the growing list of shrewd signings in recent times by Palace. I think he'll do well for them this season and play a lot of games. I liked his combination of athleticism, defensive instincts and IQ, and long passing in the brief video analysis I did in 2020. He looked superb in the event data also! Can do a bit of everything.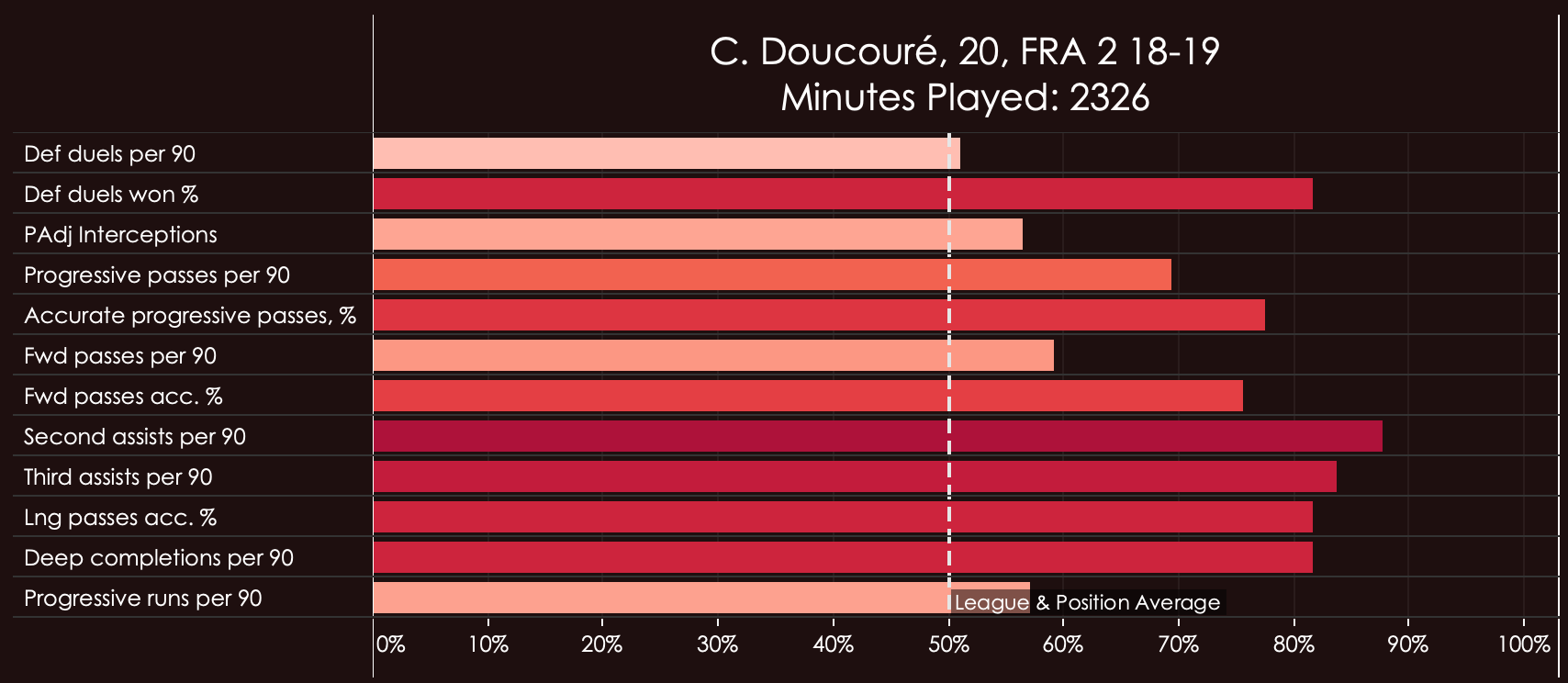 Just as a bit of fun, Aster Vranckx (then 17) was another one highlighted by the data as an interesting prospect, albeit with a very low minutes sample.
He has since signed for Wolfsburg in the Bundesliga for £7.2m. One to keep an eye on.
---
FINDING THE NEXT VAN DIJK
You can check out this blog here: http://analysisid.com/finding-the-next-virgil-van-dijk/
Unsurprisingly, finding the next Virgil Van Dijk was hard.
Here's the original list the player similarity model gave: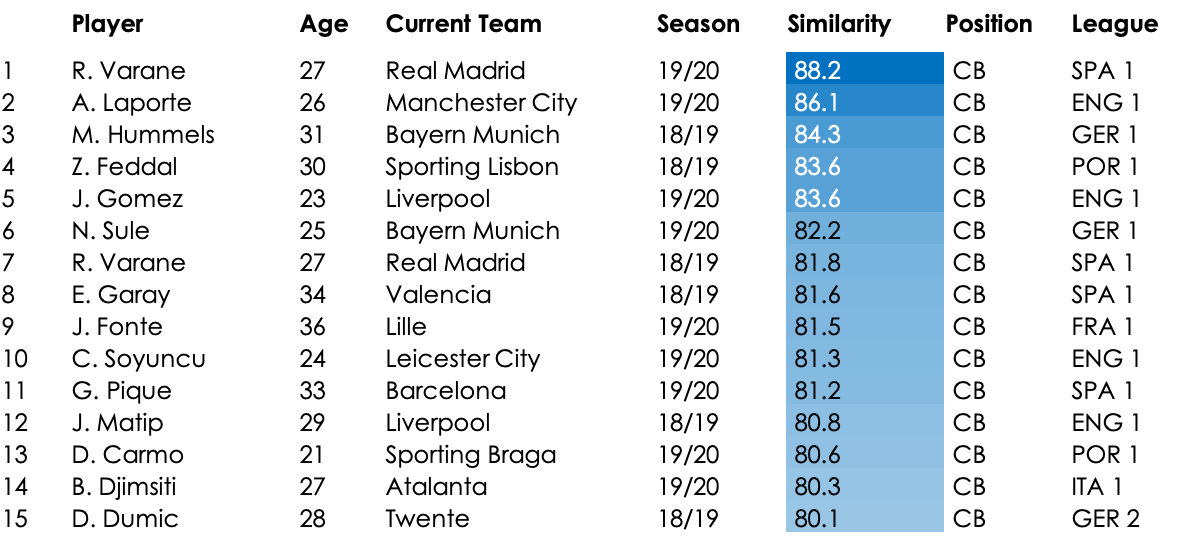 There were a lot of well-known, "star" names, already at big clubs, that wouldn't have been very interesting to read or write about, so I applied a U23 only and a <£5.5m filter, giving this list:

Digging into the event data via the player bar charts it was narrowed down to the following who were most interesting to have a look at:
David Carmo
Jean Marcelin
Pontus Rodin (we had to, didn't we?)
Harry Souttar
Where are they now?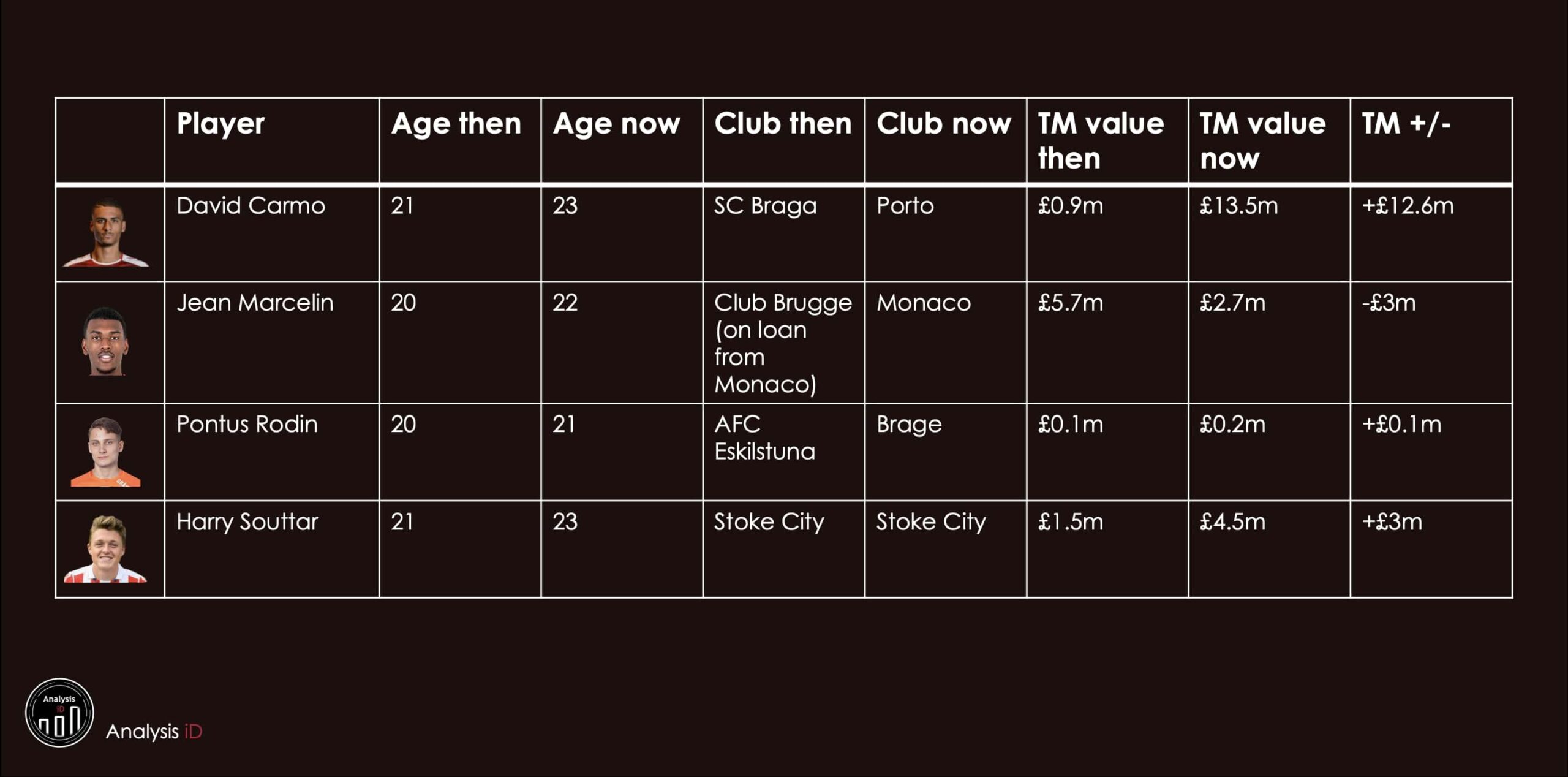 David Carmo was actually linked to Liverpool, and a few other big clubs, following the blog. He's an exciting prospect for coaches and analysts. He's got some fantastic raw tools: good left foot, extremely quick and agile, good in duels, good size. Signed for Portuguese giants Porto this summer and I might do a follow up video analysis on him at some point this season. I remember thinking at the time that he had a lot of a great attributes but needed to be a little less impulsive and a bit more composed.  
Jean Marcelin – hasn't had the breakthrough he would've hoped for yet. Had a good loan spell in 2020/21 but the following season was a waste, making just a few appearances for Monaco B. Seems like a lot of injuries according to Transfer Markt. If I was say, a Championship club. I'd look closely at him if he could be available for a knock-down price, and of course depending on fitness. Looked a decent talent at the time.
Pontus Rodin – This was the one where I was going to make my millions. Swedish 2nd Tier and profiled well in the data. As soon as he was picked up by a bigger club and flipped for big money… that head of recruitment job at Arsenal was practically mine…
He was a fun player to pop up and review. Wasn't playing at a great level but I liked him. Composed, played on the back foot, decent instincts, competent technically. Seems to have made a bit of a sideways step to Brage, another club in the Swedish Second tier. Is a regular for them and has been capped at youth international level since the blog.
Harry Souttar – Another who's had some unfortunate injury problems. Currently recovering from a pretty debilitating cruciate ligament rupture. He was also quite a fun player to review. A big lad and a real old-school defender. I think this line from the old blog fit well for him:
"He's not the next Van Dijk. But he might be the next Lewis Dunk or James Tarkowski, and that's no bad thing".
Let's hope he can recover well from his injuries. Wouldn't be surprised to see him in the Premier League at some point
From the slightly wider shortlist for that blog:

Three others profiled well in similarity score but also in their event data:
Tosin Adarabioyo has been a superb signing for Fulham, for a really low price, and will play in the Premier League again this year. Kris Ajer has since moved to Brentford and again will hope for a strong Premier League campaign and Bella-Kotchap was signed by Southampton this summer.
---
BONUS REVIEW!
I actually almost forgot about this one, maybe the most fun blog to do: http://analysisid.com/using-data-to-find-players-who-could-be-great-in-another-position/
Let's see how our recommendations for players who could play in a different position got on.
Two wingers were highlighted for their insane physical outputs, Ismail Jakobs and Sheraldo Becker: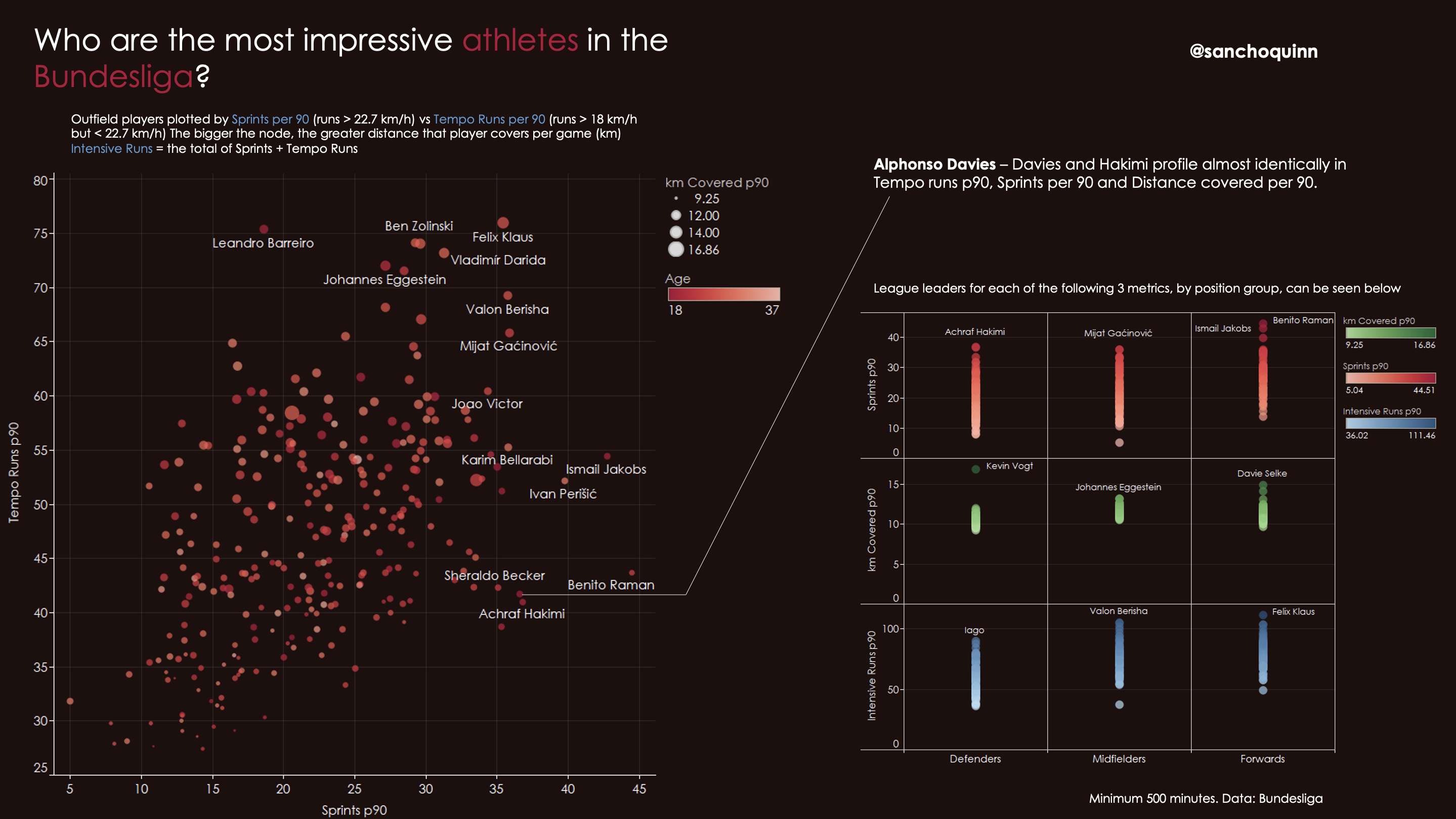 They also looked promising in some metrics I thought could be useful for would-be full backs:
The idea was that they would be good candidates to move from their more advanced positions to full back – so where are they now, 2 years on?
Ismail Jakobs – was snapped up by Ligue 1 side Monaco in July 2021… and has actually made the full-time switch to full back, becoming first choice LB for the club. Definitely worth a follow up look this season to see how he's getting on. If he's improved his technical proficiency, he could be a real handful a full back. A real monster physically. 
Sheraldo Becker – is still with Union Berlin, who have gone from relegation candidates to 5th placed last season in the Bundesliga. Here he is getting a goal and assist on MD1 against Hertha Berlin.
Funnily enough, he also looks to have had a shift in position. It's not to full back… but rather to striker. Playing 22 times in a central role last season, scoring 4 and assisting 6, and indeed that was where he started the new season against Hertha. Fun. Another one to keep an eye on!
---
CONCLUSION
Not bad I would say? Actually, a surprising number of players highlighted who went on to be picked up by Premier League teams. Several misses as well but let's focus on the positives, right?
Again, I'm not hugely convinced that TM value is the best barometer of anything, but just out of interest here are the biggest movers in terms of increase:
Pau Torres

+£31.6m

Sven Botman

+£25.8m

Gabriel Maghalles

+£18.4m
Clearly, the recipe is simple:
Be a centre back
Be left-footed
???
Profit
And the players with the biggest decrease in TM value:
Nico Elvedi -£12.9m
Jean Marcelin -£3m
Iliyas Chouaref -£0.5m
Far more teams are using data as part of their recruitment processes now than even in 2020, 2 years ago. For me, it's an absolute must. We have something special coming from Metrica Sports for recruitment teams. Looking forward to sharing some info soon…
Might have to dust off the cobwebs and get another "finding the next…" blog out sometime.
As always, thanks for reading
Sancho