It's not quite the half-way point but the New Year seems like a good time to see where each Premier League team are up to in this weird and turbulent season.
And who better to hear it from than the fans themselves. We've compiled some great voices on each Premier League team to run through their season so far, team by team and player by player.
Where we've had multiple people covering a single team, I've averaged the ratings and tried to share the commentary between them. If you'd like to read the full, raw write-ups from each writer – you can do so here: https://docs.google.com/spreadsheets/d/1FiOPNmaUIP3o0FbTIMafC1gE0IR4hdFcfIuZ496cEF0/edit#gid=276025516
If you like what you read from any of the writers, follow them on twitter!
Big thanks to all those who joined in… enjoy! 
Scroll down to the end to see the Fans Mid-season Awards, or click the button below to skip straight there

*How quickly things change in football – ratings and writeups prior to 3-wins on the bounce!*
Ratings by @sanchoquinn @roryywatkinss @gunnerpunner @domc0801
Words:
Team, Manager and GK: @roryywatkinss
Defence: @domc0801
Midfield: @sanchoquinn
Forwards: @gunnerpunner
(or otherwise called out)
OVERALL TEAM – 3.3 
FA Cup win and deadline day signing of Partey created serious optimism around the club, atmosphere has quickly deteriorated to a putrid state after a season filled with poor performances and older players like Mustafi and Kolasinac still getting minutes over younger players like Saliba even when everyone in and around football knows they aren't good enough and won't be at the club past summer 2021. Things change quickly however and wins of Chelsea and Brighton after Christmas, we hope, will be a turning point
MANAGER – 3.5
Any sensible Arsenal fan wants him to succeed but red flags are starting to constantly pop up. Has never managed to coach the attack above mid-table standard and his media comments are starting to get stranger week on week, especially the infamous percentages stats he pulled up in a recent presser which no one in the entire fanbase wanted to hear. Has been incredibly unlucky with injuries but his handling of the Saliba situation raises major question marks over his man-management skills which gained him so much good will at the start of his tenure. Hopefully the recent Boxing Day victory over Chelsea spurs him on to consistently stick with younger players like Saka, Smith Rowe and Martinelli and not let Willian anywhere near the matchday squad ever again
B. LENO – 6.1
Hasn't made any costly mistakes but is gaining stick amongst the fanbase for not being at Emi Martinez restart levels. Perfectly able goalkeeper and is one of the members of the current starting XI who doesn't need immediately replacing
H. BELLERIN – 4.75
Probably his worst season in an Arsenal shirt. Looks sluggish and his crossing has been woeful. Needs to learn how to take a throw. Incredibly rigid which means he looks ok in straight lines but lacks agility which impacts his 1v1 defending and the angles he can create in-possession
R. HOLDING – 5.5
A player playing to the limit of his abilities. Should probably be a back-up or playing for a lower level team but does what is asked of him well. 
GABRIEL  – 8
One of the shining lights this season. A brilliant signing in the right age and price bracket that the club should be looking at in our current state. Confident on the ball and a great overall defender. Pabo Mari's questionable moments vs Chelsea show the gulf in quality between our current left footed centre back options.
K. TIERNEY – 7
Started the season a little slowly but has probably been Arsenal's best player in November and December and one of the few who can hold his head high.
MAITLAND-NILES – 6
Not had many chances but has looked solid when playing
@sanchoquinn: For whatever reason, perhaps his nonchalant style, not a player fancied by Arteta. Has impressed in his limited opportunities for me. I still really like him. Offers athleticism, a higher level of technical ability and more angles/disguise with his passing. Not a perfect solution at right back (he's not great in either box: 1v1 defending or with his final ball) but should definitely be playing over Bellerin.
D. LUIZ – 4.25
Middle of the road. Plays well for 4 games then badly in the 5th and he's rumoured to be causing quite a split in the dressing room.
@gunnerpunner: When he's good, he's very good, but that's increasingly rare. Seemed undroppable for his passing, but his defensive tendency to retreat at all times is part of the reason why Arsenal are so vulnerable on the break, and he doesn't have the legs to play high. Arsenal could've moved on in the summer, and should definitely do so in 6 months.
B. SAKA – 8.75
@sanchoquinn: To be this impressive, in a truly terrible team, at his age, is extraordinary really. We're in danger of running him into the ground as we're so reliant on him. It's not a healthy position to be in. I still have a slight worry that he might never be the high volume assist/scorer that you ideally want in a wide forward. But he's an amazing talent. His decision making on the pitch is unbelievable for his age. There's so many little instances where he looks like he might be in trouble and finds the solution, whether it's a dribble or the right pass or winning a free-kick. Outstanding
@domc0801: The best player at the club at 19. Phenomenal, level headed, mature, hard working and humble. A star. 
@gunnerpunner: Just a special, special player. He's played FB, WB, winger on both sides and in midfield. And he's looked comfortable in all of them. Technically sound, with a freakish awareness of space for a player of his age. Probably Arsenal's best player this season, and he's already close to undroppable. Might've scored higher, but could do with more end product.
@roryywatkinss: Best player in the squad at 19. HIs versatility is astonishing, his talent is exceptional. Special, special player.
WILLIAN – 0.75 (lol)
@sanchoquinn: Another disaster. I was one of the few that thought Willian would be a good signing for us. He's not become a bad player overnight. He's very good technically, excellent athlete, can play a number of roles. Even in the context of the team being really bad, he's been very disappointing. A problem of motivation? He's got his last big contract, he's made a step down to a team that are less competitive, he probably signed expecting that he wouldn't start every week. I think that's why he's become such a lightning rod of criticism for Arsenal fans. Fans can overlook mediocre performances if it looks like you are giving everything. He doesn't appear to be, at all. 
@domc0801: The worst signing I can remember Arsenal making. Woeful, doesn't try, seems a dickhead too.
@gunnerpunner: Is 0 harsh? Maybe, but Willian has had one shot on target since the first game of the season, broken team rules to go to Dubai, managed to get ill in mysterious circumstances around Christmas, and done absolutely nothing on the pitch when he has played. A 32yo walking around, picking up his pension, offering nothing in attack and not even protecting his fullback. Serious questions need to be asked about the signing, and even bigger questions about what Willian needs to do to be dropped.
@roryywatkinss: I didn't expect him to be this bad. I (like most Arsenal fans) tried to talk myself into why this signing made sense. On the face of it we were signing a player with premier league experience, was already in London and could offer some form of tutelage to our youngsters. Oh how I was wrong. He's had 1 shot on target in 910 minutes, walked around like he owns the place. There are rumours that, along with Luiz, he is part of forming the dressing room divide. As the weeks go on, the 3 year contract is looking worse and worse.
T. PARTEY – 6
Barely been able to get on the pitch but clearly the best midfield player at the club. The worry is we waste his prime by being awful currently. By the time we're good again we've invested a huge amount of money into him and he might be past his best.
D. CEBALLOS – 2.9
Never been a fan of him here. A good sidekick I think. If he's in a very good team with leaders in midfield he can look good. Technically very good, good energy. But poor in both boxes. Doesn't give you much defensively and gives you even less of a goal threat. Would not bring him back next season
G. XHAKA – 3.5
@sanchoquinn: At the time of writing, he's just had a fantastic game against Chelsea. And so begins the Xhaka cycle again. His defenders will tell you they told you so, his critics won't have to wait too long for another poor game or costly error. As much as him and Mustafi can be useful players (Xhaka more so), they day they leave will be a good day for Arsenal. It's not entirely their fault, but they have become the figureheads of a real period of failure for this club. The day they leave will be a a much-needed symbol of moving on, I think
@gunnerpunner: Granit Xhaka isn't the saviour, but his strengths and flaws reflect the strengths/weaknesses of the system more than most. When things work, Xhaka covers small spaces and finds players to feet between the lines. This is increasingly rare, but Xhaka showed again with Emile Smith Rowe that he can still do it if the players are showing. When things don't work, and the game is too open, Xhaka is all at sea. He quit against Burnley, and had a great comeback against Chelsea. That's what makes a mid-table midfielder. Arsenal need to move on.
M. ELNENY – 3.75
Insane fitness levels and excellent at keeping possession. Incredibly average otherwise. We need to do better. Speaks to a really muddled recruitment strategy. He's deemed not the answer at Arsenal, goes on loan to Turkey, does ok there but we're still open to offers in the summer. Suddenly he's back in the fold and starting every week. Maybe he's a brilliant trainer. I'm sure he is. Useful for playing away at Old Trafford or the Etihad or Anfield, but not much else.
N. PEPE – 5.6
@sanchoquinn: If we're being honest, an absolute disaster of a transfer. I don't think he'll ever be a £72m player, let alone at the time we signed him. That's not his fault, of course. On the pitch, he's always shown flashes – but little more than that. Clearly not fully trusted by any of the managers he's had at Arsenal, in part I think because he's a bit of a liability without the ball. This team is so devoid of quality and goals though that we need him in the team.
@domc0801: Leeds red card was very stupid. Best player in the Europa League but his league form hasn't been great. A player who needs the players around him to play well in order to shine.
@gunnerpunner: Very impressive highs, and very low lows. The conversation must move away from the transfer fee. He can do things that nobody else in the squad can do, but Arteta doesn't seem to like the lapses of concentration, and clearly wants more consistency. Pepe's downsides would be less of an issue if the rest of the team was functioning properly.
@roryywatkinss: Arteta obviously demands a lot more consistency from his forwards than what Pepe offers even though his talent is very obvious. If the players around him were better it would definitely help mask his deficiencies and propel his talent.
P. AUBAMEYANG – 2.75
Not the player from the first half of 2020. Hard to believe it's all physical decline, and sure the system's failings have contributed, but it's been tough to watch. Big pressure on the player and the club to justify that contract. Needs to be playing higher up the pitch.
A. LACAZETTE – 4.25
Works hard in a role that doesn't suit him. Hard to penalise Lacazette for not being a player that he never has been. Much better when surrounded by legs (i.e. not Willian).
@sanchoquinn: Not a bad player. He's just not great. He's a guy that will get you 13 or 14 a season if he plays pretty much every week in the league. Slightly below Giroud level. I think there was a reason he was available for 2 or 3 seasons before we eventually paid 50m for him, as if we (and indeed other clubs) weren't entirely convinced). Looks like a really bad deal now. Tries hard at least. 
E. NKETIAH – 4.25
Scores goals in Europe but doesn't do a lot else. Has shown good pressing ability. Sulked when he was out the team, and didn't play well enough to justify his inclusion. Now he's stuck obscuring Balogun's route into the team. Won't be good enough to be first choice at Arsenal, which is fine. With his contract running out in 18 months, a move could suit all parties.
---
BEST PLAYER? 
Saka
BIGGEST SURPRISE? 
@roryywatkins: treatment of Saliba
@domc0801: Gabriel
@sanchoquinn: treatment of Saliba
@gunnerpunner: Saka
BIGGEST DISAPPOINTMENT? 
The treatment of Saliba and Auba
BEST XI? 
@roryywatkinss 4-2-3-1
Leno
Niles — Saliba — Gabriel — Tierney
Partey — Xhaka
Saka — Smith-Rowe — Martinelli
Aubameyang
@domc0801 4-2-3-1
Leno
Niles — Saliba — Gabriel — Tierney
Partey — Willock
Nelson —- Smith-Rowe —- Saka
Aubameyang
@sanchoquinn: simplify with a 4-4-2
Leno
Niles — Saliba — Gabriel — Tierney
Smith-Rowe — Partey — Willock — Saka
Pepe — Auba
@gunnerpunner 4-2-3-1
Leno
Niles — Saliba — Gabriel — Tierney
Partey — Xhaka
Pepe —- Smith-Rowe —- Saka
Aubameyang
WHAT DO YOU NEED IN JANUARY? 
Central midfielder with legs who can can create and score
PLAYER TO WATCH FOR REST OF SEASON? 
@roryywatkins: Smith-Rowe and Martinelli
@domc0801: Smith-Rowe
@sanchoquinn: Saliba (for Fulham, or whoever sign him on loan) – Martinelli too
@gunnerpunner: Martinelli
END OF SEASON PREDICTION? 
@roryywatkins: 11th
@domc0801: 14th
@sanchoquinn: 12th
@gunnerpunner: 11th

Words and ratings by @thatgarateyjc
OVERALL TEAM – 7.8
An excellent start to the season but then a few ups and downs but we now seem to be picking up again. Much improved on last season in pretty much every area!
MANAGER – 8
Cant really fault the gaffer as he seems to have the players onside and carrying out his instructions well. Its nice to see us a bit more flexible tactically this season too.
E. MARTINEZ – 8
After Heaton became a longer term absentee we needed a keeper and we couldn't have found a better replacement in Martinez. Second choice at Arsenal but not at Villa it seems.
M. CASH – 7.5
Cash has taken to the EPL like a duck to water. A full back with unbelievable energy who is a huge asset in Villa going forward and also when having to defend.
E. KONSA – 7.5
Another Championship graduate who has come of age alongside Mings at the heart of our defence. Solid in the air and with excellent recovery pace, Konsa is one of the first names on the teamsheet these days.
K. HAUSE – 7.3
Hause has been unlucky in the fact that Konsa and Mings have been performing so well together in the back four but he is a ready made replacement for either.
T. MINGS – 8.7
Mings has really stepped it up this year and his England call ups are testament to it. The main voice and organiser in the side, Tyrone is solid in many aspects but for me plays to many wild and inaccurate long balls and can be susceptible to being a bit to relaxed on the ball but this is being super critical, an integral part of the starting eleven.
M. TARGETT – 8.9
Targett has been superb in an attacking sense linking with Grealish and supporting in wide areas, letting Jack drift inside and being an option for him on the left flank. Possibly a bit wobbly defensively earlier in the season but has come on leaps and bounds in this area of his game.
D. LUIZ – 7.5
Luiz has turned into a pivotal part of the starting eleven this season at the base of the Villa midfield. His passing and ball recovery skills are his main strengths and a lot of what he does goes unnoticed.
J. MCGINN – 9.1
The hardest working player in the side who doesn't stop running all game. Terrier like in the tackle but is a true box to box midfielder in every sense of the phrase. We miss him massively when he isn't in the team
R. BARKLEY – 7.9 
Came in on loan and made an immediate impact before getting injured. It was very clear he was missed – mainly because Jack then played centrally where he is slightly less effective. However, we have adapted in his absence and now he is back we should kick on even more, I hope.
A. EL GHAZI – 6.5
Played ok early on in the season and then was pushed out to make way for Bertrand Traore when he was signed. A harsh rating maybe given his performances of late but he needs to be consistent to stay in the side ahead of Traore once Barkley is back in the starting eleven.
JACK GREALISH – 10
A pretty obvious choice for every Villa fan. Gets a kicking every game but gets up and runs the opposition ragged as soon as he gets on the ball.
TREZEGUET – 6.2
Its a case of hit and miss when talking about Trezeguet. On his day he can be superb but like El Ghazi consistent good performances are key and they seem to be few and far between. Cant see him staying beyond this season.
O. WATKINS – 8.3
As fans we had to be patient in getting him in but boy was it worth it. Scored a few goals, holds the ball up well, runs the channels and stretches defenses. Does a lot of work off the ball that goes unnoticed.
B. TRAORE – 7.7 
Controversial perhaps, and don't get me wrong he's a player alright, but the jury is still out for me. Showed in the last 2/3 games what he can do especially with his set piece delivery but need to see more from him especially in the attacking to defensive transitions as he can be a bit lazy. However, there are signs that is being coached into him.
---
BEST PLAYER? 
Jack Grealish. Special mention though to Emi Martinez and Ross Barkley who have improved the squad massively.
BIGGEST SURPRISE? 
Matt Targett- Looked wobbly in the early games but has since improved a lot.
BIGGEST DISAPPOINTMENT? 
Trezeguet has perhaps still not hit the heights we want him to and Keinan Davis' fitness is (still) a problem.
BEST XI? 
4-3-3
Martinez
Cash — Konsa — Mings — Targett
McGinn —- Luiz —- Barkley
El Ghazi —- Watkins —- Grealish
WHAT DO YOU NEED IN JANUARY? 
Another quality defensive midfielder as we do miss Luiz when he is absent. Making Barkley's move permanent if possible would be great business.
PLAYER TO WATCH FOR REST OF SEASON? 
Grealish and can Wesley make an impact when he is fit to add another option up front where we are short of options?
END OF SEASON PREDICTION? 
A top ten finish would be amazing and if we can keep key players fit who knows but probably beyond us so I'm going for 13th

Words and ratings by @albionanalytics
OVERALL TEAM – 7
Possession-based philosophy has remained, with Potter using one of the less illustrious squads in the league. A statistically impressive side, with good xG, pressing and final third touch numbers; room to improve in terms of a high volume of goals conceded from set pieces, penalties conceded (one of the top sides) and game management – high amount of points dropped from winning situations
MANAGER – 6.5
As mentioned above, Potter has stuck to his philosophy which he deserves credit for. With academy graduates Robert Sanchez, Ben White, Lewis Dunk, Solly March and Aaron Connolly all heavily involved, he has certainly narrowed the academy to first team gap. Though 7 draws shows us as hard to beat, 2 wins all season is not enough to reach the levels the club want to be at (mid table). His varied team selection has understandably drawn criticism from fans and a difficulty in managing games effectively has turned multiple winning situations into draws or even losses. In his defence, the club did not spent as liberally over the summer as they had in previous windows.
M. RYAN – 6
Seemingly the scapegoat for many fans, Ryan has underperformed as a shot-stopper this season based on post-shot xG, though he has faced many penalties and benn dealt a tough hand with deflected shots, long range wonder-strikes and own goals. His distribution is decent, though he is not particularly aggressive in defending crosses. It looks as though he will be moving on from the club.
R. SANCHEZ – 7
A really strong start to his Premier League career – does not look as though he was playing League One football last season; a strong shot-stopper and made an impressive double stop at Fulham. Has prevented 1.2 goals saved above average. Still very raw – made some questionable decisions in the two goals conceded at West Ham, but has a high ceiling and is an academy graduate
T. LAMPTEY – 9
Albion's wonderkid. Statistically one of our top performers – crosses completed into area, shot-creating actions, fouls won. The challenge is keeping him fully fit given his explosive play style (clocked at 36km/h at Newcastle in September), though Potter has admitted how uniquely key he is to our side. Now capped at U21 level for England, he has maintained the dynamic, resilient form he showed when he broke through post-lockdown
BEN WHITE – 7.5
TBC
L. DUNK – 8
TBC
A. WEBSTER – 8
TBC
J. VELTMAN – 8
TBC
D. BURN – 6
TBC
S. MARCH – 9
TBC
Y. BISSOUMA – 9
TBC
S. ALZATE – 6.5 
TBC
P. GROSS – 7.5
TBC
A. LALLANA – 7
TBC
L. TROSSARD – 6.5 
TBC
N. MAUPAY – 6.5
TBC
D. WELBECK – 7
TBC
A. CONNOLLY – 6.5
TBC
---
[following section by @sanchoquinn]
BEST PLAYER? 
Lamptey, then Bissouma
BIGGEST SURPRISE? 
Solly March
BIGGEST DISAPPOINTMENT? 
Not having more points from some decent performances
BEST XI? 
3-4-1-2
Sanchez
Webster — Dunk — White
Lamptey — Bissouma — Lallana — March
Gross
Maupay — Welbeck
WHAT DO YOU NEED IN JANUARY? 
Some wide forwards and a #8 to partner Bissouma
PLAYER TO WATCH FOR REST OF SEASON? 
Lamptey, hopefully Ben White too
END OF SEASON PREDICTION? 
13th 

Words and ratings by @burnleyanalytic
OVERALL TEAM – 5.5
Have been way off the mark this season so far, with no signings and many injuries at the start. With the return of key players we have been able to drag ourselves out the bottom 3 just in time for Christmas
MANAGER – 7
A cult hero in Burnley. Has worked wonders every year he's been at Burnley. Very rigid in the way he sets the team off and always sticks to the same players, but with the lack of depth there isn't much he can do.
N. POPE – 9 
Is undoubtably up there as one of the best keepers in the league. The number of clean sheets with him in goal makes this apparent. Closing in on England's number 1
J. DUNNE – 5
Young defender who stepped in a the start of the season due to injuries. Bright future
P. BARDSLEY – 4.5
Bardsley is unfortunately over the hill due to his age. Adds his experience to the team though
K. LONG – 4
Has been at the club a long time but is not up to the required standard
B. MEE – 6.5
An unsung hero, that does not get mentioned much by those of the outside. Has been key to our turn in fortune since his return
M. LOWTON – 5
A very steady player. Able to put in a good delivery on his day but a position we need a upgrade
J. TARKOWSKI – 7.5
Defensively solid player. Good with the ball at his feet and still at only 28, has a number of years left at the top level in him
C. TAYLOR – 7.5
Brilliant at defending and great at getting forward. Does not look like he has the pace but will get up and down the line all game
E. PIETERS – 4
Pieters very similar to Bardsley. A back up player with experience
D. STEPHENS – 5
Not played much but again a solid back up player with experience to step in where needed
J. GUDMUNDSSON – 5.5
Has been a very good player over the years for Burnley but this year has been hit by injuries. Age taking its toll now
R. BRADY – 6
The return of Brady has injected a bit of life in our side. He's been like a new player. Technically good, lacks bit of pace
J. BROWNHILL – 6.5
Has been a superb signing and slotted straight into the team. Added the youth we need. Good at breaking up play but would like to see him add some goal contributions
D. MCNEIL – 7.5
The star player in our side. When he gets the ball there is an air of excitement. He's willing to dribble and run at defenders which we've not had in our side for a while
A. WESTWOOD – 6.5
The definition of a work horse. Does not stop for the full 90mins and is very good and delivering the ball
JAY RODRIGUEZ – 6.5
J Rod has added something different to our other strikers. Links up well and always offers 100%.
A. BARNES – 5.5
Barnes has been off the boil for a while now having not scored in 394 days until the other night
M. VYDRA – 5.5
Sprightly player in the few small appearances he's made. Shame he hasn't been given more of a chance
C. WOOD – 6.5 
Has scored double figures in each of his seasons at Burnley. Good with both his head and his feet when he's given the chance. Hopefully can continue this trend as we need it more than ever this season
---
BEST PLAYER? 
Nick Pope
BIGGEST SURPRISE? 
Josh Brownhill
BIGGEST DISAPPOINTMENT? 
Lack of signings
BEST XI? 
4-4-2
Pope
Lowton — Tarkowski — Mee — Taylor
Brady — Brownhill — Westwood — McNeil
Wood — Rodriguez
WHAT DO YOU NEED IN JANUARY? 
New RB and another winger
PLAYER TO WATCH FOR REST OF SEASON? 
Josh Brownhill
END OF SEASON PREDICTION? 
15th

Ratings by @acouchscout and @mishraabhia
Words:
Team, Manager, GKs and defenders: @acouchscout
Midfielders and forwards: @mishraabhia
OVERALL TEAM – 8
Defence overall much improved. Set-piece play, especially corners, has been beyond outstanding. However, games against top 6 teams we've looked poor, and the offence seems to stall at times against inferior teams, especially when Ziyech is missing.
MANAGER – 7.25
On par with the overall performance of the team, he has been just good enough. Has figured out a solid defensive structure, and has made a few moves that really worked out well. Does a nice job with rotation so far, but IMO too cautious against the bigger clubs.
E. MENDY – 8
He has returned back to Earth a little bit, these past few games, but has overall performed at a very high level and has been a massive upgrade.
KEPA – 3
Needless to say, the whole Chelsea fanbase is thankful that he doesn't need to start anymore.
R. JAMES – 8.25
Has taken over Azpi's RB spot, and has looked worthy of it ever since. Solid defensively and a constant threat on the right flank. His crossing has been mostly quantity over quality, at times, but that is mainly due to the moments in which team has failed to provide other playmaking options.
C. AZPILICUETA – 6.5
Has overall looked decent, but James' rise has seen him move to more of a bench role.
K. ZOUMA – 8
Established himself as the unquestionable partner of Thiago Silva. Strong defensively and has contributed massively with goals scored from corners. Way more consistent than in past seasons.
THIAGO SILVA – 8.5
Other than a couple of surprising errors, he has been the experienced and proven leader that was expected of him. He is a calm presence, a very skilled passer and reader of the game, plus his presence in the both boxes has been a big factor in the set-pieces success
A. CHRISTENSEN – 5
Cost the team big time with his performance against Liverpool. Hasn't looked so bad otherwise Might continue to be involved in the rotation if Lampard will look to give Thiago some rest, but that's about all he could provide.
B. CHILWELL – 8.75
Could perhaps improve slightly in his 1-on-1 defending, but his final third and penalty box presence has been such a huge factor. Great in the air too, and has a sense for when and how to cross.
M. MOUNT – 8.25
Mount's usage on the wing was a bit confusing last season but he seems to found himself a role – the #8. The high-octane midfielder- who presses with intensity, has sharp passing, and helps his teammates out defensively – has been a great reformulation to the midfield. His passing choices can be better in the attacking third but his control of the game in midfield seems to get better and better.
KAI HAVERTZ – 4.5
For as big as the signing was, Havertz has had a very slow integration into the PL. The tactics haven't suited him but the adaptation hasn't been as good with him as well. Losing the ball, clumsy attacking attempts, and general midfield play haven't justified his talent at Leverkusen. Still very early however. 
M. KOVACIC – 6.75
Kovacic has been a solid centre-midfielder offering the midfield variety with his sticky dribbling and releases of the ball. He still has someways to go but he's a solid option that you can use against high-pressing teams where his dribbling abilities can be used to get away from the first wave of the press.
JORGINHO – 6.5
Jorginho hasn't quite played as much in the Lampard reign – especially this season. His showings have been as a sub or full 90s against slower paced teams. The same problems exist with his defensive fragilities outweighing his passing advantages. Still, he's shown at times the ability to cool down heads and offer Chelsea progression in more congested games.
N. KANTE – 8.25
The undeniable glue in the Chelsea midfield – without him, the Chelsea midfield looks toothless and unable to punch its own weight. His distribution might not be the best but he makes up for it with his defensive duties and high-octane approach.
H. ZIYECH – 8.75
Ziyech has been a welcome addition adding variety to Chelsea's attack that allow them to be more fluid in the attacking third. Whenever Ziyech plays, Chelsea's attacking options truly start to wreck havoc as the dribblers, runners, and the link-ups start to connect with his magical left foot. Chelsea have really missed him
C. PULISIC – 7 
Slowly getting back into the squad, dribbler-extraordinaire Pulisic is perhaps the second-most creative person behind the likes of CHO and Ziyech. His direct and sticky dribbling leads Chelsea into the penalty area and his willingness to attack the goal helps bring about good moves and goals. His passing in the final third can use some improvement as sometimes his eyes are glued to the ball but as the season goes on, Chelsea will really need the American
O. GIROUD – 7 
His heading and link-up play are things of beauty and for that short little run, he did well. However, his age and lack of pace really show at times. That and the fact that he can't be as much of a nuisance to the defenders as a Tammy means that his involvement – when he's not having a good game – becomes non-existent
T. ABRAHAM – 7.5 
One of the more reliable strikers and while he can be frustrating with his headers, his link-up play and his ability to get the goals by hook or crook is something Chelsea need as they currently go through rough waters.
T. WERNER – 5.75 
A player that started out excellently but has come under fire in the past few games for not scoring. While he does have his own problems – first touch, inability to find the best pass – the problems he has are also due to Lampard playing him in a role that he's not his best. His own decision making in front of the goal has been suspect and he seems to get himself into chances but is lacking confidence. Still, he's a nuisance to defences but he needs some rest
---
BEST PLAYER? 
@acouchscout: Ziyech
@mishraabhia: Ziyech
BIGGEST SURPRISE? 
@acouchscout: Zouma
@mishraabhia: Mount
BIGGEST DISAPPOINTMENT? 
@acouchscout: Havertz
@mishraabhia: Werner
BEST XI? 
@acouchscout 4-3-3:
Mendy
James — Zouma — Silva — Chilwell
Ziyech —- Kante —- Mount
Pulisic — Giroud — Werner
@mishraabhia 4-3-3:
Mendy
James — Zouma — Silva — Chilwell
Havertz —- Kante —- Mount
Ziyech — Abraham — Pulisic
WHAT DO YOU NEED IN JANUARY? 
@acouchscout: No pressing needs. Perhaps a backup LB, especially if they are able to sell Alonso, and a backup CB if they move Rudiger. Could also use a clear first choice CF
@mishraabhia: Not anything – we just need to rotate and start getting better at handling our attacking talent
PLAYER TO WATCH FOR REST OF SEASON? 
@acouchscout: Of those that I can see improving as the season progresses, Pulisic. Otherwise, Hakim Ziyech. 
@mishraabhia: Definitely Ziyech but apart from him, Havertz
@sanchoquinn: Hudson-Odoi if he gets the chances! A+ talent
END OF SEASON PREDICTION? 
@acouchscout: 4th
@mishraabhia: 4th

Words and ratings by @sanchoquinn
OVERALL TEAM – 5.5
15th and underlying metrics suggest they are pretty much around where they should be. Hammering at the hands of Liverpool has hurt their goal-difference and confidence. But as always under Roy, expect them to be solid and stay in the league fairly comfortably. An old squad but recruitment has pivoted more recently to attempt to correct this.
MANAGER – 6
Deserves more respect. Generally an organised team, with players with well-defined roles who know what's expected of them. Understand that some fans want more expansive football but succession planning should be done incredibly carefully. Could be a rude awakening when Roy leaves. De Boer an example of what can happen when getting a manager who wants to play a completely different style of football to what that set of players know. Be careful what you wish for
V. GUITA – 7.5
Goals conceded slightly above PSxG this season but he's a good keeper and been a good signing. Penalty king
N. CLYNE – 6.5
Not the player he once was but done a better than I expected this season. Looks comfortable back at Selhurst Park
J. WARD – 6.5
Top pro. Doesn't have super-quality but will rarely let you down
C. KOUYATE – 6
Seems to be moving to more of CB role, done ok
S. DANN – 5.5
Decent guy for a low-block. Asking for trouble if you leave him on an island vs quick forwards
G. CAHILL – 6
Another top pro. Had a great career. Not as sharp as he used to be and struggles a bit with fitness these days. Still a good player
P. V. AANHOLT – 5.5
Final third threat but doesn't defend very well. Get's himself into some quite bad positions. Still a useful player
T. MITCHELL – 7
Another example of how sometimes all young players need is opportunity. Got his chance through luck and has grabbed it with both hands. Palace's first choice LB now, for me. Good athlete, defensively solid. Perhaps lacks a little bit of quality in possession. But good personality, good player. Great to see an academy kid come through 
A. TOWNSEND – 6
Industrious, good left foot. Remains a solid player for Palace
J. SCHLUPP – 6
Useful squad player, can fill a few roles. Good athlete
J. MACARTHUR – 6.5 
Mr reliable. Smart player. Already doing his badges, imagine will have a good coaching career 
L. MILOVOJEVIC – 6
Been a great signing for Palace over the years. New contract recently. Still a big presence in the team. A leader
J. RIEDEWELD – 5.5
Bit of a "tweener". Not big enough to play centre back in a 4, not quick enough to play left back. Played more in midfielder recently, would want someone better in possession in there ideally but he's not bad.
J. MCCARTHY – 5
Not played as much as in previous seasons. Still puts in a shift
E. EZE – 7.5
Quality player. More to come from him. Superb technician, great to watch. Palace need him on the pitch to offer more creativity
W. ZAHA – 8.5
Amazing footballer. A true Palace legend. Been fortunate enough to watch him train and he is outstanding. Immense athlete who can do it for 95+ minutes, devastating 1v1, can score goals, but is a real team man aswell. Underrated by those outside of South London. To be honest, should be playing for a Champions League club. 10 G&A in 14 this season so far, in a team that doesn't do much at all in the final third. Arsenal should've signed him instead of Pepe.
J. AYEW – 5.5
Not come close to reaching the heights of last season. Still a willing worker
C. BENTEKE – 5.5
Know what you're getting with Benteke and what his limitations are. Done ok
M. BATSHUAYI – 5
Story of his career really, has talent but often flatters to deceive
---
BEST PLAYER? 
Wilf Zaha
BIGGEST SURPRISE? 
Clyne
BIGGEST DISAPPOINTMENT? 
Batshuayi
BEST XI? 
4-4-2
Guaita
Clyne — Tomkins — Cahill — Mitchell
Townsend — MacArthur — Kouyate — Eze
Ayew — Wilf
WHAT DO YOU NEED IN JANUARY? 
There's quite a bit this team needs really. A high quality box to box #8 (or two), a long time RB solution, CB
PLAYER TO WATCH FOR REST OF SEASON? 
Eze, feel like there's more to come. Brandon Pierrick if he gets the opportunity. A rolls royce at youth level. In and around the first team last season. Wide player but could potentially play a number of roles. I actually think a real good way into the first team is to convert him to RB. Similar to Wan-Bissaka's transition. not nearly as much of a defensive monster but natural athlete and would give you more quality with the ball and in the final third.
END OF SEASON PREDICTION? 
13th

Ratings by @scoutxd1 & @tlogic1991
Words: @tlogic1991 unless otherwise called out
OVERALL TEAM – 7.25
Happy to be in the mix for Europe. Squad coping well with big injuries to key players
@scoutxd1: League position flatters. Some of our performances have been excellent at times (Spurs) but very bad at others (Newcastle) 
MANAGER – 7.25
@scoutxd1: Top manager who "knows how to win", tried alot of formations but has found that the 433 works best, but has got it horribly wrong at times. Trusts experienced players which frustrates some
J. PICKFORD – 4.5
Brings unwanted edge to back line. Nervous and erratic behaviour leads to high number of self made errors
@scoutxd1: Really want to like him but he makes it difficult at times, too erratic and brings unnecesary pressure onto us. Done relatively well since the VVD incident to keep himself out of the headlines. Makes too many mistakes that have cost us
S. COLEMAN – 5.75
Has moments of old but currently lacks confidence and consistency that he previously possessed. On the decline this season.
L. DIGNE – 7.75
Fantastic creative outlet from fullback. Playing at a level that rivals the best in Europe. Outstanding player.
@scoutxd1: 
M. KEANE – 6.75
Has improved on passing ability. Had some very good games this season. Incapable of carrying pressure of leading backline, more confident when partnering Mina
Y. MINA – 7
Had up and down season until last 4 games. Shown good organising & leadership skills. Most comfortable in low block.
B. GODFREY – 6.5
Best compliment to give Godfrey is Jack of all trades master of none this season. Brilliant filling positions with key players out, hopefully can cement a place in starting 11 when everyone is fit.
@scoutxd1: Surprised me playing out of position as a LB. Absolute beast physically and is rapid. Lacking in the final third but reserving proper judgement until used in his main position (CB) but his versatility is useful.
M. HOLGATE – 6.25
Hasnt progressed from the last season. Injury didn't help but hasn't shown confidence playing out the back as last season. Position in team vulnerable
A. GOMES – 4.25
Shell of the player we saw glimpses of when first arriving at the club. Lacks any passing or defensive capability.
@scoutxd1: Passenger. Doesn't add much, players have gone past him with ease and doesn't contribute in attack. Positionally awful but is 'nice to watch' so gets away with a lot. Needs a big improve 
ALLAN – 7
Good work horse in defensive situations. Carries midfield in that aspect. Shows good passing when needed and capable of progressing with the ball if needed. Good signing
G. SIGURDSSON – 5
Slow, Creatively inept for a "creative midfielder" struggles to find space between lines, drops deep unnecessarily, poor distribution from set pieces. Brings nothing to the team, in the group of worst signings ever made by club
@scoutxd1: Doesnt do much. slows us down vastly when counter attacking, isnt one of those players that looks for the ball and want to be involved constantly, doesnt create and him being a set piece specialist is a myth.
T. DAVIES – 6
Davies is his own worst enemy, can be good in games then one loose ball will lead to the rest of his game falling apart. Needs to take out mistakes and show more consistency in his game.
A. DOUCOURE – 7
Slow to start in first few games for team. Gone up a level, brings work rate team needed. Shows versatility in roles he can play, maybe needs more improvement in attacking situations.
J. RODRIGUEZ – 7.5
Elite level in a creative aspect. Teams attacking threat in final third, finds space in between lines, and massive part of the team's attacking pattern of play. Would like to see him put into 10 role rather than outside as team struggles defensively.
@scoutxd1: World class technically. Our best creator but isn't going to contribute defensively so this needs to be taken into account in team selection. Love his switches of play cutting in from the right and could watch him all day, Need to keep him fully fit. would like to see him central
BERNARD – 4.5
Weak physically for the league, poor in 1v1, no pace to threaten opposition, essentially brings nothing to the team. Exit door is firmly open for him.
A. IWOBI – 7
Found it hard to settle at the club. Now shows the creative wide player the club bought him for. Most impressive side of his game this season is the work his does off the ball.
@scoutxd1: Played out of position as a wing back at times. Not great defender but is expected but is great at closing down angles and will work hard, looked very good creatively, if he adds goals to his game he could be a great asset. 
RICHARLISON – 7
Season hasn't really got going as of yet. Been struggling to get rhythm in his play. Ultimately, the team's best player when firing. Needs to cut out childish tendencies to progress his game to elite level.
D. CALVERT-LEWIN – 8
Most impressive improvement of any player at the club. Goal scorer with Impressive hold up play, excellent movement in the box, runs channels. Now starting to add creative aspect to his game. Attitude towards the game will put him into top strikers in the league for many years
@scoutxd1: Superb. Unique skillset with his physicality, mobility and touch. Finishing has been excellent. Hold up play is exceptional and has been the key to relieving pressure when hanging on defensively. His movement and striker play has been fantastic. Get him on the plane Gareth.
---
BEST PLAYER? 
Calvert Lewin
BIGGEST SURPRISE? 
@scoutxd1: Ben Godfrey (as a full back)
@tlogic1991: Calvert-Lewin
BIGGEST DISAPPOINTMENT? 
@scoutxd1: Andre Gomes
@tlogic1991: Pickford
BEST XI? 
@scoutxd1 4-3-3:
Pickford
Coleman — Keane — Holgate — Digne
James — Allan — Doucoure
Richarlison — Calvert-Lewin –Iwobi
@tlogic1991 4-3-3:
Pickford
Godrey — Keane — Holgate — Digne
Iwobi — Allan — Doucoure
James — Calvert-Lewin — Richarlison
WHAT DO YOU NEED IN JANUARY? 
@scoutxd1: RB/versatile attacker
@tlogic1991: RB, RW, CF
PLAYER TO WATCH FOR REST OF SEASON? 
@scoutxd1: Alex Iwobi – growing more and more as a player
@tlogic1991: Luca Digne
END OF SEASON PREDICTION? 
@scoutxd1: 5th
@tlogic1991: 7th

Words and ratings by @benjarman__ of @fulhamishpod (overall team comment left out so I took the liberty of adding in)
OVERALL TEAM  – 6.5
@sanchoquinn – A big improvement from the start of the season. Credit to the recruitment team who've improved the quality of the XI signficantly. Gone from looking like dead-certs for relegation to a team that has genuine chance of staying in this league. Need some luck with fitness as not a huge amount of depth there 
A. AREOLA – 8
Kept Fulham in so many games with incredible saves. Clearly a Champions League level keeper.
O. AINA – 6
After a shaky start to the season Aina has looked right at home with the switch to the back five
T. ADARABIOYO – 7
A snip at ~£2m, great in the air and wonderful passing out of the back. Wonderful partnership with Andersen
J. ANDERSEN – 8
Class act at the back, became our Captain after only 4 games. Reads the game so well and marshals the back line brilliantly. Need to stay up to even get close to keeping him.
TIM REAM – 5
A real drop-off in form from Captain America, who sadly looks to slow to compete at this level after a back injury.
A. ROBINSON – 7
Clearly put in the extra work to become a mainstay at this level, relieves pressure with lung-bursting runs and can deliver a fine cross
J. BRYAN – 5
The Wembley hero hasn't had much playing time this season, mainly due to the form of Robinson
B. DECORDOVA-REID – 7
Swiss Army Knife, top scorer and now right wing-back. Bobby Reid has shape-shifted so many times this season alone and continues to have a positive impact wherever he plays
H. REED – 6
Understated, underrated yet vital. The screen to our defence and brilliant passing range, has big competition for his spot from Mario Lemina
T. CAIRNEY – 6
The Captain has looked wonderful and off the boil in equal measure. In games where Fulham have possession and can counter Cairney flourishes, other times he looks slow and lethargic
R. LOFTUS-CHEEK – 5
Divisive. A couple of great 45 minute appearances, notably against Liverpool but often goes missing in a lot of games. There has to be a lot more to come from RLC.
A. ANGUISSA – 8
Star player. Will be snapped up by a massive club sooner rather than later, Fulham's heartbeat in the midfield. The truest two-way player we have had since Moussa Dembele and with dribbling to match.
MARIO LEMINA – 6
Getting in to some good form recently, showing good creative flair from deep and keeping Reed out of the team due to his physicality
I. CAVALEIRO – 6
Another divisive player like RLC – great on the break and for holding the ball, but not particularly lethal in front of goal
A. LOOKMAN – 7
Fulham's main attacking threat, incredible in 1v1 situations and recovered oustandingly well after the well-documented penalty miss against West Ham
A. MITROVIC – 6 
Mitrovic has been a riddle that nobody can solve – came in to the season in red-hot form, then picked up an injury which he played through with Serbia. Since then he looks out of shape, but match form will come for our talisman.
---
BEST PLAYER? 
Anguissa
BIGGEST SURPRISE? 
Adarabioyo
BIGGEST DISAPPOINTMENT? 
Ruben Loftus-Cheek
BEST XI? 
3-5-2
Areola
Aina — Adarabioyo — Andersen 
Decardova-Reid –Anguissa–Lemina–Cairney —- Robinson
Mitrovic. —- Lookman
WHAT DO YOU NEED IN JANUARY? 
Right Winger/Striker
PLAYER TO WATCH FOR REST OF SEASON? 
Anguissa
END OF SEASON PREDICTION? 
17th

Ratings by @tomalderson97 and @joshahobbs
Words: 
Team, Manager, GK and defenders: @tomalderson97
Midfielders and forwards: @joshahobbs
OVERALL TEAM – 7.25
This team is performing as well as the majority of fans expected them to, but this should not hide the fact that a lot of the players are at the edge of their abilities at this level. This shows up against better sides due to the man marking system and when playing out from the back against teams that press well. To be performing as well as the promoted Wolves and Sheffield United sides of previous years is a fantastic achievement.
MANAGER – 8.25
I have probably inflated this score because without him there is no way we would even be in the league, never mind playing this well. To get this group of players to play in the style we do is unbelievable. He does not seem to have a solution for teams pressing us when we build up out wide though, but that may be due to the lack of another central midfielder.
ILLAN MESLIER – 8
@tomalderson97: It is a testament to how good Meslier has been so far that he has been one of our best players this season despite Leeds having one of the worst defensive records in the league. Stepped up well from having little to do in The Championship to being one of the busiest keepers in The Premier League. We would definitely be conceding a lot more and been further down the table without him.
@joshahobbs: He's been fantastic. Conceded loads of goals but he's pretty much tracking the PSxG he's faced. Some games where his saves have kept us in them. Save v Lundstram against Sheff U was astonishing and led to us getting a late winner. Think he's a future France no1.
LUKE AYLING – 8.75
@tomalderson97: He has looked very good this season whether playing right back, on the right of a back three, or in both centre back positions in a back four. His ball progression from the back is unbelievable. He may actually be our best centre back.
@joshahobbs: My POTY so far. Played right back, RCB, LCB and been fantastic everywhere. Can be beaten in the air but other than that he's excelling in the league. A progression monster. 
ROBIN KOCH – 6.5
I still think Ben White suited us better, but Koch has performed well and was cheaper than White would have been. He has had some good performances, but I think that has coincided with him being put under less pressure in those games.
LIAM COOPER – 7
If any player optimises playing at the edge of their abilities, then it is Liam Cooper. He has been unfairly criticised in my opinion because I think he has mostly done well.
STUART DALLAS – 6.5
I am coming round to the idea of Dallas playing in midfield but that may be because of a lack of an alternative. He performs fine wherever he is asked to play but he does struggle in build up at this level. He is our first choice left back, and I think playing here suits him better than right back because he can invert which gives him more space on the ball, but we definitely need an upgrade.
GJANNI ALIOSKI – 6
His performance against Everton and his goal against West Brom stand out but the rest of the time he has struggled. He does make up for this by running up and down the pitch like a man possessed though, even if this does mean he finds himself as the furthest man forward when playing left back.
PASCAL STRUIJK – 6.75
Pascal has become a reliable squad player this season despite only properly breaking into the senior squad post lockdown. He has played well either as a deputy to Kalvin Phillips or being thrown in at the deep end at centre back like against Liverpool. His ball progression is superior to Cooper's and if he is not first choice now then long term he definitely is.
KALVIN PHILLPS – 7
Probably thought he'd adjust quicker to the league than he has done, but he has been horribly exposed by both our 8s attacking at the same time a lot of the time. Stand out performance against Everton and adapted very well to Man City after being killed in the early stage of the game. Destroyed in 45 mins against Man Utd though.
MATEUSZ KLICH – 8
Might have been a 9 as in the first 10 games I thought he was our best player. However in the last 4 games he seems to have lost positional discipline and is seemingly forgetting he's playing next to Rodrigo and can't attack as much.
RODRIGO – 6.75
A real puzzler. In terms of ability he's our best player and in certain games has been the difference in us winning or not. However, he's clearly a forward playing in midfield and at times completely compromises our balance. If he gives the ball away playing ambitious passes, which he does a lot, we are cooked. Seems to me that he can only start vs lower teams but he cost 27m…
HELDER COSTA – 3.5
Was really good against Liverpool and scored a brace against Fulham but dreadful since. Raphinha usurped him in the starting lineup after joining and Ian Poveda had replaced him on the bench before the 9 man bench introduced.
JACK HARRISON – 5.75
My most frustrating player. Gets in so many good positions but lacks decisiveness. Technical ability is there, as seen by goals v Liverpool and Newcastle and assists v Sheff Utd and Newcastle. However I feel he defines our ceiling going forwards and we'll need to get a better left winger to really kick on in future.
RAPHINHA – 7.75
@joshahobbs: The best signing we've made in a very long time. Massively improved our starting 11 immediately. The way he moves just makes him 'look' like a player. Attacks the box regularly, making him a good goal threat and has fantastic vision and technique to play through balls from wide.
@tomalderson97: Raphinha showed his ability straight away but did tend to drift in and out of games. He is really hitting his stride now and 17 million looks to be a bargain. He has playmaking ability from wide similar to how Pablo Hernandez did a couple of seasons back and combines this with great crossing and shooting as seen in his goals against Everton and West Brom.
PATRICK BAMFORD – 8.75
@joshahobbs: He's proved all the doubters wrong and I absolutely love it. Works so hard, gets high shot volume, gets in great positions and he's been finishing well. Delighted with Pat.
@tomalderson97: I loved Bamford's post Burnley interview. The confidence he has in himself and the fact he is aiming for the golden boot shows why he has done better than anyone could imagine so far. He has managed to score against all his former clubs as well which shows how determined he is to prove everyone wrong. His finishing looks a million miles away from what we have seen in previous years.
---
BEST PLAYER? 
@tomalderson97: Bamford
@Joshahobbs: Luke Ayling (Raphinha may takeover before end of season!)
BIGGEST SURPRISE? 
@tomalderson97: Bamford
@Joshahobbs: Illan Meslier
BIGGEST DISAPPOINTMENT? 
@tomalderson97: Not signing centre midfielder
@Joshahobbs: Diego Llorente. Just a puzzling signing. 20m on a 27 year old with injury problems. He's played about 70 minutes for us. 
BEST XI? 
@tomalderson97 4-3-3:
Meslier
Ayling — Koch — Struijk — Dallas
Klich — Phillps–Rodrigo
Raphinha —- Bamford —- Harrison
@Joshahobbs 4-3-3:
Meslier
Ayling — Koch — Cooper — Dallas
Klich — Phillps–Rodrigo
Raphinha —- Bamford —- Harrison
WHAT DO YOU NEED IN JANUARY? 
@tomalderson97: A centre midfielder urgently, and in an ideal world a left back. 
@Joshahobbs: A genuine 8 so that we have an option of a more solid 4-1-4-1. Not sure I see us splashing the cash though…
PLAYER TO WATCH FOR REST OF SEASON? 
Raphinha
END OF SEASON PREDICTION? 
@tomalderson97: 12th
@Joshahobbs: 14th

Words and ratings by @dominicwells_sj
OVERALL TEAM – 8
It's been a season of inconsistencies in the Premier League, and Leicester City can attest to that. Exceptional victories on the road versus Manchester City, Arsenal, Leeds United, and Tottenham Hotspur have been somewhat overshadowed by poor performances at home. But, second place at Christmas and topping a potentially difficult UEFA Europa League group can only be seen as positive – especially with a host of injuries to key players.
MANAGER – 8.5
With Brendan Rodgers, Leicester City have one of the best managers in Europe and he's proven that this campaign. He's managed an extensive injury list and the UEFA Europa League expertly, whilst also showcasing his tactical nuances and flexibility throughout – if he can develop his "turnover heavy" style against deep-blocks, the Foxes could find themselves in the top four at the end of the season.
KASPER SCHMEICHEL – 8
Schmeichel has had some difficulties adapting to Rodgers' ball-playing out of the back, but is showing signs of improvement. Traditionally, his shot-stopping is great and has rescued Leicester City on numerous occasions this season.
DANNY WARD – 6.5
Definitely Kasper's understudy, his record for the Foxes isn't as impressive as his Wales repertoire. Fielded only three times this season, he's conceded 43% of the shots on target he's faced, compared to the 17% at international level.
JAMES JUSTIN – 9
He's transitioned from League One to Premier League football with assurity and confidence. His flexibility in positions has made Rodgers' difficult managerial decisions a lot easier. Justin has played; LB, LWB, RB, RWB, LCB, and RCB this season and performed to a very good level in all of them. Inside of Leicester City's inconsistencies, Justin has always provided quality in both attack and defence.
TIMOTHY CASTAGNE – 8.5
Castagne began the season with three goal contributions in three games (1 goal and 2 assists) and was an integral part of the Foxes' quick transition from defence into attack – whilst also being flexible (LB/RB). Unfortunately, his injury in gameweek 6 ruled him out for 2 months. I've given him a high rating despite this, due to how impressive, and consistent, his performances were prior to the injury and I'm hopeful he'll return to this form now that he's available again.
CAGLAR SOYNUCU – 7
Arguably one of the highest rated CB's in the league, Söyüncü's season has been heavily impacted by an injury. His initial form was good, but hasn't featured in the league since October – despite this, his name is one of the first on the teamsheet when available. A brilliant blend of pace, physicality, ball-playing, and aggression in the tackle make him an exciting watch, even if a little nerve-wracking at times.
JONNY EVANS – 8
One of the bargains of the Premier League era, Evans has been brillaint – again – for Leicester City this season. Quite a lot of clubs in the league would benefit from having the Northern Irishman in the heart of their defence. Traditional, good-reader of the game, and capable of instigating play. The Foxes have played four games without him the season (due to suspensions), so his discipline has room for improvement.
WESLEY FOFANA – 9
An absolute joy to watch. The 20-year-old is an essential part of Leicester City's backline – partially due to injuries, but also because of his exceptional qualities. Commanding in the air, quick in the transitions, and confident enough to carry the ball out of the back. His dominance at the back, for a player as inexperienced and young as he is, is unbelievable. A special talent, having a breakout season.
WES MORGAN – 5
Morgan is the club captain and legend at Leicester City. His involvements have been reduced to mere substitute appearances (mainly replacing a forward add to assurity at the back), but he never puts a foot wrong when asked upon. He's deceptively fast and fully-committed to ensuring the Foxes never concede in his presence, however, his rating is on the lower side of the scale because he's not playing as often nowadays.
DANIEL AMARTEY – 7
Predominantly a squad player, Amartey has slotted into the RCB in a back three very well this season – epitomised by his performance against Manchester City. Unfortunately, he's another play to have picked up an injury early into the campaign, but did return for 40 minutes against Spurs. He'll never claim a spot in the starting XI, but he's a great utility player to have as he can fill in at CB, RB, LB, DM, and CM.
CHRISTIAN FUCHS – 7.5
After signing his third "one-year" contract extension, Fuchs has slotted into the Leicester City back three and performed well – as it removes the issue surrounding his lack of pace. I've always argued he's technically one of the best at the club and stand by this sentiment. Astute in possession, smart in defensive transitions and an excellent character in the dressing room.
MARC ALBRIGHTON – 7.5
Thrown into more fixtures than expected this season, because of injury problems, Albrighton will rarely drop below a 7/7.5 match rating, regardless of position or situation. Rodgers has developed Marc into an all-action wing-back and I think this suits his profile. He once said, "When a new manager arrives, I'm never the favourite but I always prove my worth" and I think that's perfectly sums up his involvements this campaign.
LUKE THOMAS – 7
A successful academy graduate, Thomas has performed solidly whenever asked of him. He's a little scared in possession and definitely performs better in defensive metrics, but his brief cameo's in Project Restart highlighted his ability to create chances via crosses – rewarded with an assist on his debut.
NAMPALYS MENDY – 8
Forced into Leicester City's double pivot whilst Ndidi was injured, Mendy showcased his possession-orientated qualities whilst subsidising some of the defensive contributions his predecessor provided. With Ndidi returning, the Frenchman will struggle to find minutes in the pivot, but I'm sure his great performances earlier in the season stand him in good stead if injuries reoccur, or if Rodgers wants complete control of the midfield.
WILFRED NDIDI – 9
It's quite the statement, but Ndidi has potential to be the best DM in the league. Consistently topping tackling and intercepting metrics, the Nigerian made an impressive 19 ball recoveries versus Spurs (the most in over a season). His mobility in midfield is intergral to Leicester City's energy in their press and his presence was felt massively during the eight gameweeks he was injured. His effectiveness and consistent performances are why I've rated him so highly – despite his injury.
HAMZA CHOUDHURY – 6.5
Choudhury has had a quiet season so far, but he'll always make headlines for his aggressive tackling and lack of respect for opposition. This campaign, Rodgers has played him in the double pivot and he's shown a good standard in possession, scoring in the UEFA Europa League as well. Often though, he appears off the bench and doesn't really impact proceedings.
YOURI TIELEMANS – 8.5
The dictator of Leicester City's football, many Foxes fans argue that if Tielemans plays well Leicester will and vise versa. The Belgian is so highly talented and watching him dissect defences from deep really is a joy to behold. He's even added goals into his repertoire, with three goals in the first seven league games this season. Rodgers utilises him as the tempo setter, the possession recycler, and he's an integral reason that Leicester are as high as they are this season.
DENNIS PRAET – 7.5
It's been an inconsistent season for Praet, if you'd asked me after gameweek 7 who my player of the season was he'd be right up there, but since he's gone missing in almost every game. Rodgers likes his flexibility, playing him as a winger (even if his profile/preferred role is CM) that conventionally plays in the half-spaces and offers defensive cover as well. He's a facilitator – all of his actions and movements are to benefit those around him instead of himself, and that maybe a reason why his performances have dipped recently.
JAMES MADDISON – 8
The Foxes' X factor, Maddison is the creative force inside of Rodgers' young side and has executed that role well throughout this season. He's another player to have injuries impact his season and has played the majority of games this campaign at around 85% fitness. In possession, his body manipulation to beat a defender, excellent on-the-ball quality and eye for a final pass make him a very good AM/forward. To truly hit his potential though, the Englishman needs to find a little bit more consistency.
AYOZE PEREZ – 7.5
Pérez has struggled for game time this season, but provides a spark when involved. Rodgers has transitioned him from a wide-midfielder into a #10, and he's performed well in this role. Having previously operated as a ST, he's instinctive in the final third and fairly clinical in front of goal. I also believe his profile (good receiver in tight spaces, can beat his opponent, and good connector with other forwards) is very beneficial to the Foxes currently.
HARVEY BARNES – 8.5
The last of the academy graduates, but by far the most exciting. Barnes has started to receive recognition from the wider footballing world with his performances this campaign, and rightly so. An explosive turn of pace, direct nature to his progressive carrying, and has the potential to be quite the goal-scoring threat. I'm hopeful Rodgers' ability to nurture youthful talents (i.e. Raheem Sterling) can benefit the England-international and help him reach his ceiling – fingers crossed it's with Leicester City.
CENGIZ UNDER – 6.5
After arriving from AS Roma on a season-long loan, Ünder hasn't had the impact he'd have hoped for but the quality is definitely there. His two assists – against Leeds United and Arsenal, helped Leicester City achieve maximum points in both games. The majority of his minutes have come in the UEFA Europa League, and unfortunately he hasn't grabbed those opportunities with as much desire as I'd hoped. Very greedy in possession with superb quality on the ball, but both are underpinned by poor decision-making.
JAMIE VARDY – 8.5
Vardy encapsulates everything Leicester City have built over the last ten years. A meteoric rise, with a desire to prove the "established" clubs wrong. Under Rodgers, Vardy's off-the-ball workrate has dropped – he's no longer able to pursue the defenders with little consideration for his positional play, but he's currently enduring his best goal-scoring ratio's of his career – so it's a worthy sacrifice. Unapologetically himself, often absent in the majority of a match's play, yet always the deciding factor. Titled the Foxes talisman, Vardy is an anomaly and will continue to score absurd numbers every season.
KELECHI IHEANACHO – 7
Always in the shadows of Vardy, Iheanacho has proven his worth in the UEFA Europa League this season and provides good performances every time he plays. His profile is different, much more a #10 but as I've already mentioned, Leicester City have quality options for that role already. With fixture congestion still an issue for the remainder of the season, Iheanacho will definitely feature throughout, but there's an obvious drop-off in quality when he replaces Vardy.
---
BEST PLAYER? 
Tielemans – I've placed importance on their value to the team, and individual performances – with the Belgian midfielder being the driving force of all things positive for Leicester.
BIGGEST SURPRISE? 
James Justin – At the end of last season, Justin wasn't even involved in the starting XI. Now, he's – in my opinion – the highest rated performer of the season, all whilst playing in a variety of different positions and accumulating the most minutes for team.
BIGGEST DISAPPOINTMENT? 
Cengiz Under – There was a lot of anticipation around his arrival, and so far, he's not lived up to that. When you compare his impact to the other summer arrivals (Timothy Castagne and Wesley Fofana) he's struggled. 
BEST XI? 
4-2-3-1
Schmeichel
Pereira — Sonyuncu — Evans — Castagne
Ndidi — Tielemans
Barnes — Maddison — Perez
Vardy
WHAT DO YOU NEED IN JANUARY? 
To expand the qualities in the wider squad. A centre-back, so we can transition between a back four and three without playing a full-back as one of the wide CB's. I'd say another ST as well, one that will provide more competition for Vardy – and would eventually replace him in the next couple of years. Being picky, another winger would be beneficial as well – perhaps one with a good goal-scoring profile to help support Vardy's numbers.
PLAYER TO WATCH FOR REST OF SEASON? 
James Justin
END OF SEASON PREDICTION? 
4th/5th and Europa League quarter final

Ratings by @ohyabeautyy @hamzahkl97 and @topimpacat
Words: 
Team, Manager, GK and defenders: @ohyabeautyy
Midfielders and forwards: @hamzakl97
Diego Jota: @topimpacat
OVERALL TEAM – 9
Liverpool are, at the moment, top of the league and qualified first in a tough Champions League group. All that without our starting center-backs since what it seems forever now, having to rotate midfielders and academy defenders at the heart of the defence. If someone told me before the season opener we would start a backline of Kelleher, Neco Williams, Matip, Fabinho and Robertson in a Premier League match and win 4-0 I would've laughed out loud. Brilliant job from everyone involved.
MANAGER – 9.7
What can I say about Jürgen that haven't been said by now? No manager in the world could pull off what he's currently doing. He's found solutions to every problem we had so far, and a lot of them were not the obvious ones. He instilled a 'next man up' mentality that fans can now see the likes of Curtis Jones, Neco Williams and Caoimhin Kelleher in a starting XI against Ajax in the Champions League and think "we should be beating these". That shouldn't be a given and the fact it is, is a testament to his job. Best manager in the world.
ALISSON BECKER – 8.75
Alisson is a world class goalkeeper and, when fit, he has shown time and time again why he is one of the best in the business. Injuries have been a problem, though, and because of that there's been the odd goal where you feel he could've saved it if he had more rhythm instead of a stop-start season. These problems are not his fault but should be noted that being available is the best ability a world class player can have.
ADRIAN – 3
Honestly… I hate slagging players off but that's a pity grade if I'm being honest. The fact he lost his place to a player who had never played Premier League or Champions League football before this season says it all.
CAOIMHIN KELLEHER – 7.5
Context is important here. Of course Kelleher hasn't been as good as Alisson and he only played three games but those were all games that mattered and he stepped up brilliantly. Adrián being dropped is his own wrong doing but Kelleher still needed to perform in order to claim that spot and he certianly did that. He's clearly our number two now.
NECO WILLIAMS – 6.25
Neco is a teenager and he has probably played more minutes than he, or anyone, expected at this point. There were rough moments but these are the games he'll learn from the most and he has definitely improved in his showings already. He remains very talented and his main challenge now is to make those bad days become few and far between.
TRENT ALEXANDER-ARNOLD – 7.25
It's been a somewhat tough season for Trent so far. He hasn't been bad, far from it, but he started the season less influential than usual and when things started to kick on, he got injured. Now he's back and, again, trying to regain top form. He's been good but we're used to him being spectacular.
VIRGIL VAN DIJK – 7
Unfortunately, Big Virg only started 8 games this season after a horrendous tackle took him out of the campaign. He's been good when on the pitch but not on the pitch enough to warrant a grade better than 7.
JOE GOMEZ – 7.25
Joe Gomez is another CB who looks done for the season but he almost doubled Virgil's minutes, according to FBRef, and before his injury looked like he was thriving on being the leader of the defense. Gomez definitely found another gear this season and it's a shame he has to go through this nightmare again.
JOEL MATIP – 7.5
Joel Matip has played less minutes than Joe Gomez so far this season, by a big margin, and that is somewhat baffling. He seems to be getting along well with Fabinho on a makeshift partnership but his availability seems like a coin toss every game. Let's hope he can kick into gear in 2021. He has been very good lately.
RHYS WILLIAMS – 6.75
Rhys has been a revelation so far. A lot of the pre-season talk centered around Billy Koumetio but it was another academy defender who has made his name known so far. From Sunday League to Champions League nights, Premier League matches against Son and Harry Kane and youth caps, it's been a very good season from him. He took on every challenge presented to him and looks like a top prospect. Appears strong technically, but a bit slight and so he has rotated with the more imposing Nat Philips.
ANDREW ROBERTSON – 8.5
Andrew Robertson has a strong case for player of the season so far. He's an ever present in a season where injuries occur at a larger rate than ever and his performances have never dropped. In fact, it looks like he has found a new gear. Not only does he continue to be a great outlet offensively from open play, his set-pieces have improved a lot and he's winning the fullback's assist competition. He's setting the standard now.
NABY KEITA – 7.5
Utterly brilliant in the games he's played this season, but unfortunately injuries have upset his rhythm and stunted his progression. He is a delight to watch, brilliant with the ball at his feet, a gifted dribbler, an incredible presser, and a truly intelligent player, with the capacity to manipulate space and the ball with ease. If he can just get a good run of games, hopefully the rest of the league will be able to see what a wonderful footballer he is.
@ohyabeautyy: Naby Keita is another one who never seems to really get going and that's through no fault of his own. He's been great every time he's on the pitch but his body continues to let him down. We shouldn't give up on him and he can still be a great player for Liverpool.
JAMES MILNER – 6.5
As cover for Alexander-Arnold, Milner has been fantastic. The nature of the season meant he was very quickly involved in first team action after a while outside of it, which led to a spike in his load, and consequently an injury followed. Nonetheless, whilst he may not be a first choice midfielder, he has stepped up to the plate when required. For a Premier League veteran of 35 years of age by January, it's not fair on him to expect a lot, yet he's still contributed well, and undoubtedly will still have a role to play in the coming weeks too.
CURTIS JONES – 8.25
Last season was the breakthrough for Curtis Jones, but this season appears to be his coming of age. He plays with great maturity and intelligence. Like other players, he has had to adapt to the Liverpool first XI system. He's no longer a no.10, but an 8, and an 8 who often drops into deep positions as cover for the fullbacks. It's completely alien to a conventional 10 position, yet he's been brilliant. He's composed on the ball, a very good dribbler with the capacity to move vertically and exploit teams in transition and break down low blocks. He really does seem to have a bright future ahead. His technical skill is clear to see. As long as he stays injury free and keeps putting in the work, we may be seeing the next best academy graduate since Alexander-Arnold.
@ohyabeautyy: I expected Jones would be good. I did not expect him to be this good, this fast. He's 100% a senior player now, despite being only 19 years old. He's not just holding his own, he's starring on the midfield of the best team in the country. As they say in American sports, he has no ceiling.
JORDAN HENDERSON – 8
Henderson has been in the form of his life. With both Fabinho and Thiago unavailable to play as the no.6, the role has been almost exclusively Henderson's, and he's added his own flair to it. Alexander-Arnold has been noticeably quiet, but Henderson has taken it upon himself to pick up that creative slack. From deep, Henderson is a near constant vertical force, with his proportion and volume of progressive passes far beyond anything he has done in recent seasons.
FABINHO – 9.5
Extraordinary. Both the responsibilities placed on him, and his performances. He hasn't put a foot wrong, and not only this, he has excelled. Fabinho did play at right back for Monaco, but to fill in at centreback, as Van Dijk's replacement is altogether a completely different kettle of fish. Utterly brilliant.
@ohyabeautyy: We all knew he was a world class number 6. He looks like a world class center back too. The transition was so seamless that you would be forgiven to think he has played that position his entire career. I wouldn't be surprised to see that move become permanent moving forward and that's the best compliment I can pay him.
GINI WIJNALDUM – 9.25 
It is impossible to ask Wijnaldum for anything more than he's produced. Like Robertson, Wijnaldum has been omnipresent. He is often underappreciated by fans, but make no mistake about it, Liverpool would not be atop the Premier League table without him. His availability and quality has been a source of constance and consistence in a season defined by unexpected occurrences and inconsistency. He has been brilliant.
FABINHO – 9.5
Extraordinary. Both the responsibilities placed on him, and his performances. He hasn't put a foot wrong, and not only this, he has excelled. Fabinho did play at right back for Monaco, but to fill in at centreback, as Van Dijk's replacement is altogether a completely different kettle of fish. Utterly brilliant.
TAKUMI MINAMINO – 6.25
Minamino has seen a reinvention of sorts. He arrived as a 10 who liked to drop deep and break beyond a conventional 9. Now he's started to play as a no.8, in Liverpool's 4-3-3. As such, this adjustment has not been easy, but his standard has never dropped to a poor or unacceptable level, and he's producing consistent and promising performances. The challenge now is to build on that promise.
DIVOCK ORIGI – 4.5
Another player who has struggled. His player profile and attributes are not really suited to Liverpool's style of play, and as such, when he plays he often looks out of place. This in itself means he's less likely to play, and so he can never build up enough matches to shake off the rustiness and build confidence. Probably fair to expect him to move to new club soon.
DIOGO JOTA – 8.5
I think it was obvious that Jota was a talented footballer and a great profile for us, and that his skillset would scale nicely, but I don't think anyone anticipated that he would hit the ground running in the way that he did. Nine goals in under 1k minutes is exceptional, but even aside from the goals, he's adapted very quickly to our system (just compare his pressing and off ball movement in the Villa game to in the Atalanta away game). Importantly, he's only 24 and pretty versitile. In previous seasons we've had to sub-optimally use players like Origi or Chamberlain out of position to provide cover for the front three, but now we have a real quality option who can comfortably play anywhere across that front line, and even potentially become a long term replacement for one of those forward spots. Looks a brilliant piece of business.
ROBERTO FIRMINO – 7.5
A player who like a number of others experienced a tough start to the season. His goal production was noticeably lower than usual last season, and troublingly, those off-ball contributions that defined Firmino and facilitate the in-possession structure that allows Mané and Salah to flourish were dropping off. His confidence seemed shot, and questions were being raised as to whether Bobby was a player in decline. December has proven a moment of rejuvenation though, as Firmino has found form once more, scoring a match-winner in injury time against Spurs, and finding an ability to work in tight spaces once more, carry the ball more effectively in transition, and not just incorporate himself in Liverpool's final third play, but also begin to dictate it once more.
SADIO MANE – 8.25
A nine match goalless streak for Mané largely went under the radar, not because it was expected, but rather because his performances had been so good, nobody noticed he wasn't scoring. He started the season brilliantly and his performances have been solid too. As dependable as ever, Mané has consistently proven a threat, and even when not playing well, his presence and persistence is often enough to create opportunities for his teammates, who have profited from them.
MO SALAH – 10
In terms of his all-round performance, this is probably Salah's best ever season. He has taken a more holistic approach to his play, now dropping deeper to assist in build up, passing into the box, carrying the ball forward and creating space for his teammates. He's currently converting 50% of his big chances, which is great, but unfortunately the team around him hasn't quite managed to create the volume of chances he deserves, and so his goalscoring figures, whilst great, aren't as astronomically good as his debut season. But make no mistake, this is Salah at his very best.
---
BEST PLAYER? 
Salah
BIGGEST SURPRISE? 
@ohyabeautyy: Caoimhin Kelleher – When he was an academy keeper I honestly thought Kamil Grabara was a better prospect. To see where he is now is really unexpected for me and I'm so happy for him.
@hamzakl97: Jota
@topimpacat: Jota
BIGGEST DISAPPOINTMENT? 
@ohyabeautyy: Thiago Alcantara – It's not his fault but the fact he hasn't even completed enough minutes to be mentioned on this article is disappointing on its own. I understand he couldn't do anything about it but i'm disappointed.
@hamzakl97: The Aston Villa match – A truly ridiculous game. Much like LFC's win over Crystal Palace, Villa seemed to have the finishing fairy on their side, with everything turning to gold, but what was most disappointing was the attitude of the players. There seemed to be a real lethargy to the team's play, but the most upsetting this was seeing the shoulders drop – something which Klopp noted and was angry about. Freak result happen, and that's ok, but throwing the towel in is unacceptable. If that was a necessary lesson though, at least the lesson has seemingly been learned.
@topimpacat: The injuries more than anything . But Origi if I had to pick a player.
BEST XI? 
@ohyabeautyy 4-3-3:
Alisson
Trent — Gomez — Van Dijk — Robertson
Fabinho — Henderson — Thiago
Salah —- Firmino —- Mane
@hamzakl97 (long-term injuries excluded) 4-2-3-1:
Alisson
Trent — Fabinho — Matip — Robertson
Wijnaldum — Thiago
Salah —- Firmino —- Mane
Jota
WHAT DO YOU NEED IN JANUARY? 
@ohyabeautyy: A center back. And luck. Mostly luck, really.
@hamzakl97: A centreback, and perhaps some luck with injuries to go with it.
@topimpacat: Centre Back and some positive variance
PLAYER TO WATCH FOR REST OF SEASON? 
@ohyabeautyy: I really think Takumi Minamino has a point to prove and his goal against Palace will give him the confidence needed to kick on. I'm sure it wasn't fun for him watching Diogo Jota have an instant impact and how that made him look in comparison – even if comparisons are unfair due to context.
@hamzakl97: Thiago – Watching Thiago is a privilege in the same way that watching Messi, De Bruyne and Van Dijk is. Every moment on the ball is an event. I don't think I've ever seen a more skilled midfielder in Liverpool red. Every young football fan in the country should watch him. His head movement, touch, passing and ball speed is just incredible. An injury against Everton from a reckless challenge meant we've only been able to see him in three substitute appearances. In every single one, he has stolen our hearts.
@topimpacat: Curtis Jones
END OF SEASON PREDICTION? 
@ohyabeautyy: 1st
@hamzakl97: 1st
@topimpacat: 1st

Words and ratings by @fussballhussain
OVERALL TEAM – 7
City have been off to a pretty mediocre start in the league. I say mediocre because their league position is terrible for the club's standards, but they boast the league's best defence. Although what saves their grade is their unbeaten campaign (albeit in a relatively easy group) in the CL.
MANAGER – 8
Pep looks reformed as he finally utilised a formation that protects him against counters (4231). The tactical approach to the Liverpool game was pitch perfect, as well as the approach to many other matchups.
EDERSON – 8
While the errors were reduced to a minimum this year, and I'm satisfied overall with his keeping abilities. I am rather disappointed in his distribution, he's lacking in his trademark ground diagonal/vertical line breaking passes.
K. WALKER – 8
My only complaint with Walker is the same one from last season, and the one before. Rashness in the box, with multiple dangerous but avoidable passes given away. Other than that, he's dominated the right flank and been adequate going forward.
J. CANCELO – 8.5
A clinic in midfield vs Arsenal, a masterful performance at LB vs Liverpool, and multiple RB performance, Cancelo seems to have taken the crown from Fernandinho as the team's new Swiss Army Knife. He's fulfilled a myriad of roles at an outstanding level, with attacking threat and defensive solidity.
R. DIAS – 9.5
Dias surprised most City fans as he single handedly bolstered our defence in unimaginable ways. Not looking out of place as he played Leeds, Arsenal, and Liverpool in his first 5 league games, as well as his fair share of Champions League football, all at the age of 23.
J. STONES – 8.5
Stones looks to be resurrected as he's recuperated some confidence and disposed of his error proneness at the back, whilst still providing his on ball security and verticality. No complaints from me 
A. LAPORTE – 7
Not disappointing, not special, hasn't done much. He's only lower down the pecking order because of the success of the Dias-Stones partnership.
N. AKE – 6
Ake boasts one of the worst individual performances from a City player this season, which would be his shift against West Brom. I added a point to his overall grade due to the security he provides as an inverted fullback, which allows two attack minded 8s.
B. MENDY – 6.5
Slightly above average, considering his injury history and his past form, this is a good start for Mendy and I hope he builds on this. Provides a great alternative in terms of dynamic to Ake, as he's more attacking. Although to no fault of his own, he's been outclassed by Cancelo
RODRI – 5
Rodri continues to disappoint as Fernandinho's successor as my complaints about him carry on from last season. He's too immobile, lacks spatial awareness and lacks the progressive and dangerous passing we are looking for
I. GUNDOGAN – 7
He's brought what he usually brings to the side, ball retention with the occasional goal contribution. Consistent at that. Yet to do anything special, but has not been a huge disappointment either.
P. FODEN – 8
Despite not starting every week, Foden's looked special as per usual whenever he's played, in whatever role/position that may be. He's a smart and an intense presser, with creativity and discipline on the ball, as well as an eye for goal.
B. SILVA – 5
Silva has been a shadow of his former self, struggling to break into the lineup, and when he does he's largely uninspiring. His creative numbers are disappointing to say the least.
K. DE BRUYNE – 9 
"Underperforming" by his standards, KDB has been one of City's key players, as he carries the creative burden almost completely on his own. I decided to take half a point off due to his shot selection and – at times – poor finishing.
R. MAHREZ – 6.5
Despite a hattrick against Burnley, Mahrez has a rather negative effect on City's play. His tendencies to take on his man (which often results in failure) instead of passing has led to many wasted possession sequences and turnovers, as well as halted momentum at times.
R. STERLING – 7.5
Although he has his fair share of goal contributions, Sterling's not on his usual standards. That being said, I have noticed an improvement in his general play.
F. TORRES – 8 
Ferran's been a revelation as he's papered over the cracks left by injuries to Aguero and Jesus. But looking at the time where he played in his natural position, he was relatively unimpressive to me.
F. TORRES – 8 
Ferran's been a revelation as he's papered over the cracks left by injuries to Aguero and Jesus. But looking at the time where he played in his natural position, he was relatively unimpressive to me.
G. JESUS – 6.5
Not been at his best, disappointing goal return thus far. Needed more with Aguero out
---
BEST PLAYER? 
R. Dias
BIGGEST SURPRISE? 
Ruben Dias – settled in immediately which is surprising especially given his age
BIGGEST DISAPPOINTMENT? 
Gabriel Jesus
BEST XI? 
4-3-3
Ederson
Walker — Dias — Stones — Cancelo
Fernandinho — Rodri
Foden —- De Bruyne —- Sterling
Aguero
WHAT DO YOU NEED IN JANUARY? 
CF, LB
PLAYER TO WATCH FOR REST OF SEASON? 
Foden
END OF SEASON PREDICTION? 
2nd

Ratings by @amonizfootball, @venkyreddevil @hemmenkees
Words: 
Team, Manager, GK and defenders: @amonizfootball
Midfielders and forwards: @venkyreddevil
Dotted throughout: @hemmenkees
OVERALL TEAM – 6.5
Bit disappointing to be out of the Champions League especially given the circumstances, but league results have been excellent in the face of leaguewide tactical and fitness-related chaos
MANAGER – 5.5
Solskjaer has constructed the best squad United have had in a long time, and it's difficult to blame him for early-season results where fitness issues were clear. On the other hand, he's had a hand in some season-definingly terrible performances (the 2nd RB Leipzig game). Big 6 results have dried up compared to last season, and United's system only looks discernible when 3-5 key players are on the pitch
DAVID DE GEA – 5.5
His performances don't really stand out amongst Premier League goalkeepers, which isn't what you expect with de Gea. It's ultimately a waiting game for Henderson to take over but it's not time yet
@hemmenkees: Poor on the ball and fallen off in terms of decision making but still has elite reflexes, probably needs replacing relatively soon
DEAN HENDERSON – 5.3
Has had trouble adjusting to short passing at this level after a loan spell where he launched the highest percentage of balls of any goalkeeper in the league. Needs regular matches (perhaps a different loan) in a side that builds from the back to find his rhythm
AARON WAN-BISSAKA – 6.2
For the most part, Wan-Bissaka has maintained his borderline-heroic defensive ability and added a little bit more to his progressive/attacking game. Much has been made of his errors defending the back post, but there are enough tactical concerns there to absolve him of complete individual responsibility
@hemmenskees: The defence has fallen off this term and he's played a major part in it. That said, he's improved going forward and some of the odd spots he's found himself in defensively haven't been his fault
VICTOR LINDELOF – 6.2
Has obvious weaknesses committing to his man at the expense of United's defensive shape and getting bullied by certain types of strikers, but Lindelof's ability on the ball makes him pretty much undroppable in United's current squad
HARRY MAGUIRE – 7.8
Had a difficult start to the season with pre-season fitness/off-pitch issues lingering, but since the Newcastle game he has been one of the best defenders in the league. The unheralded hero of this United side
ERIC BAILLY – 4.3
1-2 decent defensive performances early on before a disastrous performance in the Spurs match. Injured ever since.
LUKE SHAW – 6.2
Shaw has been one of the main culprits for United's leaky defence this season after arguably two consecutive good seasons. He's important in United's buildup play but will have to do more to consistently start now that Telles has joined
ALEX TELLES – 6.2
Jury is out on Telles as a starting defender for a club that contends for the biggest trophies, but he has been even better than Shaw in buildup (in his small sample thus far) and miles better in the final third. No issues with this signing at this fee so far
@hemmenkees: Offers ball striking and set piece value that Shaw doesn't but poses a danger to his own team in transition getting back
FRED – 7.8
Fred has arguably been United's second best player next to Bruno Fernandes over the last year or so and he has also become one of the manager's most trusted men. Only real negative is at times very rash in his challenges 
@amonizfootball: Arguably United's most important player after Fernandes and Maguire. He's one of the most effective ball winning and progressing midfielders in England when not forced to play the anchoring role. Pretty much every United loss this season has been without Fred in the team
@hemmenkees: Energy is vital at moments and has sparked many attacks through frantic pressure and ball recoveries, but has been exposed positionally and in possession at dangerous moments
SCOTT MCTOMINAY – 6.2
If there is one player who can do the job asked of him pretty well, I don't think I can see beyond Scott Mctominay. Like Fred, Mctominay has also turned to be one of the manager's most trusted men. His attitude is what is going to take him long enough in this club. However, if he is to become a regular in this team in the long term, he should improve on his progressive passing and find his frontline more often.
@hemmenkees: Really shouldn't be playing regularly for a club this big but has put in some relatively strong performances in tough spots
PAUL POGBA – 5.8
@venkreddevil: After a rough start to the season with COVID and everything else, Pogba looked lost but has come back well over the last week or so. Since the Sheffiled United game, he has been excellent and very consistent. 
@amonizfootball: Pogba's season seems to have been plagued (literally) by having COVID-19. Recently, he's been getting back into full fitness and has been excellent, but it's unclear where he fits into the 4-2-3-1 where Fernandes is immovable and he can't really play in a double pivot
@hemmenkees: Has struggled tracking back at moments and hasn't been nearly as good going forwards as previous seasons, but recently seems to have recaptured form and is undoubtedly the most talented footballer in the side
NEMANJA MATIC – 5
Matic was so far off pace at the start of the season but seems to found a decent level over the last few games. Don't think he has the legs to play twice a week and given the way we play in transition – expect him to be the most rotated midfielder.
DONNY VAN DE BEEK – 6.5
Whenever Van de Beek has been on the pitch, United have looked fluid in attack. Donny has done well when called upon. Was at times used in a position that he doesn't favour. Expect him to feature more and play an important role given that we are in Europa league and still in the race in all the other competitions.
@hemmenkees: Maybe the biggest curiousity of Solskjaer's tenure at United has been his refusal to start one of his best players. Deserves better
BRUNO FERNANDES – 9.5 
@venkyreddevil: The midfielder has been one of the best players in the league. The team looks completely different when he is on the pitch. His ability to bring the best out of his teammates as well is something else. United fans have been calling for a leader on the pitch to lift everybody's spirits on a bad day and they have someone in Bruno who is doing that. In simple, Bruno has the character and the quality that the club demands and he has undoubtedly been an amazing signing so far.
@amonizfootball: Probably a Top 3 player in the Premier League this season. Carries the goal burden of a striker and the pitch coverage of a central midfielder. Steadily scoring more and more from open play. Has a bigger impact on United's structure than Ole Gunnar Solskjaer himself
@hemmenkees: I'm not sure a footballer could do more for a team than Fernandes does for this side
JUAN MATA – 6.7
Everytime people think Mata is done and finished he comes back with one of his vintage performances. Personally, don't think he can do that week in week out but can be a good option off the bench to create an impact. Has done pretty well whenever called upon during the season
MARCUS RASHFORD – 7.8 
Rashford's year has been pretty wild. He has reached a level that none of us expected him to. He always had it in him but he is starting to be more consistent now and has kind of become undroppable in this squad. He has improved on every aspect of his game and to think that he is only 23 years old makes me even more happy. If he can improve on his finishing and decision making in the final third, he can genuinely become a world-beater.
ANTHONY MARTIAL – 6
After an excellent end to last season, expected him to get up and running straight away. The red card against Spurs probably killed most of his confidence. Has been quite good the last few games but still looks short of confidence. Finishing has been surprisingly very poor. Hold up and link up play has massively improved, however
@keesvanhemmen: Looks good when he doesn't play as a 9 in a 4231, looks poor when he does. Just a case of a talented player being miscast, for the most part
EDINSON CAVANI – 6.7
Could not have asked for a better back up striker. I call him back-up but Cavani can still do the job better than most of them. Has only played for a limited time in the league but has been top notch in every aspect of the game including work rate whenever he has been on the pitch. If Martial, Rashford and Greenwood want to learn, they have their man right here
@amonizfootball: Early signs are positive, but availability has delayed Cavani's acclimatisation into the first team. He won't score as much as his performances will probably warrant in a dysfunctional United attack, but having a player like Cavani around the squad is extremely valuable to United's ambitions
@keesvanhemmen: The only actual striker in this team, has massively impacted games outside of his most recent start. Almost single handedly secured the points against Southampton
DAN JAMES – 5.5
After a surprising last campaign playing more games than he must actually have expected, James has barely played this year. His performance against Leeds United was typical of him and his best days at United. Hopefully he can continue that whenever he plays. Personally think he would benefit from a loan move but don't think we are in a situation to send him out on loan
@keesvanhemmen: Tracks and presses in a manner no other player in this side does along the front line but largely unthreatening going forward
MASON GREENWOOD – 5.3
Looks massively short on confidence. Decision making in the final third has been poor. Work rate has reduced. Very young and has a lot of time and has the right people around him to learn. Hopefully he can get back to scoring goals soon. Needs to improve his overall game when in possession
@amonizfootball: Suffering from expectations he created with near-flawless finishing in his first season. Defenders have figured out the bag of tricks that got him to 10 goals in the league, but he hasn't even scraped the surface of what he showed at youth level yet
---
BEST PLAYER? 
@amonizfootball Bruno Fernandes
@venkyreddevil Bruno Fernandes
BIGGEST SURPRISE? 
@amonizfootball Juan Mata
@venkyreddevil Lindelof
BIGGEST DISAPPOINTMENT? 
@amonizfootball Paul Pogba
@venkyreddevil Aaron Wan-Bissaka
BEST XI? 
All 4-2-3-1
@amonizfootball
De Gea
Wan-Bissaka — Lindelof — Maguire — Telles
Fred — Pogba
Greenwood —- Fernandes —- Rashford
Martial
@venkyreddevil
De Gea
Wan-Bissaka — Lindelof — Maguire — Shaw
Fred — Pogba
Greenwood —- Fernandes —- Rashford
Martial
@hemmenkees
De Gea
Wan-Bissaka — Bailly — Maguire — Shaw
Fred — Pogba
Martial —- Fernandes —- Rashford
Cavani
WHAT DO YOU NEED IN JANUARY? 
@amonizfootball Deep-lying playmaker + Amad Diallo to exceed expectations
@venkyreddevil A back up center-back (Preferably left footed)
PLAYER TO WATCH FOR REST OF SEASON? 
@amonizfootball Pogba
@venkyreddevil Rashford
END OF SEASON PREDICTION? 
@amonizfootball 4th
@venkyreddevil 3rd

Words and ratings by @attackingCB
OVERALL TEAM – 4
We've had a decent enough start to the season on paper – lower mid-table but looking quite comfortable in terms of surviving relegation. Nothing to get excited about but not a disaster so far. However, we've continued the trend from last season of results masking some poor performances and the feeling remains that we could still be sucked into a relegation battle.
MANAGER – 3
Steve Bruce is in his second season now and while results haven't been too bad, the performances have not improved. The squad is stronger than last season but there has been no significant progress on the pitch and there doesn't appear to be any real plan going forward.
KARL DARLOW – 8
It was a worry when last year's player of the season, Martin Dúbravka, picked up a long-term injury in the summer but Darlow has performed admirably. And he's needed to be on form as he's one of the busiest keepers in the league. Still not the most convincing on crosses but hard to fault him too much.
JAVIER MANQUILLO – 5
Started the season solidly enough but finds himself in a 4-way battle for the right-back spot.
EMIL KRAFTH – 5
Didn't look good enough last season but has done OK when needed.
JAMAL LEWIS – 3.5
Signed in the summer for £14m from Norwich with some promise but he hasn't really impressed so far. Is a good athlete and looks technically sound but still has a bit to learn, both with and without the ball. However, it's notable that he isn't sure what he's supposed to be doing at times and the manager has to take some responsibility for that.
FEDERICO FERNANDEZ – 8 
Has become a really reliable player and one of the leaders of the team.
JAMAAL LASCELLES – 7.5
Pretty much as dependable as ever before getting Covid.
CIARAN CLARK – 7.5
Missed the start of the season with injury and is probably 4th-choice centre-back but always seems to play well when needed and grabs the odd goal too.
FABIAN SCHAR – 6
Another player whose season has been somewhat disrupted but has been fine.
ISAAC HAYDEN – 7.5
Goes unnoticed at times but can always be relied upon. Does a lot of running in midfield and has also filled in at centre-back.
JONJO SHELVEY – 5
The continual question with Shelvey is does he actually influence the game enough with the ability he has? Not often enough.
SEAN LONGSTAFF – 4
The last couple of seasons have been stop-start for him after a promising start to his career. Has had a bit of a run in the team this season but has struggled – not fulfilling that potential at present.
JEFF HENDRICK – 4.5
Has been underwhelming since his arrival from Burnley on a free transfer. Does a job but probably shouldn't be a regular starter.
MATT RITCHIE – 4
Hasn't played that often. A reliable player who gives everything but shouldn't be a regular starter now.
JACOB MURPHY – 4.5
Brought in from the cold after being loaned out last season after apparently impressing Bruce in pre-season. Normally a winger, he has also played at wing-back and even right-back. Has nice delivery but still doesn't do enough to suggest he should be in the team.
ALLAN SAINT-MAXIMIN – 7
His season has been interrupted by injury and Covid. At his best he's phenomenal but hasn't hit top form yet this season – needs to affect the game a bit more consistently.
RYAN FRASER – 6 
Wasn't fit when he arrived in the summer and hasn't played a lot of football, but has looked promising when on the pitch. A player who could really make a difference when he's 100%.
MIGUEL ALMIRON – 4.5 
Has been a bit in and out of the team this season and hasn't been in great form. Has ability and always works his socks off but without much end product. Another player who you feel could use some direction.
JOELINTON – 5 
Spent much of last season playing as a number 9 and was ineffectual in that role. We've finally seen him play a few games in his preferred position as a number 10 this season, behind Wilson, and there have been signs of a player there. Still disappointing but still not being utilised correctly.
CALLUM WILSON – 9 
Has been exactly what we needed, a proper goalscorer. Has 8 goals this season and while 4 of those were penalties, he's shown he can sniff out a chance in the box in a team that doesn't create a lot of chances. His mobility and ability to run the channels is key too.
---
BEST PLAYER? 
Callum Wilson
BIGGEST SURPRISE? 
Jacob Murphy being brought back into the team, and playing right-back.
BIGGEST DISAPPOINTMENT? 
Jamal Lewis
BEST XI? 
4-2-3-1
Dubravka
Manquillo — Lascelles — Fernandez — Dummett
Hayden — Shelvey
Sanit-Maximin — Almiron — Ryan Fraser
Wilson
WHAT DO YOU NEED IN JANUARY? 
A new owner and manager, ideally.
PLAYER TO WATCH FOR REST OF SEASON? 
None of them – DO NOT WATCH!
END OF SEASON PREDICTION? 
16th
Words and ratings by @blades_analytic
OVERALL TEAM – 3
Wont't say lower than a 2 as we SHOULD have more points than the current situation but no doubting the results have been nothing short of woeful, the form embarrassing and the drop-off from previous season mind-boggling. However, this squad is predominately full of Championship & League One players still, performing well above their natural ceiling and that along with lack of fans of which this group has a powerful connection has to be factored in along with key injuries
MANAGER – 4.5
I don't lay all the blame at the managers door. He's heavily involved in recruitment which has been proven to have been poor in the summer, not improving the 1st team despite using those new players over the tried and tested guys. Ultimately though he's been let down by poor individual quality by players, his coaching has been OK in terms of giving us a chance in games
A. RAMSDALE – 5
Been under immense pressure from a leaky defence. Made some errors and has technical flaws but made some big saves too and has zero protection as a unit in front of him.
G. BALDOCK – 5.5
Been one of the better performers. Lacks a final ball otherwise he'd be more respected across the league. Has aggression, intensity, improved his dribbling and his movement from right wing back can be excellent at penetrating opposition defences. He's a brilliant 1v1 defender too.
J. EGAN – 6
Early red card at Villa that shouldn't have cost us Egan for games and it hurt us. Leader of the defence. Dominant in duels and took on responsibility of trying to play from the back as the midfield have shrunk into non-existence. Had a largely ok season under lots of pressure on both sides of the ball
J. ROBINSON – 2.5
Had hardest job at club replacing O'Connell. Not good enough on ball to overlap as per our system so it all falls down here. An average defender who turns the ball over often. Simply not good enough for the league and has been thrust into a starting role
E. STEVENS – 4
Been OK. Nothing on his form last year or the previous 3 years but not the worst. Started to look better as he's playing more at LWB after being trialled at LCB
E. AMPADU – 3.5
Been fairly disappointing. Much expected, little delivered. Tried at CB and CDM but fits neither. Has good moments but largely ineffectual and lack of aggression especially in aerial duels a big flaw
S. BERGE – 4.5
Injured now so we have been robbed of his huge driving runs from right side of midfield. Technically very good, good touch and weight of pass but signed as a press resistant deep midfielder he lacks passing range & aggression off ball to close down space quickly. We have to shoe-horn him in due to price & qualities he has but team looks worse for it
J. LUNDSTRAM – 4
Been fairly OK. Not the goalscoring form of last year but energetic, gets in the box, tries to make things happen
J. FLECK – 2
One of biggest disappointments. Had an injury but our main man in midfield of the last 4 years and looks a shadow of himself
O. NORWOOD – 2.5 
Not really had a chance like last year but whenever he does come on or play he never makes the impact he once did. His long-range forward passing seems to have disappeared.
B. OSBORN – 4
A trier. Runs a lot. Energetic. Tireless energy. Gets stuck in. Zero quality but does his best.
M. LOWE – 2.5
Limited ability on the ball but signed as cover and playing 1st team football at his highest ever level in a weak team. It's hard to be critical
C. BASHAM – 6.5
Absolute warrior. Drives game forward from right centre back, never shirks responsibility on or off the ball. Vital to any success we have
D. MCGOLDRICK – 6.5
Incredible technician. Works hard, links play all over the pitch, takes the ball anywhere under pressure and is vital to whenever we have a good spell in a game. Need more like him.
O. MCBURNIE – 5 
Feel he's actually played well but unfortunately he's missed some big chances in key moments and we need goals which he isn't providing. Works so hard, target man, defends and presses well, does all the hard yards. Just wish he could score a few more
O. BURKE – 4.5 
Immense pace and strength. Huge threat in behind which we lack. Has no composure whenever he gets into the box but actually makes us look a better side and may be best pressing forward in the league
R. BREWSTER – 2.5
Had little service but unfortunately he doesn't offer much out of possession or run channels/win battles to gain or keep possession which means he's little more than a passenger in the mins he's played so far.
---
BEST PLAYER? 
Chris Basham
BIGGEST SURPRISE? 
Burke
BIGGEST DISAPPOINTMENT? 
Fleck
BEST XI? 
4-3-1-2
Ramsdale
Baldock — Basham — Egan — ???
Berge —- Lundstram —- TBC
McGoldrick 
Burke — McBurnie
WHAT DO YOU NEED IN JANUARY? 
A left centre back & creative midfielder
PLAYER TO WATCH FOR REST OF SEASON? 
J. Egan
END OF SEASON PREDICTION? 
20th 

Ratings by @dgouilard and @saintsbynumbers
Words: 
Team, Manager, GK and defenders: @dgouilard
Midfielders and forwards: @saintsbynumbers
OVERALL TEAM – 7.25
There is definitely a clear change in the team's mentality this season as the players are getting more confident both on and off the ball. Ralph has a clear plan of what he wants his players to do when playing out from the back, when they fail to do so and when they press the opponent, which, to me, is the best imrpovement this season. I like this Southampton team a lot, given how well we started the season and, at times, challenging for a Champions League spot.
But I'm a bit hesitant in giving this team a higher score than 7, even though their performance is good compared to the last couple of seasons under Ralph. Like he mentioned, this team is not familiar with being seen as the superior team in several matches and they still can't show what they can do with that advantage. The players are still playing like they are the underdog in that match, which I hope Ralph will improve as the season progresses. Squad depth is also an issue. Ralph has definitely improved the squad and fills it with young players. But we are still overreliant on Ings' performance. When he plays well, others play well, and vice versa. It's great to see Walcott coming back and performing at his best, and Ward-Prowse showing his skills from set pieces for our centre-backs to get on the end of. But that's it, nothing else that Ralph can pull out of his pocket when the team struggles to score. It is something that I hope to see more from the team and Ralph himself.
MANAGER – 8
Ralph is just amazing, what can I say? One of the most impressive things since he came to the club is giving the chance for our youngsters to showcase their skills in first team matches, and that fits Southampton's philosophy very well. In terms of his tactics, I can see how similar his tactics are compared with his time at Leipzig, but it's more organised and has more backup plans than just relying on the players' individual ability. He needs more backing from the board, especially in the transfer market, where he can look for young raw talents and bring in players who can help improve the squad. The fact that we missed out on players such as Sangare or Maehle is disappointing, even though it's not Ralph's fault.
ALEX MCCARTHY – 7
One of the biggest improvements in the squad since Ralph came to the club, particularly since Andrew Sparkes (GK coach) arrived at the club. Very safe in goal, does not take many risks and usually prefers to stay on the line to protect the goal rather than rushing out. McCarthy also does well on the ball, even though there are still some occasions where he misplaces his passes. Stepping up well to fill in Gunn's spot and definitely deserve to be seen as Saints' no. 1.
KYLE WALKER-PETERS – 8
People say Saints were on the losing end of the swap deal with Hojbjerg, and I disagree with that because KWP is a very decent defender. Very good on the ball and his overlapping runs provide a good attacking option down the right wing from his crosses. A determined player when defending as well, proven by his performance against Fulham on Boxing Day.
JACK STEPHENS – 6.75
Has shown he can improve and become a solid option at the back for Saints, but unfortunately lost his starting position. And that affected him a lot since he does not have enough match sharpness, which leads to him making mistakes constantly. But Stephens has also come a long way since Ralph took over, and he has made himself a solid rotational option for the team.
JANNIK VESTEGAARD – 8.75
Cutting his hair really did the trick, didn't it? Going from a centre-back who constantly makes mistakes and being caught out of his position to a VvD replica is a very long way for Jannik. He's not the quickest centre-back to fit in Ralph's high defensive line, and he knows that, but he works hard both on and off the ball to cover that weakness. A quarter back in possession for the team. He is also a constant set-pieces threat, which is a great weapon for Saints this season.
RYAN BERTRAND – 7
A decent first half of the season for Ryan as he starts entering the final stage of his career. Still solid at the back, decent when joining the attack through his overlapping runs, and still shows his attacking output through crosses into the box. But Ralph does not expect Ryan to overlap more, instead he prefers him to underlap and allows the left winger to drift wide, which is an interesting thing to see. It suits him because he is not as quick as he used to be. Can also receive the ball inside the box and makes cutbacks for late arrivals.
JAN BEDNAREK – 7.75
Going strong year after year, and it's fair to say Saints used the money that they got from VvD's transfer well to find a good replacement. Strong in the air, composed on the ball and strong in defensive duels. He is also fairly quick, which is the most important thing when playing in Ralph's pressing tactic. Can't fault him for anything, to be fair.
JAMES WARD-PROWSE – 8.25
From open play, he's been consistent and gives enough, passing-wise,  to make things happen, plus constant energy and movement. From set pieces, he's our primary method of winning matches. 
@darylgouilard: Wearing the captain armband means a lot to Prowsey, and he shows why he deserves that honour. Playing in a deeper role, he acts as the team's playmaker by distributing the ball well to the attackers and linking up the defence and the forward line. Always a good set-piece taker, and as Saints' fans, this is not the first season that we have witnessed this level of dead-ball quality from him. Also reliable when pressing as he works hard to close down the opposition and win second balls, a big improvement in his style of play.
ORIOL ROMEU – 7.5
Exceeded expectations by holding things together defensively so far, keeping Ibrahima Diallo waiting. Should sign a new contract but I expect Diallo to be phased in.
STUART ARMSTRONG – 7
Ralph invented a wide-10 role for him half way through 2019-20 and he turned into our best player. He's been good but not as much creativity as that so far this season, partly because there's limited opportunity to give him a rest.
NATHAN REDMOND – 6.5
His time has been defined by impressive consistency for an attacking player and a seemingly good relationship with Bertrand on the left. But it has turned into more of a plateau than a peak. And now he spends a bit less time on the pitch, his reliability is less important.
THEO WALCOTT – 7.25
Really quite important part of our squad partly because of his flexibility to play on the wing or as a striker. Decision about signing him at the end of the season coming up, tricky because he will be 32 in March.
MOUSSA DJENEPO – 6.5
Usually creates danger either for the opposition or his own team. Turning from the most dribbles in the top 5 leagues to merely top 10 in the PL has helped him become a bit more rounded but still a step away from the consistency needed for a 2000+ minute season (which he achieved in his last season at Standard). He performed well in some games (Newcastle, Man City), but when it goes wrong (Brighton) we become unbalanced. But he's still young and missed some time for injury/personal, no need to worry yet.
DANNY INGS – 7.5
Done exactly the same as before, but limited by two injuries. Important season for him to get in the England squad, and because he is moving into post-peak.
@darylgouilard: Still a key man in Ralph's tactics, but Ings has seen his goal-scoring responsibility being decreased. Instead, he is encouraged to drift wide and allow Ché to stay central. It turns out to be a good thing as we will become less dependant on Ings, and he is still doing well when he starts. Injury is still his biggest concern, and when he is out we become less effectual, but huge credit to Ralph for improving him tactically and from a fitness perspective as well.
CHE ADAMS – 8.25
Since the first lockdown, he's massively stepped up his team contribution while still getting 2 shots per match. Ralph has worked out what he wants from his non-Ings striker and Che Adams has started doing it. No one worries about whether he lacks composure any more.
@darylgouilard: Definitely starting to play a more important role in the squad as he is now the man who leads the line for Saints. He is getting more confident in front of goal and scoring more, and I hope we can see his performance at Birmingham being replicated at Saints once again. Works hard off the ball as well to press the and win the ball high up the pitch. But one thing that I would love to see him improve is his ability to be the star man in the front two. When he plays with Ings and played with Jutkiewicz (at Birmingham), he has great support to allow him to be in a good position to score. But when both of them are out, he starts to drop off and becomes less consistent.
---
BEST PLAYER? 
@dgouilard: James Ward-Prowse
@saintsbynumbers: Jannik Vestegaard
BIGGEST SURPRISE? 
@dgouilard: Alex McCarthy
@saintsbynumbers: Oriol Romeu
BIGGEST DISAPPOINTMENT? 
@dgouilard: Mohammed Salisu (due to him not being able to play for a long time)
@saintsbynumbers: Not really anyone
BEST XI? 
@darylgouillard & @saintsbynumbers 4-4-2
McCarthy
KWP — Bednarek — Vestegaard — Bertrand
Armstrong — Ward-Prowse — Romeu — Walcott
Ings — Adams
WHAT DO YOU NEED IN JANUARY? 
@dgouilard: A backup LB/RB and a backup for JWP
@saintsbynumbers: Probably no money to do anything even if we needed to. Brandon Williams on loan, or our future Ryan Bertrand upgrade if he can be found and settled in 6 months early.
PLAYER TO WATCH FOR REST OF SEASON? 
@dgouilard: Definitely Mo Salisu if he can get fit in January. And Macca, JWP and Ings fighting for a Euro spot.
@saintsbynumbers: James Ward-Prowse and Danny Ings are playing for their England Euro 2021 places.
END OF SEASON PREDICTION? 
@dgouilard: 8th
@saintsbynumbers: 10th

Ratings by @griffinftbl, @belgian_hotspur & @chrissummersell
Words: 
Team & Manager and keeper: @giffinftbl
Defenders: @belgian_hotspur
Midfield: @chrissummersell
Forwards: combination
Unless otherwise called out
OVERALL TEAM – 7.5
Some good results, getting through a really tough run with some good points. Hit a bit of a wall recently and taken a dive from the top of the table. Football hasn't been enjoyable mostly and some results have been unlucky and devastating (Newcastle, Liverpool, West Ham) while our wins have been fairly lucky (City). And then poor results like Palace and Wolves which were deserved. We've looked too inconsistent and reliant on individual brilliance. But overall results have been good and we're in a good position for the cups
MANAGER – 8.2
Has managed to get Ndombele firing which is massive. We've had good results and the cups are looking promising, but really need to be winning something if the rest of the season is similar to what we've experienced so far. I think we could be playing better and pushing ourselves more in games but overall it's been good.
HUGI LLORIS – 8.5
Has been world class recently and really stepped up and I see him as more of a leader now. I think the World Cup was a big boost for him. Excellent shot stopping at key moments and has really cut out the tendency for errors that most fans would associate with him.
S. AURIER – 7
@belgian_hotspur: Some recency effect here because he'd get an 8.5 or even a 9 before that typical error vs Leicester. He has been rock solid, as aggressive as ever, and before last week error free. He isn't attacking as much as last season, but he's controlling the flank better
@griffinftbl: Added competition has made him step up but at the end of the day he's still the same player. We've played to his strengths and he's has some good performances but is still a liability who we need to upgrade on
M. DOHERTY – 4.3
Quite underwhelming as a signing. We haven't seen any of the good offensive play we saw at Wolves, and his positioning and tackling has been awry.
@chrissummersell: Has struggled to adapt in a new system and from wing-back to full-back and has been defensively shaky. Has had some good moments in the final third but not enough yet to justify his purchase. No standout ability in his passing, dribbling or athleticism to dominate the right side 
D. SANCHEZ – 4.7
He's not been great, and we look much stronger at the back with Toby and Dier. His passing is weak and he still drops a clanger a game. That said, not having his recovery pace has meant our defence has dropped deeper without him, which has impacted our ability to have many fast transitions. 
ERIC DIER – 7.2
@griffinftbl: Has been solid and looks a lot better playing CB. Has shown himself to be a good leader and suits Jose well
T. ALDERWEIRELD – 7.3
Toby has had a miny renaissance and has been our best CB. His passing is still great which has helped set up some moves and he has made some crucial interventions. Playing deeper has helped him a lot and he looks back to a good level
S. REGUILON – 7.8
Reguilon has been an excellent signing. He's clearly great offensively where he uses his pace and dribbling to create chances, but he's also been surprisingly solid defensively completely dominating top wingers like Mahrez. If we start attacking more again, we'll see a lot more from him I think
@chrissummersell: Has a mistake and lapse in him, but his athletic ability has transformed our attacks from the left back area and helps create room for Son
B. DAVIES – 5.2
Good pro but average is the best way to describe him, and I'm not sure why Mourinho loves him so much. He's back to being the competition LB, and that's probably what he should be
P. HOJBJERG – 8.5
A revelation in the midfield, his aggression off the ball and tidiness on it has been the major upgrade the squad needed. A natural leader too, and Spurs are already reliant on his fitness
T. NDOMBELE – 8.2
@chrisummersell: Progressive & creative on the ball and has worked hard off it. A joy to watch even though we he sometimes struggles to get on the ball playing as a 10, one of the best CMs in the league and as he adapts further he will be key to Spurs challenging for trophies
@belgian_hotspur: Ndombele has been pure genius at times, and many of our counterattacking goals start from him evading the press with his ridiculous ability. He has been affected as we have dropped our line deeper in the season as he's reduced to more of a pressing role which is a misuse of his talents. He needs to show for the ball a lot more because of what he can do with it
G. LO CELSO – 6.2 
Struggled to get into a rhythm this season with injuries, but the talent is very much there if he gets a run of games
H. WINKS – 4.7
Difficult season for him, but has not produced his best in the minutes he's had
LUCAS MOURA – 5.2
@chrissummersell: Always works incredibly hard and tries to make things happen, but he continues to fail to produce the end product that outweighs him constantly giving the ball away
S. BERGWIJN – 6.7
@chrissumersell: Works hard and has been slightly unfortunate to not have a few more contributions with G/A, feel like he's playing slightly within himself at times but there are more than enough signs of the obvious talent he has
H.M. SON – 9.7
@chrissummersell: A consistently brilliant and ruthless performer – great finisher and has fitted perfectly into the counter-attacking game we play. A player we rely on to shine in big moments
@belgian_hotspur: A few years ago Spurs fans would joke about how Son kept missing 1v1s, but now he scores almost every one he gets. He has been sensational and along with Kane absolutely essential to the attack. He is thriving in the counterattacking setup of Mourinho where he can use his pace, fast thinking, intelligent runs and finishing to bag so many goals
HARRY KANE – 9.8 
@chrissummersell: Back to his best, and whilst his withdrawn role means his involvements in the box are rarer than ever his creative game is really showing and yet he still maintains a big goal threat. A complete player
@belgian_hotspur: Kane has easily been our best player, even though Hojbjerg and Son would be worthy winners in previous years of our player of the season. He's dropping deeper, but unlike before, when he does, players (Son) are making runs in behind, and he finds them with ease and accuracy. He's always had this in his locker so it feels quite ridiculous that we didn't ever set up to exploit it. Yet, he is also able to get into the box and is putting up his best offensive numbers since his peak in 2017. He's back and potentially better than ever before. As the defensive line has dropped off in recent games, he has been less effective, still everything good that happens offensively involves him
---
BEST PLAYER? 
Harry Kane
BIGGEST SURPRISE? 
@griffinftbl & @chrissummersell: Hojbjerg
@belgian_hotspur: Aurier
BIGGEST DISAPPOINTMENT? 
@griffinftbl: Dele Alli – Not necessarily his fault but I had big hopes for him under Jose and just hasn't happened for him. Not just struggling to start, he's struggling to even make the matchday squad. He has the ability and potential to be very important to us. I do have some faith that he can fight his way back but we'll see what happens in January 
@belgian_hotspur & @chrissummersell: Gareth Bale
BEST XI? 
Both 4-2-3-1
@griffinftbl: 
Lloris
Aurier — Aldeweireld — Rodon — Reguilon
Sissoko — Hojbjerg
Bergwijn —- Ndombele —- Son
Kane
@belgian_hotspur & @chrissummersell: 
Lloris
Aurier — Aldeweireld — Dier — Reguilon
Ndombele — Hojbjerg
Lo Celso — Alli —- Son
Kane
WHAT DO YOU NEED IN JANUARY? 
@griffinftbl: Backup DM, a CB and maybe a right winger
@belgian_hotspur: A physical, technical CM who can play next to Hojbjerg or in place of him (if he's out/rested)- Soumare, Zakaria, Cheick Doucoure for example. Possibly a fast, left sided ball playing CB- Senesi, Badiashille, Botman for example. And a fast, counter-attacking creative attacker with goal threat- Cunha, Bailey, Memphis, Nkunku for example. (latter two are probably summer moves)
@chrissummersell: Dele back in first team rotation, if available a 6/8 to cover PEH and replace Sissoko
PLAYER TO WATCH FOR REST OF SEASON? 
@griffinftbl: Ndombele
@belgian_hotspur: Ndombele- There are few signs in Mourinho's comments and substitutions that the Ndombele revival isn't quite complete. He is essential for any success but it's not clear if Jose is fully on board with him
@chrissummersell: Tanguy Ndombele – the most creative, ambitious and progressive player you can watch
END OF SEASON PREDICTION? 
@griffinftbl & @belgian_hotspur: 4th + a cup win
@chrissummersell: 3rd

Words and ratings by Louis Bent @thebaggiespod
OVERALL TEAM – 6
Glimpses of good PL quality but ultimately a Championship side playing their heart out to stay up, investment needed desperately to help us stay up.
MANAGER: BILIC/ALLARYDYCE – 6
Slaven Bilic wasn't given the backing of the board, the sacking in hindsight was right however it was untimely and likely to cause a stir amongst the fans. Allardyce has started making us more organised as seen at Anfield but we shall see.
SAM JOHNSTONE – 9.5
Our Player of the Season so far, single handedly winning us points with superb shot-stopping, funny to think many people (including me) thought he wouldn't be good enough at this level. Top Class.
DARNELL FURLONG – 7.5
Looking twice the player of last season , providing an attacking outlet down that right hand side causing problems by bombing forward creating 2 on 1's against opposition full backs. Some lapses in defensive concentration but is bound to become twice the player under Allardyce.
DARA O'SHEA – 7
Broke into the 1st team last season mainly playing at Right Back, played mainly centre back this year and has looked a very mature asset at the back.
SEMI AJAYI – 8
My personal favourite WBA player, looked an absolute rock so far this year and remember he only cost £1.5 million.
CONOR TOWNSEND – 7.5
Like Furlong had his doubters as to whether he would make the step up. He has and very well. Looked tenacious and hard to get past let's hope he returns from injury soon.
JAKE LIVERMORE – 5
Club captain, clearly works hard in the midfield has been helped out a lot by a more mobile Conor Gallagher. Big Sam wasn't a fan of his tackle against Villa so we'll see if he remains captain.
CONOR GALLAGHER – 7.5
One of the contenders for Player of the Season. Provides passion,energy and good old-fashioned grit in the middle of the park whilst playing that classing Box To Box midfield role.
MATHEUS PEREIRA – 5
Been a shadow of last season's player but with glimpses of magic (e.g Everton free kick) but has been yet to find consistency. Let's see if Big Sam can rekindle the form of 2019/20.
GRADY DIANGANA – 5
Not quite the player we saw last season, another short of confidence but with undoubtable flair and agility, will be crucial if we are to produce some end product this season.
CALLUM ROBINSON – 6
Had a cracking game against Chelsea, should be playing more often when Grant is misfiring.
KARLAN GRANT – 4
A big disappointment so far. Started well with a goal against Brighton but has looked poor since. His first touch leaves a lot to be desired however has found himself looking more lively in recent times.
BRANISLAV IVANOVIC – 4
Bought in on a free transfer and looked assured against the more old-fashioned strikers of Burnley but ultimately struggling with a lack of pace, O'Shea looks much better in the heart of the defence.
ROMAINE SAWYERS – 5
Heavily criticised last season, when playing at his best can be influential in the midfield however at his worst can be lacklustre and can give the ball away far too easily, worth noting that he's looked better recently.
MATT PHILLIPS – 5
Looked a player with little confidence in a team full of it last season. Not much different this season but a surprise promotion to captain may give him the motivation he needs.
KIERAN GIBBS – 5.5
Let himself down with a red card against Everton which changed the game, looked okay since coming in for Conor Townsend whom I think he has fallen behind in the pecking order.
KYLE BARTLEY – 5
Looked okay in parts but is playing above his level in the PL. Currently injured so we'll see what he has to offer under Big Sam.
FILIP KROVINOVIC – 6 
A player Bilic desperately wanted back for a second loan spell, looked tidy as per last season, not sure he'll fit under Allardyce.
---
BEST PLAYER? 
Sam Johnstone
BIGGEST SURPRISE? 
Darnell Furlong
BIGGEST DISAPPOINTMENT? 
Grady Diangana
BEST XI? 
4-2-3-1
Johnstone
Furlong — O'Shea — Ajayi — Townsend
Livermore — Gallagher
Robinson —- Pereira —- Diangana
Grant
WHAT DO YOU NEED IN JANUARY? 
A holding midfielder and a target man CF
PLAYER TO WATCH FOR REST OF SEASON? 
Matheus Pereira
END OF SEASON PREDICTION? 
17th

Words and ratings by @danwoff98 @sidneykavanagh and @jackelderton
OVERALL TEAM – 7.8
@danwoff98: Some impressive results after West Ham were pretty much written off straight away with a tough start to the season against some of the big guns. Played some good football and have been boosted by the performances of Souček and Coufal.
@jackelderton: At the beginning of this season West Ham were a club in crisis and the atmosphere around the place hit a real low point after Mark Noble spoke out against the sale of Diangana on Twitter. The atmosphere couldn't be more different now. The team has come an awfully long way from where we were last season. Confident and assured throughout, we have competed in every game – something you couldn't have said last season.
MANAGER – 8.2
@sidneykavanagh: Pleasantly surprised by the progress made under Moyes since GW1 from someone against his initial hiring. In game management and lack of substitutes allows games to drift at key moments however given the squad a fresh identity and harmony
@danwoff98: Built a new identity with a fresh style of play and formation. Has a paper thin squad, but has got the team playing some good football. Not the manager the majority wanted, but he's proved most wrong and rightly deserves a new deal.
LUCASZ FABIANSKI – 7.25
@sidneykavanagh: Struggled following injury at the end of last season and seemed bereft of confidence. Improved to near 18/19 peak level this season and should be rewarded with a contract extension. Lacks aerial dominance in box
VLADIMIR COUFAL – 9
@sidneykavanagh: Has done everything expected of a new signing and for £5m looks a steal in the current market. Looks comfortable at RB and RWB keeping some of the leagues best players quiet
@jackelderton: Provides bags of energy down the right-flank – constantly overlapping the winger and providing support in attack while being very solid defensively. Currently leading for shots blocked (31) and third for tackles & interceptions combined (50). One of those players you can rely on to give you a minimum 7/10 every single game [at time of writing]
FABIAN BALBUENA – 7.5
@danwoff98: Found a new lease of life in the new five at the back system. Comfortable next to Ogbonna and has produced some top performances.
ANGELO OGBONNA – 9.3
@sidneykavanagh: Standout performer alongside Rice, rarely makes a mistake and candidate for HOTY again after finishing runner up last season. Assured on the ball and most consistent defensive performer for years
@jackelderton: I was going to say 9 but I couldn't really think of any reason to mark him down. He's been absolutely brilliant. Leads by example every week and though he may not wear the armband, he's consistently encouraging and organising those around him. Defensively excellent and incredibly reliable in the air – top for clearances (103) and aerial duels (73% won). Strong contender for HOTY.
AARON CRESSWELL – 8.25
@sidneykavanagh: Rejuvenated at LCB. With a team leading 4 assists, his set pieces have been a major contribution to overall team success. Struggled at times higher up the pitch at LB and will be hoping the system change is temporary
@danwoff98: Best start to a season in a West Ham shirt. Producing consistent performances and seems much more comfortable at left centre-back with added cover.
ARTHUR MASUAKU – 7.5
@sidneykavanagh: Just his presence alone allows the team to play 523 and this is possibly his most important attribute. His ability to carry the ball and comfort receiving in tight spaces relieves pressure in transition and provides a profile of player different to any other in the squad
DECLAN RICE – 9
@sidneykavanagh: Taken the on-field captaincy and has progressed his game further on the ball. More touches, passes and carry distance Per90 than any season. Leads by example and rarely loses midfield battles
@danwoff98: Another impressive performer and seems to be improving as a player every week. Our most valuable player and vital that we keep hold of him if we are to progress as a team. Complements Souček very well.
TOMAS SOUCEK – 8.5
@sidneykavanagh: Provided a partner for Rice that has been missing with Noble decline. Exceptional in both boxes and provides dynamism in the middle 3rd. Lacks passing threat with minimal range on the ball
@danwoff98: Been unbelievable since his arrival and is the perfect midfield partner for Declan Rice. Very underrated and covers a lot of ground. Could give Antonio a run for his money for top goalscorer this season too.
PABLO FORNALS – 6.5
@sidneykavanagh: Consistently inconsistent which frustrates most fans. His ability on the ball is often under-utilised and he chooses the safe option. At 24, has room to improve but needs to show improvement soon before he loses his place
@jackelderton: Has found himself scapegoated by the fanbase often as our other forwards potentially have a little more flair and panache to their play but Fornals' energy and quality of movement shouldn't go unnoticed. Now a key performer off the left-flank with his reliable defensive contribution and his ability to pick a pass through for a teammate or to pop up at the right time in the box. If he can improve his finishing, we could have a very good player on our hands.
JARROD BOWEN – 7.75
@danwoff98: Another signing who has been a breath of fresh air since joining. Talented player. Can be very selfish sometimes.
@jackelderton: Infectious enthusiasm, always. Bowen is joint-top for goals (4) and has provided fantastic energy, commitment and drive down our right-side. If he could pick his head up a little more in key areas then he would be significantly adding to his goal contributions. Brilliant thus far and just a little composure short of a top-quality winger.
SAID BENRAHMA – 6.5
@sidneykavanagh: Limited to primarily substitute appearances since his arrival his chances to impress have been minimal. Nullified Phillips against Leeds and looked impressive in transition. However, failed to create a chance or shot in his only other start against Palace. His chances should improve as he settles
@jackelderton: Just glimpses so far but clearly a player with bags of ability. Looks as though he is being slowly introduced as the 10 for our 4231 where he presses the opposition 6 effectively and offers the touch-and-turn quality needed for the role. Sure to be included more as the season goes on and two assists from his limited minutes is already a good return.
MANUEL LANZINI – 7
@danwoff98: Wonder goal against Spurs was a glimpse of his former self and seems to have given him some confidence. Never been the same player since his injury but hopefully given an extended run in the side now.
MICHAIL ANTONIO – 7
@sidneykavanagh: Underlying stats down on last season but fixtures play a part in this. Ability to carry the ball and stretch teams are invaluable. Picked up his customary muscle injuries after being overworked and cant be relied on to play 30 games a season. Hopefully eased back in and finds post-lockdown form and fitness
SEBASTIEN HALLER – 6
@danwoff98: Can never work him out. Undeniable quality and ability. Not suited to the Premier League and doesn't throw himself about enough for the size that he is. Often starved of service but Antonio is much more effective when he's fit.
@sidneykavanagh: Criticised for lacking attributes he never had, Haller simply doesn't suit the all action combative style Moyes seeks and will look out of place for as long as he's deployed as such a player. Thrives on cut backs and 1st time finishes, he shows gliMpses of undouBted quality. Doubt he starts the 21/22 season at the club
ISSA DIOP – 5
@danwoff98: Frozen out after Balbuena's turn of form. Young and raw with potential but at fault for Benteke's goal against Crystal Palace the other week. Lot to learn.
YARMOLENKO – 5
@jackelderton: Has become somewhat of a bit-part player for us now given the form of Bowen but has proven useful at times as he brings a little bit of added craft. Saying that, his horror show against Man City won't be forgotten easily.
---
BEST PLAYER? 
@danwoff98 & @sidneykavanagh: Declan Rice
@jackelderton: Ogbonna
BIGGEST SURPRISE? 
Vladimir Coufal
BIGGEST DISAPPOINTMENT?
@danwoff98: Haller
@sidneykavanagh: Pablo Fornals
@jackelderton: Issa Diop
BEST XI? 
Both 5-2-3
@danwoff98 & @sidneykavanagh:
Fabianski
Coufal — Balbuena — Ogbonna — Cresswell — Masuaku
Rice — Soucek
Bowen —- Antonio —- Benrahma
@jackelderton:
Fabianski
Coufal — Balbuena — Ogbonna — Cresswell — Masuaku
Rice — Soucek
Bowen —- Antonio —- Fornals
WHAT DO YOU NEED IN JANUARY? 
@danwoff98: Striker and CM backup
@sidneykavanagh: A Striker, a CB and a LWB
@jackelderton: A striker and some midfield cover.
PLAYER TO WATCH FOR REST OF SEASON?
@danwoff98: Bowen
@sidneykavanagh: Said Benrahma
@jackelderton: Antonio
END OF SEASON PREDICTION?
@sidneykavanagh & @jackelderton: 11th
@danwoff98: 9th

Words and ratings by @wolvesanalytics
OVERALL TEAM – 5
Disappointing. We have been comfortably the seventh best team of the last two seasons, and in the Champions League race until the 37th match last season. Picked a tricky summer to enact change – the move to four at the back and a more expansive system. After an epic 383-day 2019/20 season, there were just 34 days before 2020/21 started. Add into that selling two mainstays in Diogo Jota and Matt Doherty, and losing Jonny and Raúl Jiménez to long-term injuries and it has been the biggest turnover of players since Nuno arrived.
MANAGER – 5
The difficult fourth season. Signed a new contract in the summer, but for the first time there are murmurings that he is coming towards the end of his time. Still has the backing of the majority, but recent comments about Lee Mason perhaps suggest a man under more pressure than he has previously experienced at Molineux.
RUI PATRICIO – 5.5
Generally solid, but with a couple of errors that have cost us, most notably against Newcastle. We know what we get with Rui – a solid shot stopper who stays on his line, but when he does come out, he almost always collects the ball.
NELSON SEMEDO – 6
Attacking-wise, he is improving every match. But looks uncertain defensively, especially in the air. The switch to a back-4, with the added defensive responsibility, hasn't done him any favours. Filling Matt Doherty's shoes was never going to be easy – Doherty added more to the whole of the team than he did individually. £35m is looking on the expensive side of things so far.
CONOR COADY – 6.5
Wolves fans were delighted to see him make his international debut and become the first Wolves player to score for England since a certain Steve Bull, thirty years ago. Has played in a back-4 for pretty much the first time in his career, and has looked relatively comfortable there.
WILLY BOLY – 6
A worry. He has been our outstanding defender for the past three seasons, but the excellence has fallen a notch or two. May need to be replaced soon, but seeing as we've struggled to replace Romain Saïss and Ryan Bennett in defence, that will not be easy
FERNANDO MARCAL – 6.5
Looks a very good signing for €2m. Dependable defensively, but lacks invention going forward. Injuries are already perhaps a slight worry.
LEANDRO DENDONCKER – 6.5
Unsung hero. Key to the midfield (see Neves and Moutinho commentary below), and is our main goal threat from there. But, is without a goal from 15 shots and 2 xG this season.
RUBEN NEVES – 6
Blows hot and cold. The Neves/Moutinho central midfield seems to be overpowered; we've taken just one point from the five games they've started together this season. Has games that match his reputation, but too many that pass him by. Has taken 66 shots in the league since his last goal
JOAO MOUTINHO – 5
Sadly on the wane. Replacing the best Wolves player in decades will not be easy.
ADAMA TRAORE – 5
0.26 xG + xA per 90, but hasn't been involved in a goal yet this season. Teams are doubling up on him, and we haven't worked out how to solve that issue yet. The least versatile of the AMs, and so is often the first left out
DANIEL PODENCE – 7
The most impressive summer addition (despite signing in January, he started just 5 games last season). Looks best playing off a striker, and seems to like to responsibility of being the player who dictates the attack. 0.45 goals + assist per match is fine if he is one component of an attach, but needs to be improved if he wants to be the attack leader
PEDRO NETO – 8
The outstanding player so far this season. Looked promising last season, but has really stepped up. A direct runner with a powerful left foot. One of the first names on the teamsheet, it's easy to forget he is only 20. I'd expect his 0.49 goals plus assists per match figure to improve if he played more with a central striker
RAUL JIMENEZ – 6
His head injury has massively impacted our season. Wasn't at his best prior to injury – he was getting fewer shots and less xG than his previous two seasons. Had featured in all 89 league games since signing, starting 86 of them. Minutes played, age and the lone role he'd been asked to play were perhaps catching up with him.
FABIO SILVA – 6
His age is more relevant than his transfer fee. Looks like an 18-year old out of his depth at times, but took an excellent penalty. Should be getting minutes from the bench, rather than being our only striker.
ROMAIN SAISS – 6
Solid and dependable without being outstanding. Has been caught out a couple of times with long, straight balls over his head. A valuable member of the squad, but probably shouldn't be a valuable member of the first-team
MAX KILMAN – 6
Did you know he used to play futsal? Has been solid and dependable when asked to play
RAYAN AIT NOURI – 6 
Still settling in. Hasn't developed any real partnerships going forward, and lacks the dependability of Jonny. Incredibly promising, but isn't there yet
---
BEST PLAYER? 
Pedro Neto. A bit-part player last season, a key player this season
BIGGEST SURPRISE? 
Pedro Neto. Or the decisions to move Doherty and Jota on
BIGGEST DISAPPOINTMENT? 
Traore has been slightly unfortunate, but his reputation has taken a nosedive in the past 6-months
BEST XI? 
4-2-3-1
Patricio
Semedo — Boly — Coady — Marcal
Dendoncker — Neves
Traore —- Podence —- Neto
Silva
WHAT DO YOU NEED IN JANUARY? 
A replacement for Jimenez in the short-term – possibly a loan until the end of the season. Longer-term, replacements for Boly and Moutinho
PLAYER TO WATCH FOR REST OF SEASON? 
Owen Otasowie did well as a subsitute against Chelsea and may get more game time to add ballast to the midfield. Otherwise, Pedro Neto
END OF SEASON PREDICTION? 
It's taking a bit of time for the summer changes to bed in – if they do in 2021, then we should be aiming for 7ish again. If not, probably towards the top of the bottom half
---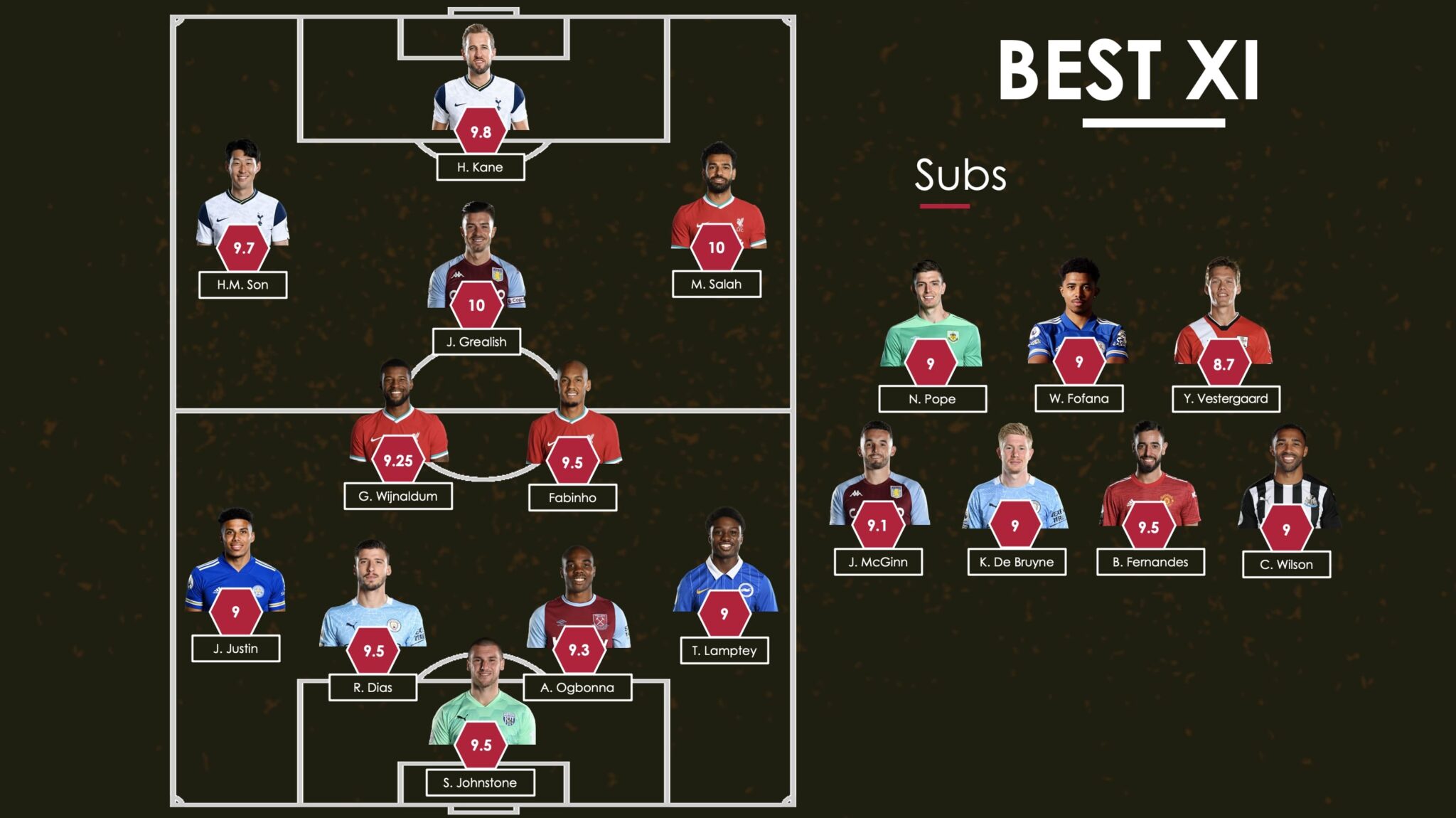 This seasons best performers, as rated by the fans. Honourable mentions to the likes of Mings, Hjobjerg, Ndombele, Cancelo, Bissouma, March, Saka, Vardy, Tielemans and others.
Top 6 Managers:
Klopp (9.7)
Rodgers (8.5)
Bielsa (8.25)
Mourinho (8.2)
Moyes (8.2)
Hassenhuttl (8)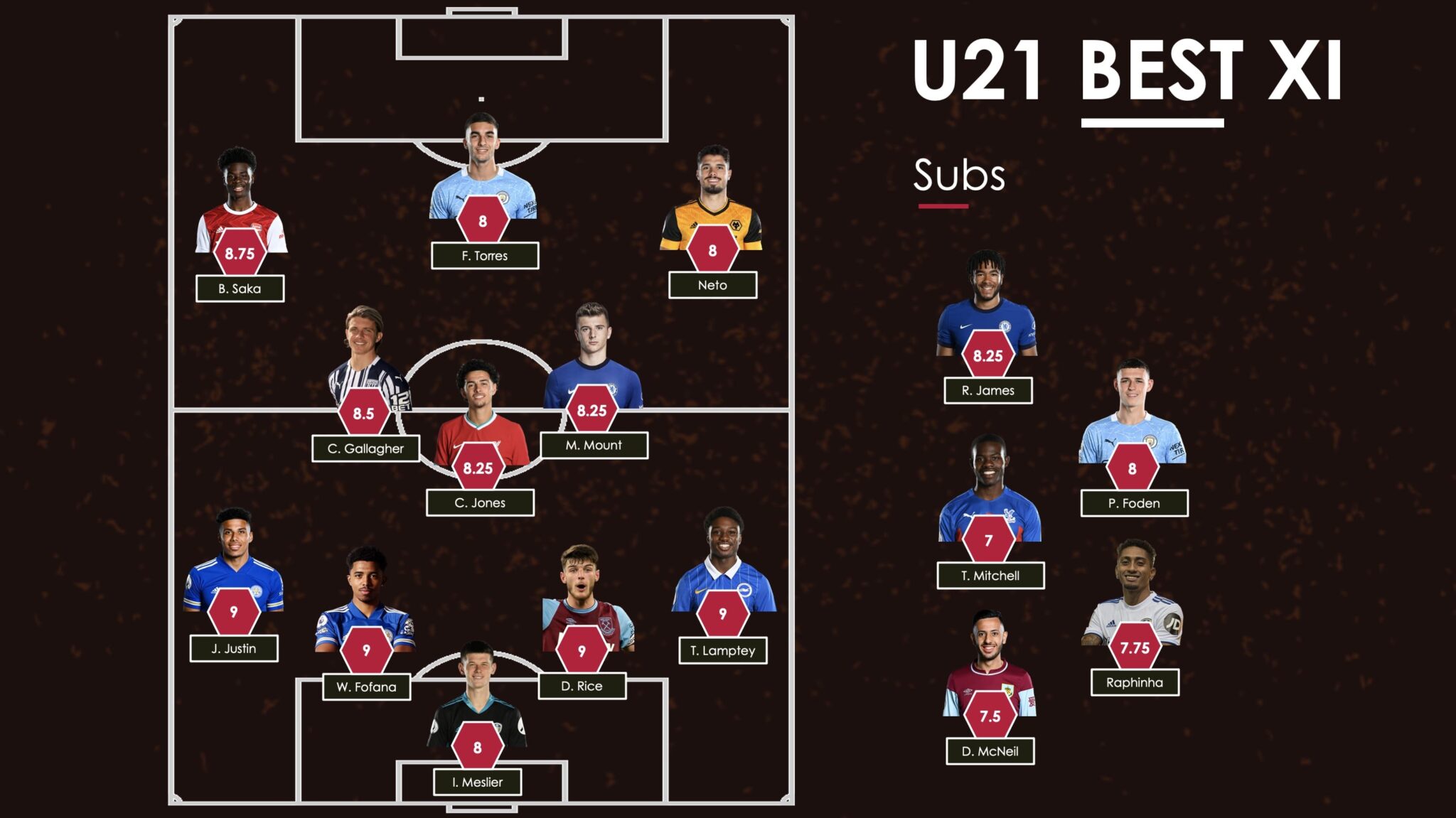 Alexander-Arnold could've been in as a 3rd choice RB (7.25). Few players miss just miss out on age but worth mentioning: Ollie Watkins, Adarabioyo, Ezri Konsa. Declan Rice moved to CB for the balance of the XI. Next CB in line would've been Rhys Williams (6.75)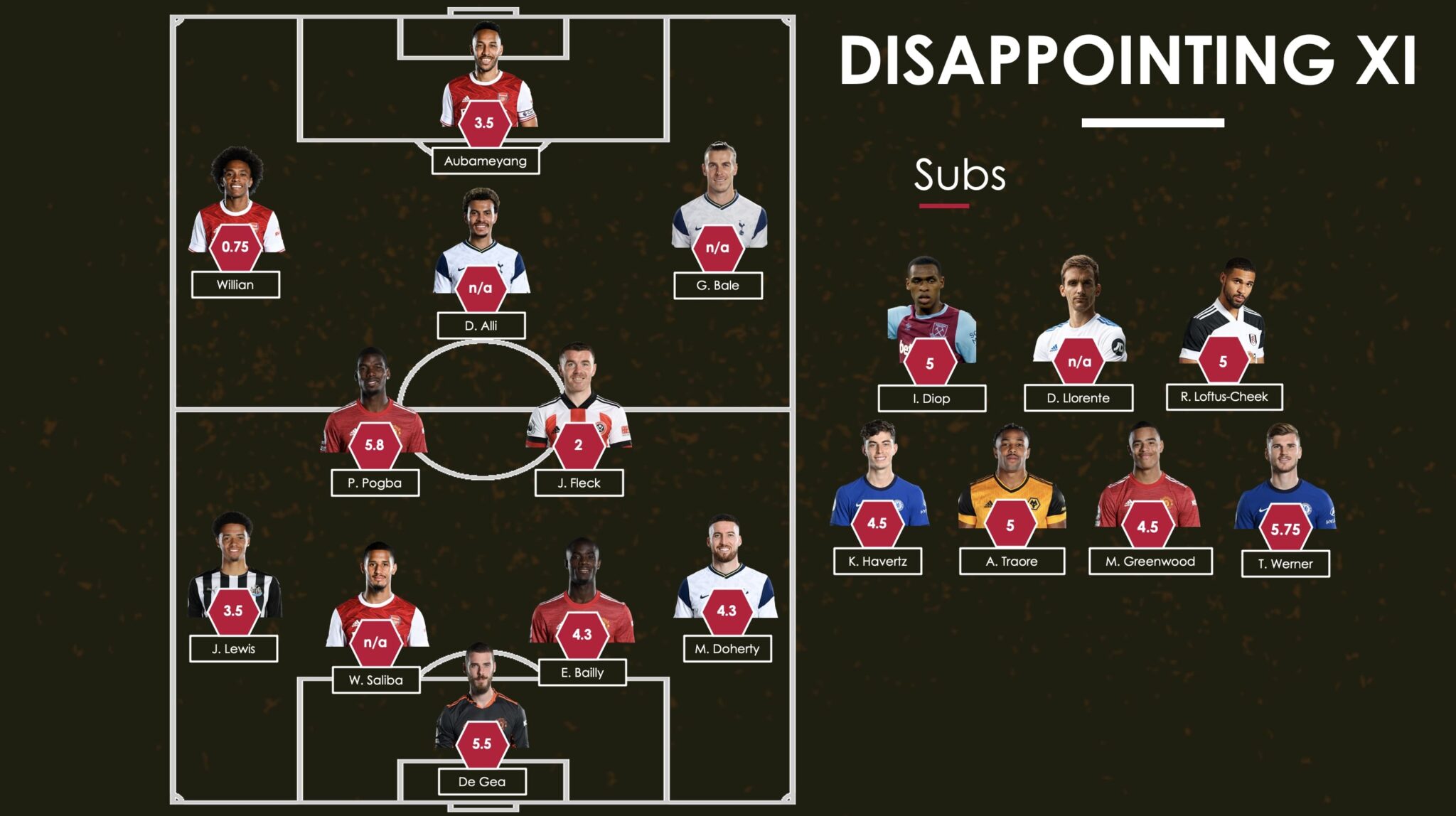 Some through their performances, and some through them not being able to get on the pitch. Pickford can count himself lucky not to appear, as can Pepe and Andre Gomes. Wan-Bissaka, Seb Haller and Grady Diangana some of the other names mentioned by fans.