Full opposition analysis of Pep Guardiola's side
INTRO
With the Premier League returning on the 17th June, I thought it would be cool to do a full opposition analysis, as if I were a first-team analyst at Arsenal, for their game away at Manchester City. This was compiled based on City's last 6 Premier League games.
For those who haven't worked inside a club, this may give you some basic insight into an Opposition Analysts match preparation. For those who do currently work at a club, hopefully there are still one or two bits of interest in here.
I've tried to keep this fairly simple and easy to understand. Here's a brilliant blog from jadamsftbl (https://twitter.com/jadamsftbl) which may help with any terminology that is not clear: https://jadamsftbl.wordpress.com/tactical-terms/
The opposition report you might see in a club may be far more detailed (and far better) than this – although a) they might spend two weeks preparing it, rather than a weekend and b) in a club setting, you would have access to wide-angle, tactical match footage. With the zoomed angle, replays and camera cuts, broadcast footage can be a bit of a pain!
Great, now that all my excuses are out of the way…
Bad news: Man City are good. And trying to come up with a strategy to beat a Pep Guardiola team is not easy.
Good news: They haven't won a Premier League game in nearly 4 months. They're bang out of form.
Game on, lads.
---
MANCHESTER CITY – OPPOSITION ANALYSIS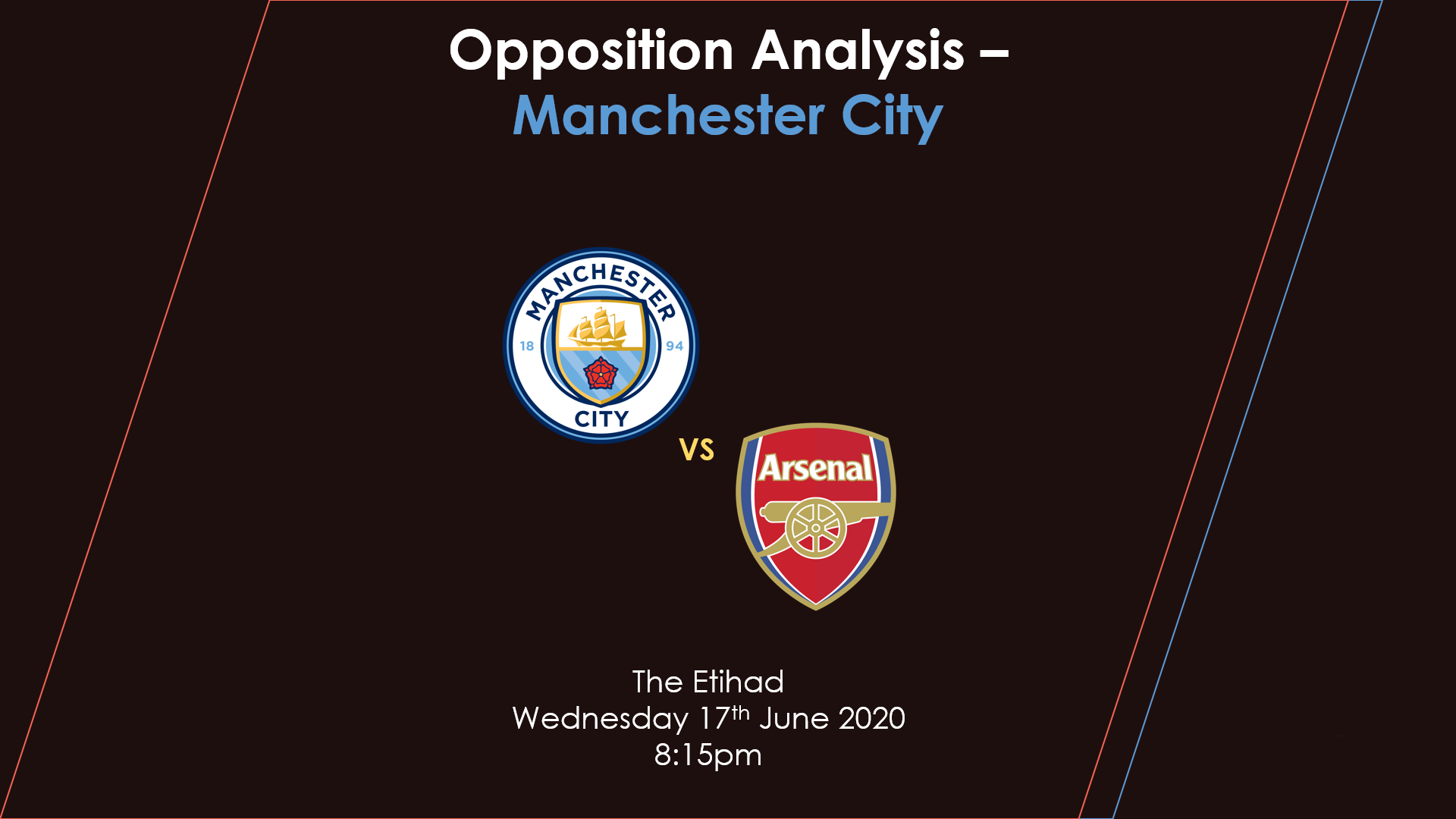 Overview
An overview of City's performance this season, and their likely shape can be seen below.
I haven't used a huge amount of data here. Not sure how much good it would do to tell the players that City are top for pretty much every metric you can think of. Got to keep morale up, y'know?
The stats here don't really give us any new or novel information but, for what it's worth, they do suggest the following:
City create a lot and restrict opponents
They play high tempo football
They spend a lot more time in the oppositions 3rd than most teams, and less time in their own
They press aggressively and look to win the ball high up the pitch
IN POSSESSION
Defensive 3rd
When building from the back, City will look to draw in the opposition's press before exploiting the space pressing players vacate. Ederson is used frequently to create overloads and City will at times bait opposition forwards into pressing the keeper, before laying it into Rodri's feet for a first time pass round the corner to the open man.
Rodri is hugely influential in the first phase of possession, so disrupting his ability to receive passes will be important. When play cannot be progressed via the #6, De Bruyne, Sterling, Mahrez and even Aguero will drop into spaces between the lines to receive vertical passes from the centre backs.
An analysis of City in possession in the defensive 3rd can be seen below.
Midfield 3rd
When looking to progress the ball in the middle 3rd, City use the width of the pitch either through Mahrez/Sterling very wide, or through the wide players coming inside to allow space for full back overlaps.
Again, there are lots of vertical passes, with forwards attempting to find pockets of space between the lines. There is some midfield rotation. At times De Bruyne may look to receive in the left half space, if he can't, he will rotate to the wing and another City player will create a new passing lane in that gap.
If they cannot progress the ball quickly, which they try to do, City's fullbacks are used to come inside the pitch and create 3v2s or 4v3s in the central areas.
Attacking 3rd
City have three main ways of penetrating once they have secure possession in the final third:
Passes to players between the lines who receive on the half turn (and often in the half-spaces)
Third man runs
And one very particular pattern of play – isolating Mahrez wide who cuts inside and plays balls in behind into the path of forwards making diagonal runs
Receiving between the lines:
Third man runs:
Wide forward cutting in and looking for runners in behind:
Rest-defence
When attacking, City's "rest defence" (how they protect themselves in the case of a turnover) is often in a 3-2 shape. While one full-back joins in the attack on his flank, the other full back tucks in to form a back 3. Gundogan and Rodri, generally, stay behind the ball to maintain defensive structure. In this way, city look to protect the centre of the pitch in defensive transitions. Commonly, this shape will be used against teams that leave 2 up, e.g. United in their win against City in March.
When facing a 5-4-1, this shape will become a 2-2 or "box four". The non ball-side full back can join the attack, with City are still able to maintain numerical superiority in these areas.
Frequently, Gundogan and even Rodri push on more advanced however, in the search for offensive penetration. If we can force a turnover in these scenarios, we can hurt City in transition.
In the below, United are able to progress the ball beyond Gundogan and Rodri following a turnover.
OUT OF POSSESSION
Attacking 3rd
City press fairly aggressively in the final 3rd and are difficult to play through. A common trigger to press is a pass to the fullback, whereby they will squeeze the pitch and push up man-to-man. With City's quality in the final third, turnovers here he can be costly. A clip into the channels is often on, and represents an effective and low-risk method of progressing the ball.
Analysis of City out of possession in the final 3rd is below.
Middle 3rd
Here, City recover quickly into a 4-1-4-1 shape. Rodri, positioned behind a flat midfield 4, is tasked with screening the spaces between the midfield and defensive line, cutting off potential passing lanes.
When aiming to be more aggressive in recovering possession, City will occupy more of a 4-4-2 defensive structure, with De Bruyne often being the most advanced City player and instigating pressure on the ball carrier.
City's defending in the middle 3rd can be seen below.
Defensive 3rd
Most commonly, teams hurt City in transition, using quick, direct, vertical passing to attack while City's defence is not "set".
When City do regroup into a defensive structure in their own third, this is often again a 4-1-4-1 shape, with Rodri screening the spaces between the lines. At times Rodri will drop into a back 5, making a compact 5-4-1 structure, with very small distances between the midfield and defensive line.
Quick switches of play to isolate wide players 1v1 (Pepe?) and aggressive runs in behind would help to combat this, stretching the pitch both vertically and horizontally.
SET PIECES
Corners for
3 main sets were evident in City's corners:
Short corner, changing the angle, before looking to cross into corridor between the GK and the penalty spot
3 players bunched above the penalty spot, who then break into variants of near/far post runs
Near post corner for a Rodri flick on
There were also a couple of more interesting sets run by City. These and the above patterns are evidenced below.
Corners Against
City defend corners with a mix of zonal and man-marking. Frequently, they will have a line of 4 or 5 players along the six-yard box defending zonally (along with a floating player defending the front post zone) and then a group of players defending man-to-man around the penalty spot.
This setup, along with two sets that have caused City problems in their last six PL games, can be seen below.
Here's something cool, set piece expert Stuart Reid (hire him – https://twitter.com/From_The_Wing) has put together a dashboard where you can look at each of City's Premier League corners this season, for and against, left side and right side, and see where they were directed and what happened in each instance. Good stuff.
WHAT CAN WE DO TO HURT CITY?
In Possession
Three main areas that could be successful vs City, when in possession:
Clips into channels when playing out from the back
Being more direct, stretching the pitch vertically with pace
Attacking transitions
Clips into channels
City's press is difficult to play through. Clips into channels are often on, with City squeezing high up the pitch. This provides a low-risk means of progressing the ball, avoiding turnovers in the defensive 3rd and has been used to good effect by the teams that have had success more recently against City.
Being more direct
It's not really Arsenal's DNA to employ a more direct brand of football, but we're not going to pass this City team off the pitch. We have the pace to hurt City in behind, with Auba and Pepe, and could have similar joy to Martial and James for United, Son and Bergwijn for Tottenham or Barnes and Vardy for Leicester.
Attacking transitions
The majority of chances City conceded in the previous 6 games came via transition. As soon as we win the ball, we should be looking to play forward. Leaving two up front when defending will allow balls to be played vertically into the forwards feet and these two forwards to put quick combinations together and capitalise on a defence that is not "set".
These 3 areas are demonstrated below.
---
Out of possession
Employing a compact 5-3-2 shape out of possessions has seen the most success against City in their previous 6 games. A staggered midfield 3, will allow the #6 to screen the spaces between the lines that the likes of Sterling, Mahrez, De Bruyne and Aguero will constantly be looking to occupy. Again the two upfront will allow us to offer more threat on the counter following turnovers.
Bruno Fernandes did (mostly) a good job shadowing/man-marking Rodri, in their game in March. In Joe Willock, we have a player with the physical capacity to disrupt Rodri and reduce his considerable influence in the first phase of possession. Willock's athleticism, and ability to carry the ball, would also be a big benefit in the transitions that could prove our most effective attacking weapon.
Analysis of how we can hurt City out of possession can be seen below.
Suggested set up
You might not state this explicitly in a club setting – but just for fun, here's how I would suggest setting up.
In possession:
If Tierney has sufficiently impressed since returning to fitness then I would have him in and Saka left wing. Neither Pepe nor Ozil are great out of possession, having both in the side might be an issue. Martinelli is a great option off the bench with his athleticism and his effectiveness in transition. Perhaps doesn't give you enough security in possession to start the game.
Guendouzi, who had a superb game at the Etihad in 2019, is also a good option from the bench, if there is a need to retain possession more.
Out of Possession:
If the game dictated that we needed to be more proactive in recovering the ball, you could switch to a 4-1-4-1 shape, with Xhaka at the base screening the space between the lines, Pepe right and Ozil left.
In the first phase of possession, I would ask Willock to man-mark Rodri, disrupt his influence in the build up and not give him a seconds respite.
---
CONCLUSION
A more direct, transition, based approach is possibly Arsenal's best bet of getting a result at the Etihad. Out of possession, they need to be compact, disciplined and ready to spring into attack with quick vertical passes, using the pace of Auba and Pepe, following a turnover.
After 4 long months, it's nice to be thinking about Premier League football again.
As always, would love to hear people's thoughts on twitter.
Thanks for reading.
Sancho Quinn, 15/6/20